Revealed: The first marriage of Julie Chrisley and her strained relations with her current husband! Get the details here!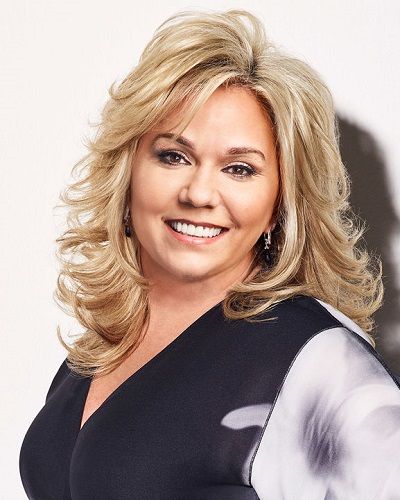 American reality TV personality and second wife of Todd Chrisley, Julie Chrisley was previously married.
Her husband Todd is doing the podcast show, Chrisley Confessions. But rarely anybody knows that she had not revealed it to anyone!
Julie Chrisley's first marriage!
Julie's first wedding license certificate had been obtained by RadarOnline.com and it clearly shows that she had a marriage before.
The marriage license and certificate that is taken from Oconee County Courthouse in South Carolina shows that Julie Hughes (Julie Chrisley's maiden name) and Kenneth Wayne Childress had applied for a marriage license on 13th March 1991. Their marriage was solemnized on 15th March 1991.
Julie at the time of this first marriage was just 18 years old, while Kenneth was 24 years old. But their marriage did not survive for long, though the exact date that they separated is not known.
Read more The cute relationship and talk between the father and daughter when they were on a show to promote their show, Chrisley Knows Best, Season 6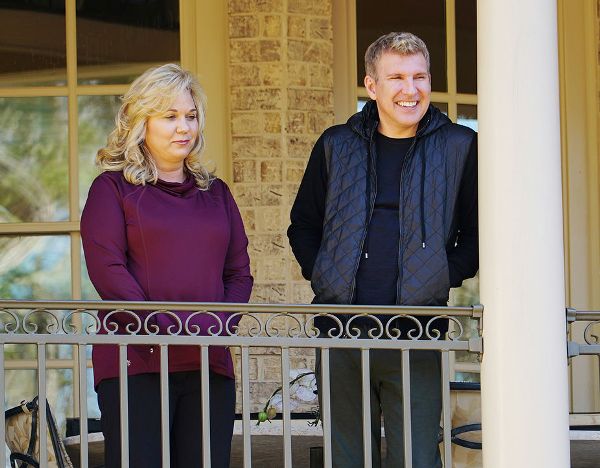 It has also been revealed that Kenneth died on 27th November 2012. As per his death notice on the website of Davenport Funeral Home in South Carolina, Kenneth was a pipefitter who worked in the construction field and had a liking for riding a motorcycle.
It also says that he has two surviving brothers and one sister and that he was neither married nor had any children when he died.
Todd and Julie Chrisley-the strained relations
Todd and Julie Chrisley had married in 1996. They have three children. Todd had a first wife, Teresa Terry whom he had reportedly divorced. He has two children from this first marriage.
The major control freak and real estate Mogul Todd possibly is unaware of Julie Chrisley's first marriage.
Though both Todd and Julie Chrisley are continuing to film the USA Network show 'Chrisley Knows Best', all is not well between the couple.
A production source for the USA Network has disclosed to Radaronline.com:
"Things are very different between the two of them when the cameras are not rolling. It's like night and day."
The source also added that the bedtime scenes of the couple are 'scripted', due to the obvious lack of real affection between them.
He also said:
"They are actually shot back-to-back with several outfit changes. No one goes to bed in full hair and make-up."
Their strained relations have reached a level that the couple cannot see eye-to-eye with each other. It has also been known that in spite of all the marital discord, Julie is not keen on ending this second marriage.
The insider also explained that both Todd and Julie need each other to give that perfect family image and would not split at least for now.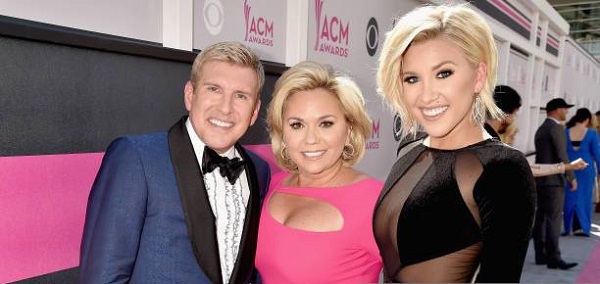 Also read Has Kyle Chrisley turned on a new leaf? What is the father-son feud?-Read all about it here!
More about the couple
Julie Chrisley was brought up in Winchester, South Carolina. She started dating Todd in the early 1990s, possibly soon after leaving her first husband Kenneth. Julie's father is a Baptist Minister.
When they got married in May 1996, she was well into her first pregnancy. Her first child, her son Chase was born on 1st June 1996 and he is now an actor. Their second child, daughter Savannah Chrisley born on 11th August 1997 is a beauty pageant competitor while the youngest child is her son Grayson who was born on 16th May 2006.
The couple has allegedly evaded paying state taxes worth around $700k in Georgia by falsely claiming that they are living in Florida.
They filed for bankruptcy in August 2012, and their debts totaled $49 million. There are legal proceedings going on against him related to his financial fraud.
Read more Cute relationship and talk between the father and daughter when they were on a show to promote their show, Chrisley Knows Best, Season 6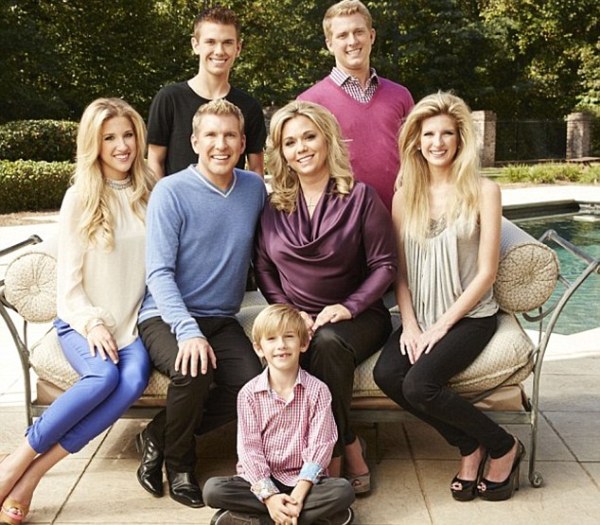 The family life and reality show of the couple
Amidst all these troubles, the couple with their family is doing the reality show 'Chrisley Knows Best'. Though they seem to portray a very lavish lifestyle and a loving family, the actual things are contrary to that picture, it is said. There are a number of marital problems ongoing and which they need to address.
There was also a rumor around 4 months back that Todd Chrisley is gay. Their daughter Savannah is now dating basketball star, Luke Kennard.
Todd Chrisley seems to be quite happy about this new relationship in his daughter's life. In an exclusive interview given to E! News, the father has revealed the secret of how Savannah met her new boyfriend Luke.
His son Kyle from his first marriage did not seem to share a very good relationship with his father and had also admitted to the court that his father had dodged paying the taxes. His elder daughter Lindsie has one child Jackson, but she has separated from her husband.
Hope the family can get together the loose strings in their life and weave it in the right direction!
Julie Chrisley's Double Mastectomy
In 2012, she had surgery and went under double mastectomy due to breast cancer. Her breasts were removed. She revealed that after a couple of days of the surgery, she was very vulnerable.
Her husband, despite having a weak stomach, would take her to the shower, remove bandages. She said in an interview with teary eyes,
"He never flinched. I truly believe that moment took our relationship to a whole new level."
Short Bio on Todd Chrisley
Todd Chrisley is an American reality TV star. He is widely popular for appearing on the USA Network reality series Chrisley Knows Best. He is the patriarch of the Chrisley family and appears on the show with her wife and five children. Todd appears on the show since 2014.
He is also a self-made millionaire businessman. Previously, he was active in other TV series such as Steve Harvey and The Domenick Nati Show. He is the husband of the famous reality star, Julie Chrisley. More Bio…
You would like to read Has Kyle Chrisley turned on a new leaf? What is the father-son feud?
Update: In Julie and Todd's new podcast, the couple will be answering men being children, mental health, and adopted grandchildren.
Short Bio on Julie Chrisley
Julie Chrisley is a television reality star who hails from America. She gained a lot of attention for her appearance on the USA Network reality show, Chrisley Knows Best. Moreover, she is a survivor of breast cancer. More Bio…
Reference: (tennessean)