Emily Simpson, RHOC Star Flaunts Her Body On Swimsuit After 15 LBS Weight Loss; Her Journey Toward Fitness!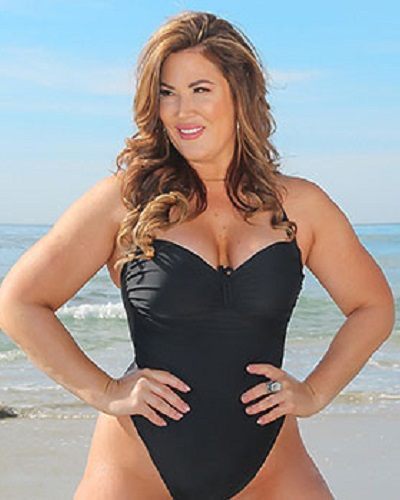 Emily Simpson is the reality star who stares in the reality show Real Housewives of Orange Country. The reality star recently made the headlines after she flaunted her slimmer body on a swimsuit. Emily has dedicated herself to weight loss and she flaunted her new body after losing 15 LBS. The reality star flaunted her new look on a swimsuit while modeling for a newline.
Emily Simpson talked about her weight loss routine
Emily Simpson flaunted her body on a swimsuit (Source: Instagram)
The reality star talked about her major weightloss on BravoCon in New York City on Nov. 15. At the time she also mentioned balancing her workout life as well as enjoying her life. Moreover, she also explained her way of balancing workout alongside enjoying life:
"Well, yesterday my plan was to eat healthy, but then my in-laws dropped off pizza, so I had pizza. So there was that. But then I felt so guilty I ate pizza that I did like three sets of squats, and then shoulder presses, and push-ups and I did a whole bunch of working out, too."
Furthermore, the reality star mentioned she munch on goldfish that her kids left alongside having an apple as a snack for the whole day. She finds a perfect balance with healthy eating and also enjoying little snacks in between with her kids. Emily feelings okay munching on the snacks sometimes as she is constantly working out and remains active. She also revealed that she does not weigh herself as much usually and is doing very less in this quarantine. As she is eating more than usual during this period. She also mentioned:
RHOC star showed her impressive weight loss (Source: The Sun)
"I know I can get back down and my trainer's relentless so she'll bother me constantly." 
Emily Simpson is constantly staying active as her trainer Paulina Stein makes her workout with her. Her trainer also posts about them working out three times a day with the time. She also said:
"I'm like, 'Damn it.' So it's good because I feel like it keeps me in pretty good shape because last week we worked out four times and it's a pretty intense workout. So I think that's how I keep the weight off going forward. It's definitely not by having some miraculously clean diet because I'm really not good at that. It's my consistency with working out."
You may also read- Shocking her fans, RHOC Kelly Dodd moves on with Rick Leventhal quickly after her split!
A year of the weight-loss journey
Emily, the mom of three has lost 15 pounds in a year which is quite amazing. Previously after her hip operation, she weighed more than ever in her life which led her to chronic pain and depression. She wanted to set an example for her children which led her to the journey of weight loss. As she had no idea about starting her journey, she reached out to her now-trainer Paulina for the help. The reality star explained her happiness saying:
Emily Simpson has talked about her weight loss journey (Source: Cheatsheet)
"Not only did I want to lose weight to feel and look better, but I wanted to be healthier and set a good example for my kids. I haven't felt this good in a long time and with a new hip, and 15 pounds off I'm finally able to keep up with my kids and be more active."
Furthermore, she also amid the coronavirus pandemic, she updated on her workout routine. The reality star revealed during this self-isolation and social distancing period, her husband and kids are helping her by motivating her to workout. Emily is working out regularly and also does beach workouts with her trainer Paulina Taylor three times a week.
You may also read- RHOC Fame Gina Kirschenheiter Shares A Picture Posing On The Bed with her boyfriend!
Source: Hollywood Life, The Sun, Bravo TV