Who is RHONJ Newbie Rachel Fuda Husband, Children?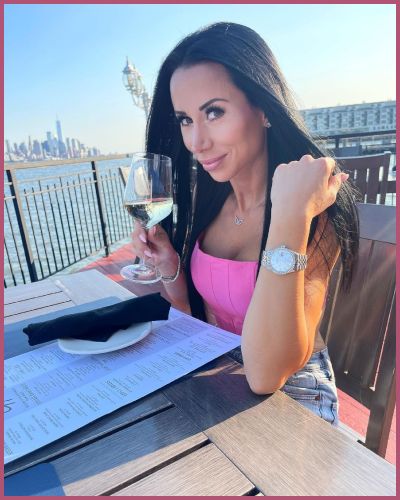 Rachel Fuda is a contestant on the 13th season of 'Real Housewives of New Jersey'.
She is married to her husband John Fuda and has three children.
---
Who is Rachel Fuda?
Rachel Fuda is a new contestant on the 13th season of the Real Housewives of New Jersey (RHONJ).
Fuda, 31, is from Franklin Lakes, New Jersey, but she was born on Long Island, New York, according to Bravo TV. Rachel's family relocated to Bergen County, New Jersey, when she was a child. Rachel holds two degrees from college.
She and her husband John work together at Fuda Tile, which has been in John's family since 1948, and Valet King, a valet parking service.
The couple co-owns Burger Boss, which is located on Moonachie Ave in Wood-Ridge, New Jersey. Because the couple is of Italian ancestry, the restaurant's meals are named after famous Italian pop-culture allusions. Among these are The Godfather, The Goombah, The Capo, and numerous others.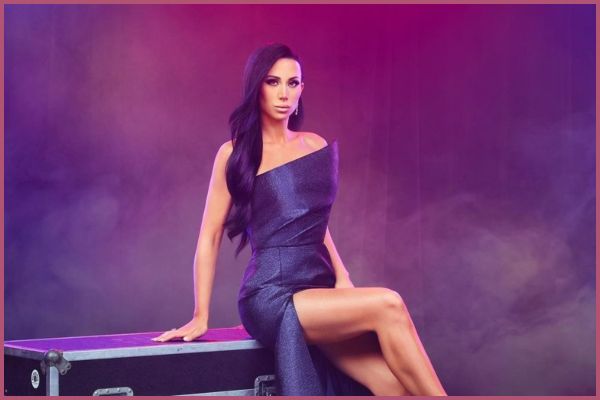 Also read Meet Lizzy Savetsky, the New Cast of Real Housewives of New York City!
Everything we know about Rachel Fuda in RHONJ
Melissa Gorga and Rachel Fuda became friends after Melissa's son, Gino, and Rachel's stepson, Jaiden, became classmates at school.
Rachel Fuda was referred to "a glamorous Tim Burton character" in the recently released RHONJ season 13 teaser.
She is also seen having fun with her kids and yelling her heart out in the video:
"I'm a total tyrant mom. There is no democracy up in this b***h."
Rachel always wishes for things to go her way and states that she will fight if the girls in New Jersey do the contrary of what was advised.
Rachel may also be embroiled in a brutal altercation with Jennifer Aydin, according to the teaser. The two ladies are seen bickering in the footage, with Jennifer saying:
"Keep things going. On your way out, avoid getting struck in the a** by the door."
To this, Rachel responds:
"There is no door a**hole."
Who is Rachel's husband, John Fuda? Their marriage, children
Rachel Fuda and John met at the 46 Lounge in Totowa, NJ, where Rachel worked as a bartender. The couple married in 2017 and had two children, daughters Gianella Jolie and Giuliana Rose, all under the age of two.
The new RHONJ star also has a stepson, Jaiden, 15 whom she loves like her own child. Rachel claims that her relationship with Jaiden played a huge role in her desire to have biological children.
She also expressed "a lot of pride" in her family, describing them as "at the foundation of who I am as a person."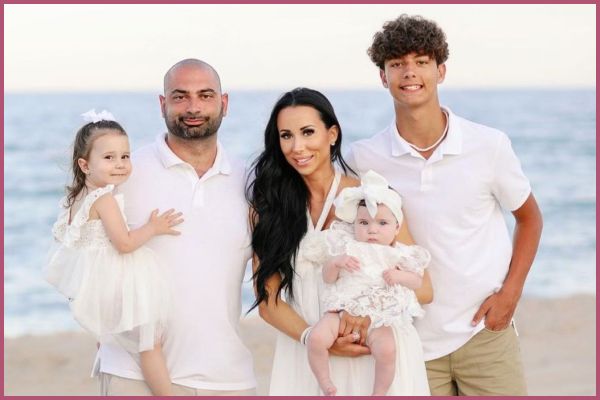 Rachel also hinted that fans would see plenty of moments between her and her family, including her legal adoption of Jaiden. She told Distractify:
"Everyone will get to see the adoption process and how that comes to fruition. And, you know, how that gradually takes place. So I'm really excited to connect with other blended families and people that are, you know, maybe going through similar situations, and, you know, connecting and talking through that and hearing from people. You know, just like relating."
Rachel emphasized the necessity of communication among all parties involved when asked how they created their successful blended family. She said:
"I think that family therapy is always a positive thing. And I think it can help even the most perfect families in the world. And that certainly has helped us."
Rachel noted that parents, biological or not, should always have "patience and love" for their children, especially during difficult times.
"Anything worth having is not easy, and having a blended family is no different. It can be extremely hard to navigate. Be patient, take your time, and just always lead with love."
John and Rachel currently work together at Fuda Tile, John's family business. The couple also operates Valet King, a valet business in New Jersey.
You may also like to read: Real Housewives of Cheshire star Christine and Paddy McGuinness Split after 15 years together!