Richard Rawlings Married His Wife Twice. Any sign of divorce this time?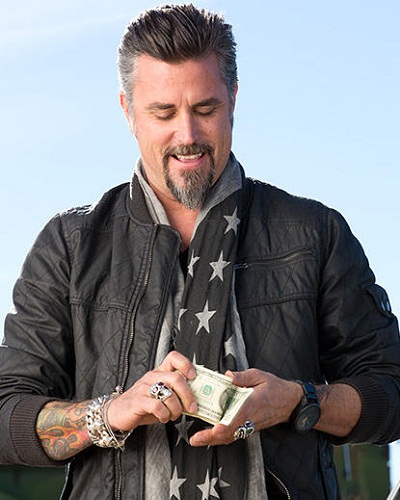 Marriage means exchanging vows between two people promising they gonna help each other in every pain and sorrow.
Marriage starts after love.
---
"Fast N' Loud" fame Richard Rawlings is immensely popular who married twice the same lady. This time the relationship is cool or there is some sign of divorce.
Update: Richard divorced his ex-wife Suzanne Rawlings again in 2019.
Let's dig deep into her personal life to know in detail!!!
Why did they divorce after their first marriage?
Richard Rawlings married his beautiful wife Suzanne Marie Mergele in 1999 in Las Vegas, Nevada. However, due to some undisclosed reasons, they filed for divorce, which was granted in 2009.
After a couple of years, the old romance sparked again, and they got married again exchanging wedding vows in Cabo, Mexico, in January 2015.
Richard opened up about his marriage and divorce with Suzanne.
"We got divorced while all the [Gas Monkey and Fast N' Loud] stuff was happening and it was hard for her to put up with it, so it was rough on her for awhile. I'm traveling, I'm gone, and, of course, there are lots of girls out there."
Moreover, Richard shared about his remarriage with Suzane.
"It was spur-of-the-moment down in Cabo in January,"
Richards's wife Suzane said,
"Came down to Cabo to surprise my best friend on his birthday and ended up remarrying my other best friend! GYSOT!!"
What might be the cause for two lovebirds to separate?
The married couple Richard and Suzanne are very much in love with each other. Richard is totally smitten by his wife Suzanne and flaunts her through social media platforms and even mentions her in his online conversation.
On November 24, 2016, on the occasion of Thanksgiving, Richard shared that he is spending quality time with his favorite person who was his wife Suzanne amidst the scenic beauty of nature.
Richard not only flaunts his wife on Instagram but he mentions his wife on Twitter as well. Back in January 2017, Richard mentioned Suzanne on Twitter and said that she is hot, as evident in his tweet.
The handsome hunk Richard gets marriage proposals from girls on Twitter as well, and on January 11, 2017, a girl asked him to marry him. So, how did Richard reply to the proposals?
Once again on January 24, 2017, a girl asked him to make her his wife he answered the proposal through a tweet as,
That's my hot wife they just showed! #muffin #fastnloud

— Richard Ray Rawlings (@RRRawlings) January 10, 2017
@RRRawlings please marry me..

— Caroline (@princess_cbc) January 11, 2017
@strawberrayray well, I'm not sure how my current wife would feel about that.

— Richard Ray Rawlings (@RRRawlings) January 24, 2017
The lovebirds are yet to embrace the parenthood
Richard gushes and flaunts his wife and is utterly in love with his wife and living a happy married life in their paradise.
And this lovely couple is yet to embrace parenthood and become parents to their daughter and son or the good news of babies might be on the way too.
Television personality Richard Rawling is an American car builder, a cross-country racer who started building cars with his father as a child.
At the age of 14, he began to buy his own cars. Further, Richard worked as a firefighter, paramedic, and police officer.
Later he operated his printing and advertising company, but he sold it to pursue his dreams and launched Gas Monkey Garage.
Short Bio on Richard Rawlings
Texas-born Richard Rawlings was born on March 30, 1969. He possesses an American nationality. Richard is an entrepreneur, an auto mechanic, and media personality. Multi-talented Richard is also a race car driver.
He is also the owner of Gas Monkey Garage. Additionally, he owns other companies like "Gas Monkey Bar N' Grill", and "Gas Monkey Live".
Presently, he is the star of "Fast N' Loud", which is a reality styled Discovery Channel TV show. More Bio…