Who is Risalyn Williams? Insight on her zombie themed wedding, children, The DeAngelo Williams Foundation, social media, biography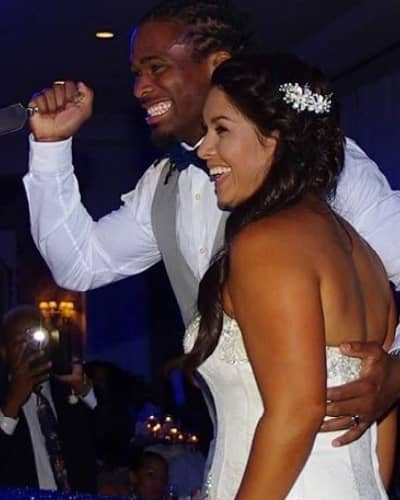 Risalyn Williams is an Executive Director at The DeAngelo Williams Foundation. She is the wife of former American football running back DeAngelo Williams. Her real name is Risalyn Burzynski. She is originally from San Diego.
Risalyn Williams and DeAngelo Williams zombie wedding and children
Risalyn Williams and DeAngelo Williams met each other in college at Memphis University. They walked down the aisle on 23rd July 2016. As DeAngelo is a Walking Dead fan. Their wedding ceremony was a zombie-filled ceremony inspired by the AMC drama. He said,
"I'm a huge Walking Dead fan. I wanted to do engagement photos with us being chased by zombies and we didn't have time because it was during season and we didn't have that opportunity, so [Risalyn] was like, 'How are you going to pull that off?'"
Risalyn revealed,
"He didn't have to convince me. He really had to convince the bridesmaids, and then he said they had to do it because they're bridesmaids."
The bridesmaids and groomsmen were reportedly all made up to look like zombies for a photo shoot the day after the wedding. They had planned for their wedding since early 2016. Williams also had a bachelorette party in July 2016, where she wore a cute tiara while her friends treated her to a nice dinner.
For eight years the couple loved in Carolina as DeAngelo played on the team from the year 2006 to 2015. On 23rd July 2020, she wished her husband on their Wedding anniversary with a glimpse of their wedding photos. They live in Charlotte, North Carolina.
Also read Graham Smith, CEO of Republic Organization rubbishes Meghan Markle's claim that her wedding to Prince Harry generated revenue for the UK!
Children
Risalyn and DeAngelo are parents to three children. They are blessed with a son and two adorable daughters. One of their daughters is Rhiya Williams. They are a happy family of five members.
She posts about her children on her social media accounts.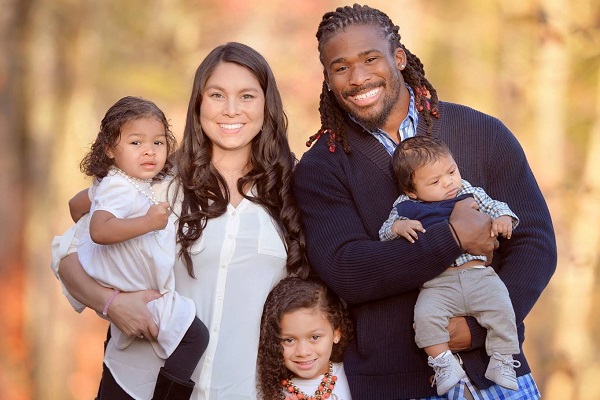 Risalyn Williams on The DeAngelo Williams Foundation
This foundation has the mission to develop and seek initiatives to support the eradication of breast cancer through preventative care and research. It strives to become an advocate of education with a special focus on children's literacy.
It was founded in the year 2006 and it has raised an immeasurable amount of awareness and stirred up two-way conversations about breast cancer, both online and offline.
Her husband DeAngelo is the founder of the foundation and has posted the video of the NFL's TV commercial he was featured in for breast cancer awareness month to his Facebook page.
Williams said,
"To be able to help all these women is amazing. This can be life-changing for these women. We are enabling them to get this care that no one should ever be denied or not have access to."
The Facebook page of the foundation has gained more than 11.2k followers. In 2014, DeAngelo lost his mother due to breast cancer and shared the heartbreaking story through the Facebook page on 17th May 2020 and wrote,
"6 years ago we lost Sandra. Today we strive to carry on her legacy through "53 Strong for Sandra". Sandra accredited her mammogram that detected breast cancer early as the reason for her living past the age of 50. Her four sisters all had passed away from breast cancer before 50, Sandra passed away just a week after her 53rd birthday."
Risalyn on social media
Risalyn Williams has an Instagram account with almost 1k followers. She has made more than 1.6k followers but her account is private. She has mentioned being the wife of DeAngelo in her bio.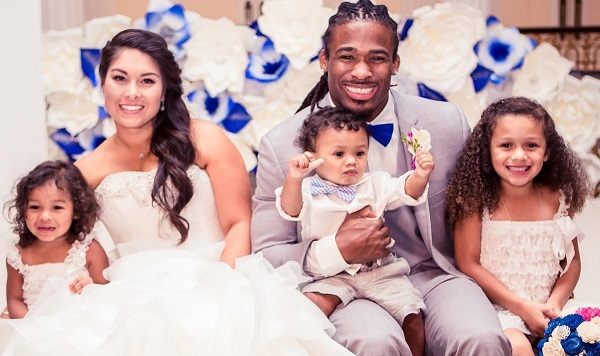 Williams also has a Facebook account where she shares about her family. She is followed by more than 400 users.
Also read Beautycon CEO Moj Mahdara and her work in beauty industry! Know about her married life with Roya Rastegar and children, social media, biography
Short bio on DeAngelo Williams
DeAngelo Williams is a former American football player. He played for Carolina Panthers from 2006 to 2014 and for Pittsburgh Steelers from 2015 to 2016. Also, he played college football at Memphis. Read more bio…