Rob Gronkowski and Camille Kostek talk about hooking before games! Their relationship
The former American football Rob Gronkowski is dating former Patriots cheerleader Camille Kostek. They started dating since 2015.
Jenny McCarthy got personal with the former star tight end Rob Gronkowski and his girlfriend Camille Kostek on Friday. When they were in a sit-down for her SiriusXM radio show in Miami which was ahead of Super Bowl LIV the host asked them if they had slept together before his big games.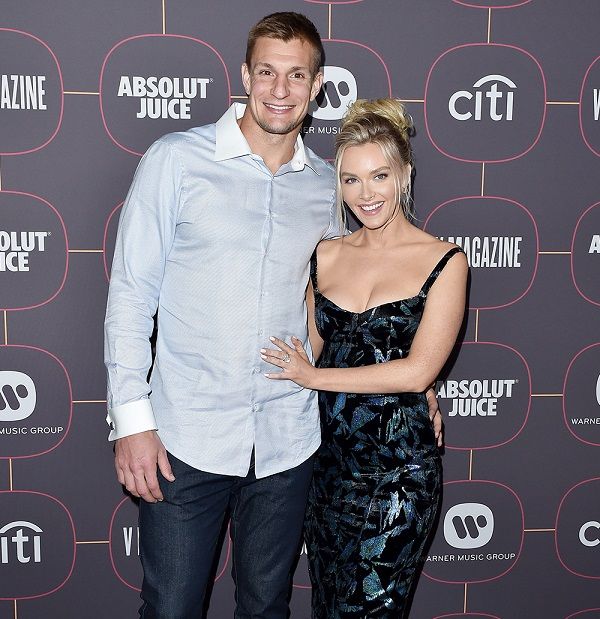 Jenny's taboo question was answered by the pair with an honest answer. Rob answered,
"I don't know, sometimes we did it and sometimes, no," 
Camille said,
"The night before games he would have curfew, and so, he didn't get to sleep there,"

"But I would kiss you goodbye, I think!"
When Rob was asked if the physical relationship would affect his performance on the field. He said,
"No, I don't think so. No."
Similarly, Kostek joked,
"If anything I feel like, if we have hooked up before a game, you'd be ready to go and less tense!"
Also read Patrick Mahomes and girlfriend Brittany Matthews go crazy on the field after Super Bowl win! Their relationship timeline
Rob and Camille relationship
Rob and Camille started dating in 2015 after Gronkowski left the team. They were going strong for a while and attended public events together. They were at each other on their birthdays.
Camille rooted for her man from the stands while he continued his NFL career with the Patriots. However, there were rumors that the two took a break at the beginning of 2017, they got back together.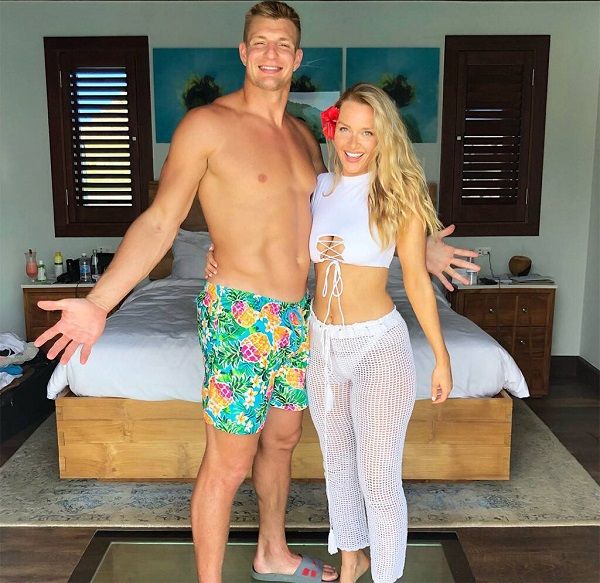 They have appeared on each other's Instagram quite often. On 2019's valentine, Rob posted a photo with Camille and captioned,
 "Happy Valentine's Day to my baby! See you soon!!"
They are in a very strong relationship.
Rob Gronkowski retirement
Rob announced his retirement in March 2019. He then opened up about the reason for his retirement. He needed to prioritize his health. Rob said,
"It was about like two years ago, it was like a game changer in my life where I was trying to go out to the practices during the summer and I was getting smoked by every rookie."

"In order to do something bigger in life … I felt like I had to get away from the game and focus on my health."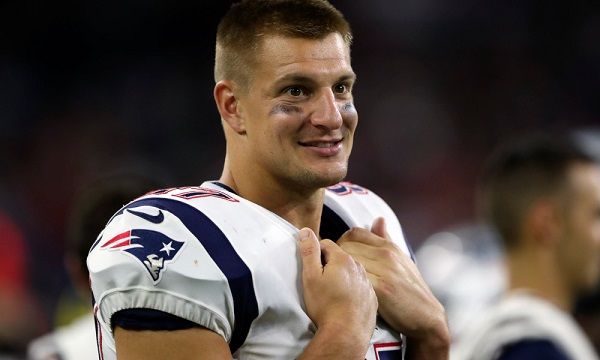 Rob has suffered multiple injuries to his forearm, back and knee in his career. He often made an unmatched impact on the field. Similarly, there were many seasons where he was not able to play every game due to health reasons.
Likewise, he notoriously had to wear a large brace on his arm, making the 6-foot-6, 268-pound athlete look more like a robot than a human being.
Also read Game Night's Camille Chen a Taiwanese Actress- Balancing her professional life along with her personal life!
Short bio on Camille Kostek
Camille is an American swimsuit model and an on-camera host. Currently, she is associated with the popular magazine, 'Sports Illustrated,' which is famous for its annual swimsuit issue. Read more bio on…
Source: Cheetsheet, Washington Post