Aww… Romantic Photos of Priyanka and Nick Jonas which will make you mushy!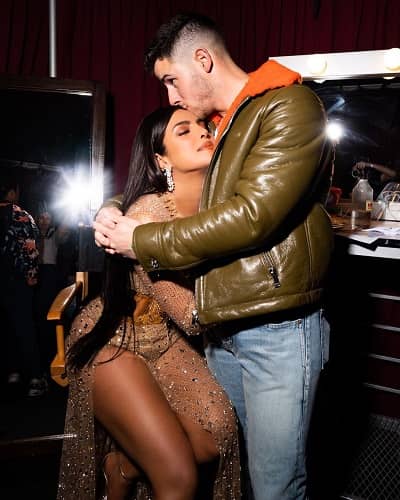 Priyanka Chopra and Nick Jonas's love story began with a direct message via Twitter. From dozens of steamy Instagram comments to the seemingly never-ending wedding celebrations, here's everything you need to know about Mr. and Mrs. Jonas. Priyanka Chopra and Nick Jonas quickly became one of the world's favorite celebrity couples.
Their multi-day spectacular wedding made headlines across the world, their PDA Instagram posts make hearts melt, and the way they speak about and look at each other surely make even the most pessimistic believe in love.
Here are our favorite pictures of one of the world's most talked-about couples.
1)Nick pretends to take a bit out of Priyanka butt
The Quantico actor shared a photo of herself in a bikini over the weekend in which she soaks up the sunshine while her husband poses with a fork and knife while pretending to cut a piece out of her bottom.
'Snack,' Chopra Jonas captioned the funny photo.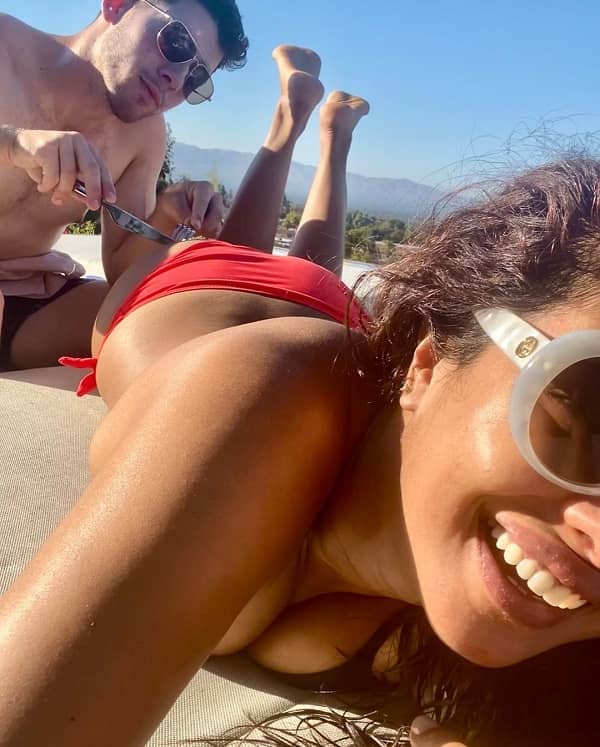 2)Priyanka Chopra and Nick Jonas when they got engaged
On July 19, the actress celebrated three years since she became engaged to Nick Jonas by sharing a previously unseen photo from that very night.
The couple became engaged on the Greek island of Crete in 2018, with the Jonas brother later explaining he waited until midnight to pop the question so it would not clash and be the same day as Chopra's birthday (on July 18).
Chopra wrote,
'Seems like a blink and a lifetime at the same time,'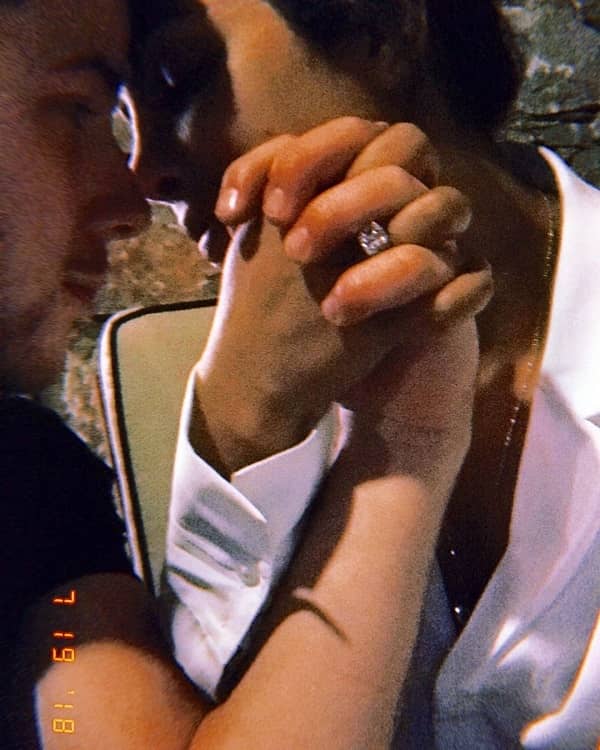 3)Priyanka Chopra and Nick Jonas, Holi Festival
The couple both took to their Instagram accounts on Sunday (March 28) to share photos of themselves donning paint-splattered white attire, while celebrating the ancient Hindu festival, with the singer's parents Kevin Sr. and Denise Jonas.
Jonas captioned the photo of his family,
'Happy Holi! From our family to yours! #holi'
Chopra-Jonas shared the same photos from the occasion, captioning hers
'Holi, the festival of colors is one of my favorites. Hope we can all celebrate it with our loved ones but in our HOMES! #HappyHoli everyone'.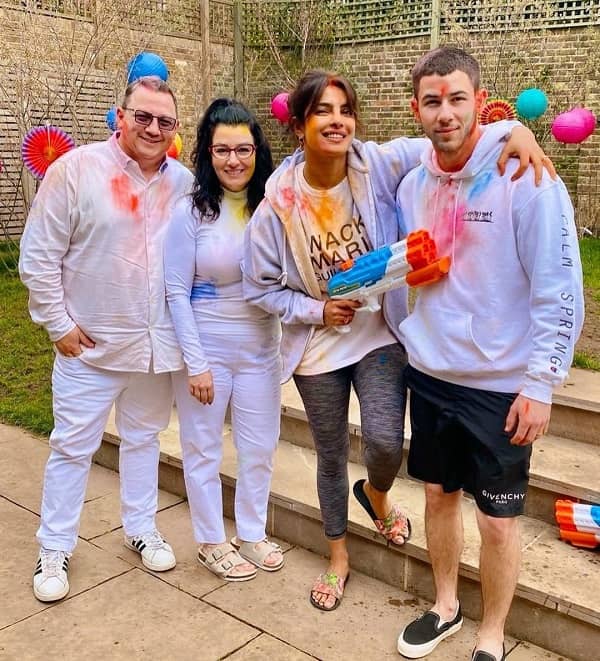 4)Priyanka Chopra and Nick Jonas New Year's Eve in London
The pair celebrated New Year's Eve in London, wearing matching black ensembles.
She captioned a sweet photo of the pair together, with the film star wearing a hilarious pair of '2021' glasses.
'Let's gooooo! Happy new year everyone! Can't wait for 2021 to hopefully make everything better..,'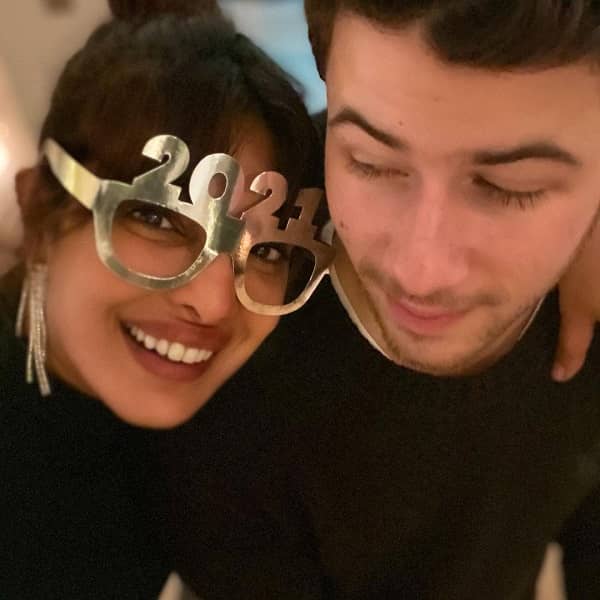 5)Priyanka Chopra and Nick Jonas Christmas in London
The couple got into the festive spirit ahead of Christmas in London early, with the actress wearing glittery sunglasses during a dog walk in the capital city.
She caption,
"Christmas spirit!"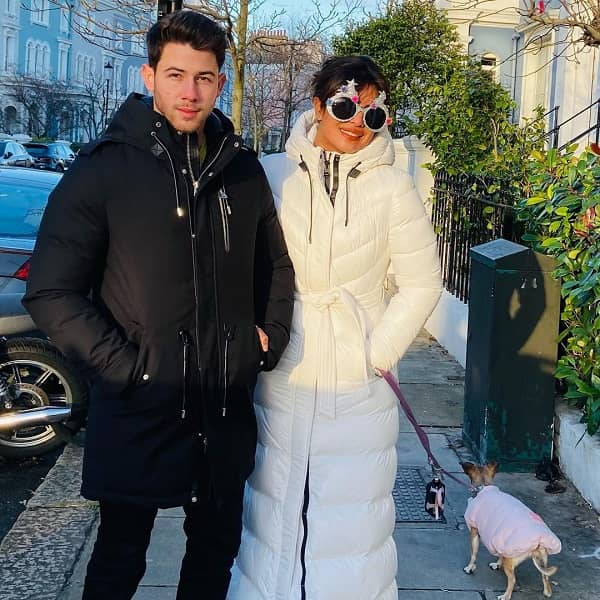 6)Priyanka Chopra, Nick Jonas, and Diana
The couple seemingly spent the festive period in London, with this shot showing them snuggled up on the sofa together with their pet dog, Diana.
She captions the photo,
"These two with harr emoji"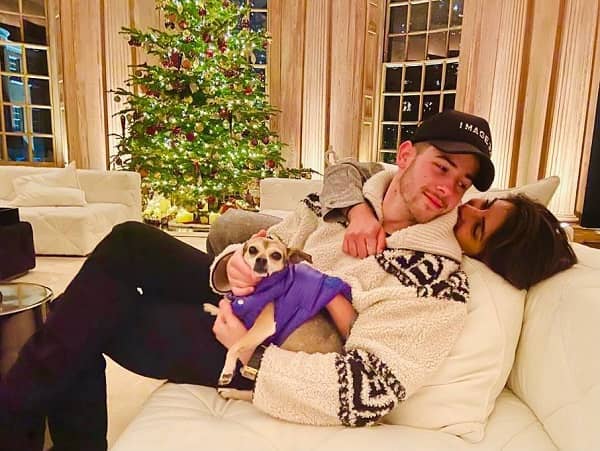 7)Walking hand-in-hand together
The actress shared a photograph of her and her husband walking hand-in-hand together through the streets of London in December 2020.
She captioned the sweet snap,
'Happy 2 year anniversary to the love of my life. Always by my side. My strength. My weakness. My all. I love you @nickjonas,'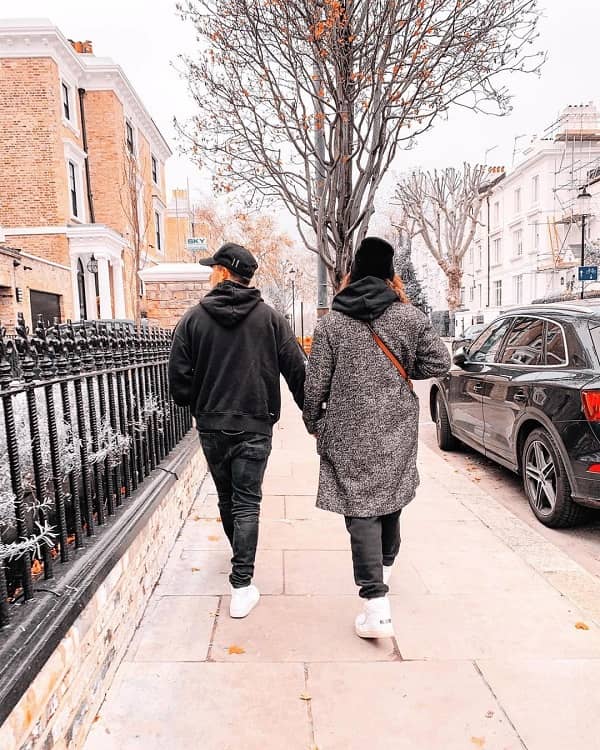 8)Priyanka Chopra and Nick Jonas In Diwali
The couple shared a beautiful photo of themselves celebrating the festival of Diwali while staying in London. The actress was looking stunning in a flower sari and earrings with a lower bun and the singer was wearing a flower suit holding a "Diyo".
The actress caption the sweet photo,
"Happy Diwali to everyone celebrating. From our family to yours. (with heart emoji)"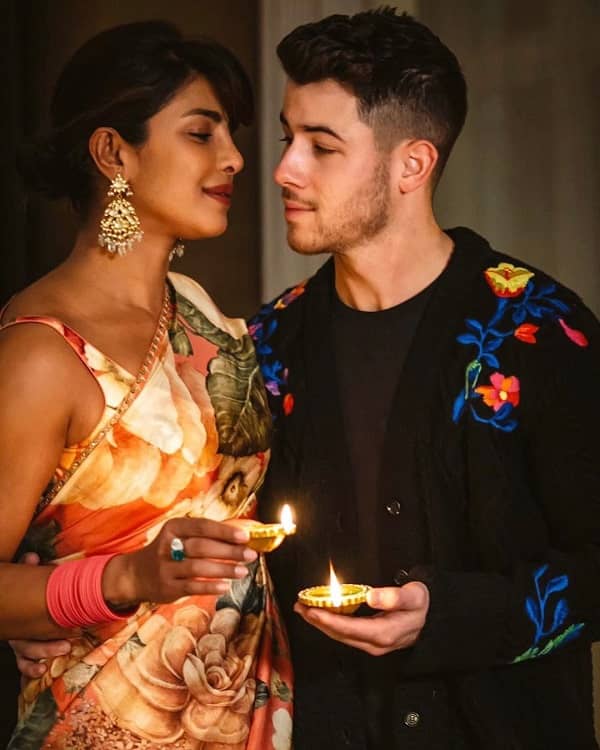 You may also like to read, Married Couple Nick Jonas and Priyanka Chopra kissing at the middle of Jonas Brothers concert!