Romeo Beckham and model Mia Regan: Their love story, dating history, and romantic getaways!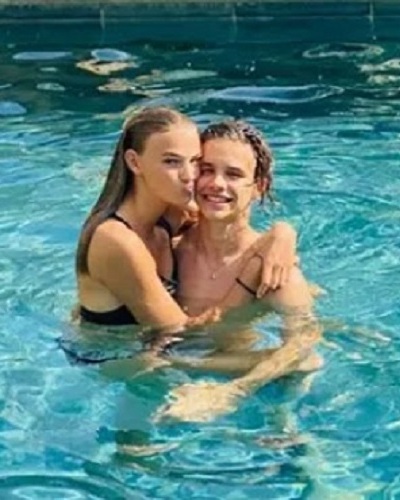 Last month, the eldest son of David and Victoria Beckham's son, Brooklyn Beckham, 21 proposed to his girlfriend, Nicola Peltz, 25.
And now their younger son, Romeo Beckham is also flaunting his new love, model Mia Regan.
The two were enjoying the summer and having fun as they posed for some selfies.
---
Update: Brooklyn and Nicola married on 9th April 2022.
Romeo Beckham and Mia Regan-selfie time
The younger brother of Brooklyn Beckham, Romeo Beckham has been enjoying some wonderful summer trips with his family in Italy and Cornwall. His girlfriend, model Mia Regan is also with him. The pair continued with their fun-filled summer getaway.
The couple was posing for some nice selfies. In one, Romeo, 17 had wrapped his around Mia, 17 as she pouted her mouth for the perfect shot. The rapper Tyler The Creator was in the background of this snap.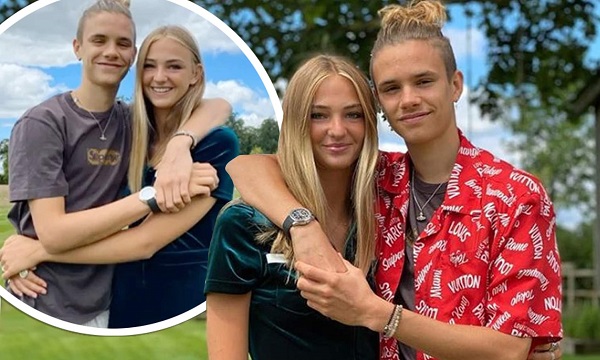 Romeo had put his hair into a man bun and was wearing a crucifix earring and matching chain necklace. And Mia was in a black crop top with white jeans as she held up her phone to click the selfie. She had made a French twist of her blonde hair and was wearing multiple silver necklaces. She captioned this post:
'Eoufff.'
The couple's love story and photos
A few days back, the couple had shared a photo on her social media of both in a bathroom and hugging each other. They had worn similar outfits.
Recently, Victoria Beckham confirmed that Mia is the new model for her VVB collection. The two, Romeo and Mia are in a romantic relationship since May 2019. The two were earlier last month on a trip to Cornwall.
Romeo had shared some beautiful snaps of the tow taking a walk along the seashore line at Porthcothan Bay. Mia was wearing an orange velvet dress with matching shoes.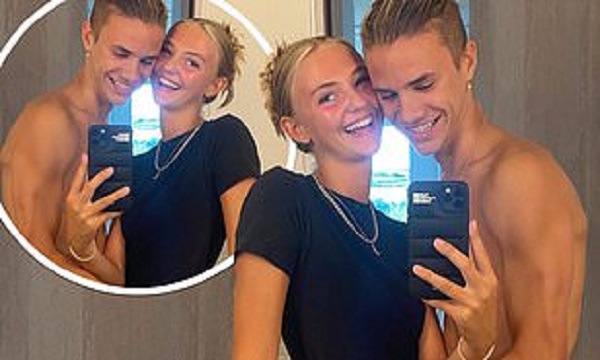 But she got trolled for her footwear with one follower writing:
'Are those Crocs?'
Also, they were on a family vacation to Puglia. In the photo from there, Romeo was in an electric blue shirt and smiling standing beside Mia.
Romeo congratulates his brother Brooklyn
A few days back, Romeo had taken to his Instagram account to document his congratulations to his brother, Brooklyn on his engagement.
Brooklyn had recently proposed to his girlfriend, Nicole Peltz and she had said YES. The family of Brooklyn has also given their approval to the new girl in his life.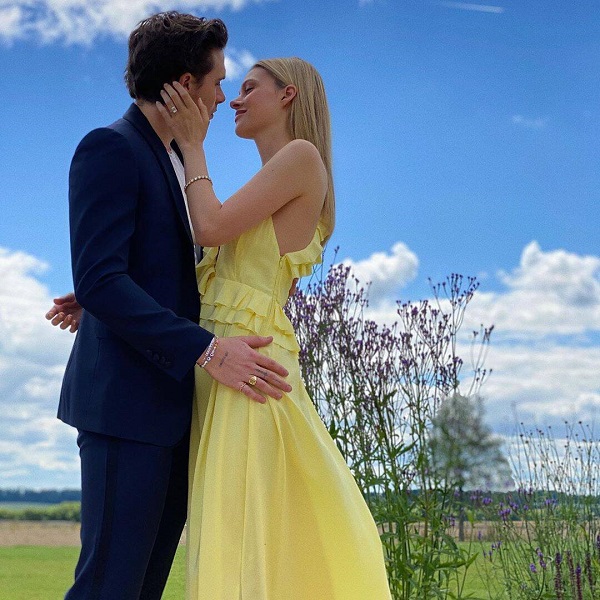 Romeo had reposted the engagement picture of the couple and captioned it:
'So happy for you two'
He followed this caption with a black-heart love emoji. And mother Victoria Beckham is happy with the choice of her sons.
She has approved both the girls and demonstrated her liking for them by posting their pictures on her own social media account. As regards Brooklyn, she had said that they are the sweetest couple. Victoria also said that she is happy for them.
Also, read Brooklyn Beckham And Nicola Peltz Dating; Made Their Relationship Instagram Official Sharing An Adorable Snap!
For the complete and concise bio of Romeo Beckham, click here