Rooney Mara and Joaquin Phoenix's son River Phoenix have arrived! Know about their relationship and net worth
Actress Rooney Mara and Joaquin Phoenix welcomed their first baby together. Rooney and Joaquin welcomed a son River. She revealed the news of her pregnancy in May 2020. She was six months pregnant with her son at the time.
River Phoenix will not live through the movies only but their newborn baby will carry the name into the future. They named the baby boy after Joaquin's late brother who died at the age of 23. The new parents are yet to confirm the baby news.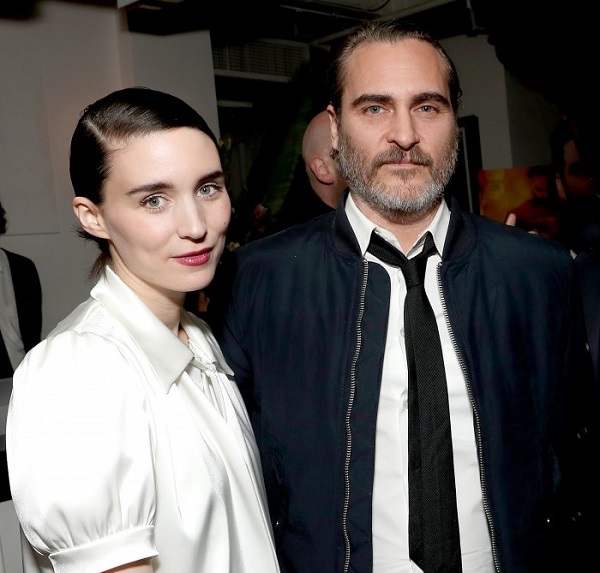 Victor Kossakovsky revealed the news of River's birth. Kossakovsky apologized on the behalf of Phoenix for not being at Zurich Film Festival to promote his new film Gunda,
"He just got a baby, by the way, his name was… a beautiful son called River, so he cannot promote [the film] right now."
Joaquin Phoenix and Rooney Mara's relationship
Joaquin Phoenix and Rooney Mara met while shooting the Spike Jonze movie Her in mid-2012. Mara played the role of his ex-wife. Phoenix revealed,
"She's the only girl I ever looked up on the internet. We were just friends, email friends. I'd never done that. Never looked up a girl online."
They again reunited in the year 2016 for Mary Magdalene where Mara is the lead actress and Phoenix played Jesus. They were only friends before they shot the biblical movie but soon started dating after the film wrapped. As a couple, they attended the Cannes Film Festival in May 2017. They sat next to one another and hold hands, but they publicly embraced each other when Phoenix won the Best Actor award for You Were Never Really Here.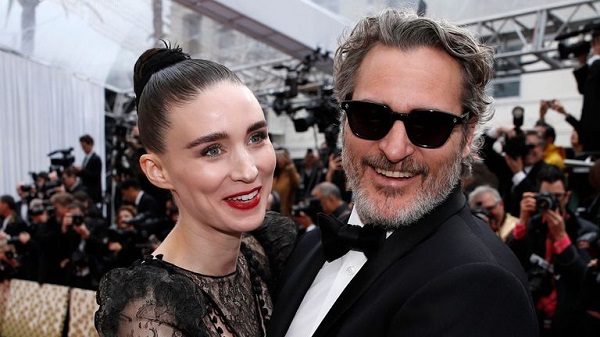 The couple got engaged in the year 2019 and Mara was spotted with a sparkler on her left hand. Rooney has been supporting Joaquin since they dated and are together.
Also read 'Gossip Girl' Jessica Szohr And Boyfriend Brad Richardson Pregnant With Their First Child; Get To Know Her Baby-Daddy And Their Relationship!
How much is Joaquin and Rooney's net worth?
Joaquin Phoenix has an estimated net worth of $50 thousand. His film work includes C'mon C'mon, Joker, The Sisters Brother, Dominion, Mary Magdalene, Don't Worry He Won't Get Far on Foot, You Were Never Really Here, Unity, Irrational Man, Inherent Vice, Her, The Immigrant, The Master, I'm Still Here and many more.
His TV work includes in Superboy, The New Leave It to Beaver, Alfred Hitchcock Presents, Murder, She Wrote, Hill Street Blues, ABC Afterschool Special, The Fall Guy, and Seven Brides for Seven Brothers. On 29th March 2013, Joaquin bought his next-door neighbors' house for $1,390,700 which features 3 bedrooms, 3 bathrooms on 2,511 square feet. He has a house in the same location which he bought on 7th November 2006 for $4,835,000.
Moving towards America actress Rooney Mara, she has an estimated net worth of $16 million. Her acting work includes in films like Urban Legends: Bloody Mary, Dream Boy, The Winning Season, Dominion, Mary Magdalene, Don't Worry, He Won't Get Far on Foot, Song to Song, The Discovery, Una, Pan, Side Effects and more.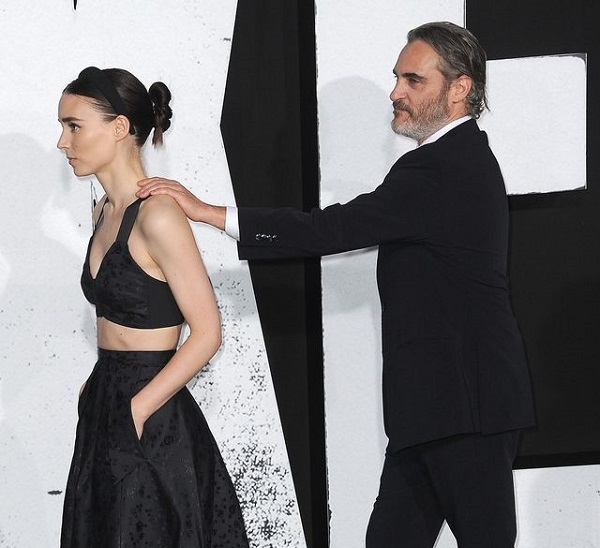 In 2017, Rooney kept her Los Feliz home on the real estate market with an asking price of $3.8 million. She purchased the house back in 2015 for $2.9 million. In 2018, Kelly Osbourne shell out $3.575 million for the house. She comes from a wealthy family and is the founder of Hiraeth Collective, a vegan clothing line. She started her brand in 2018 and has shoes, accessories, and clothing designed by Mara, Sara Schloat, and Chrys Wong.
Also read Is Christina Milian married to Matt Pokora? Know about their children, plan to have new child, family time in a pandemic, net worth
Short bio on Joaquin Phoenix
Joker actor Joaquin Phoenix is also a producer, music video director, musician & activist. For his work as an artist, Phoenix has received a Grammy Award, a Golden Glove Award & 3 Academy Award nominations. Read more bio…
Short bio on Rooney Mara
American Rooney Mara is Two times Oscar-nominated actress. She is renowned as Therese Belivet of Carol and Lisbeth of The Girl with the Dragon Tattoo.
Last, in 2018, she appeared in the movie Mary Magdalene as Mary. She is also a co-owner of the clothing line, Hiraeth. Read more bio…