What is Rosalia Vila Tobella known for? Why is she so popular?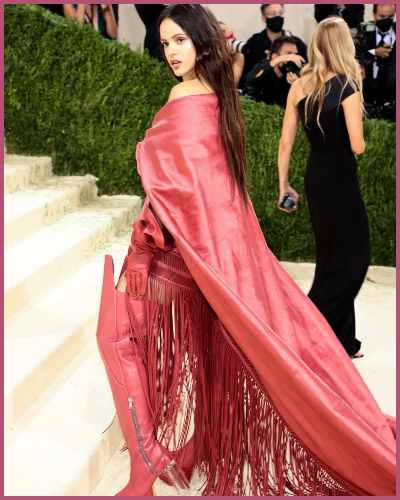 Rosalia Vila Tobella is a Spanish singer and songwriter
She became the first Spanish-singing act in history to be nominated for Best New Artist at the Grammys
Kylie Jenner is a major fangirl of Rosalia
The Spanish singer is currently dating her boyfriend Puerto Rican Singer Rauw Alejandro
---
Rosalia Vila Tobella, 28 is a Catalonia-born singer and songwriter. She is popular for her trailblazing flamenco crossover sound, fusing flamenco with electronic beats, reggaeton, and other modern elements. 
The singer has been active in the entertainment industry since 2013. At the age of 15, she got her start on reality TV on the talent-scouting program Tu Si Que Vales where she performed Hanna's song 'Como En Un Mar Eterno'. Although she wasn't selected for the competition.
She gained international recognition for her album "EI Mal Querer" (2018), which became the turning point of the Spaniard's Career. The same year, she collaborated with famous artist J Balwin in the music video "Brillo" which went on to become one of the biggest hits.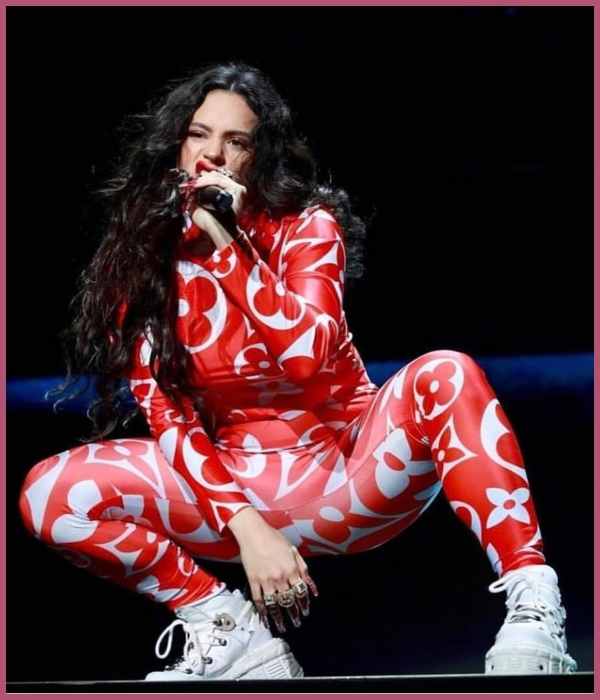 Similarly, she has worked with other huge names in the music industry such as Billie Ellish, Pharell Williams, Bad Bunny, David Yankee, and more. Recently, she released her third studio album, Motomami was released in March 2022.
Also read "Insight on the life of singer Angelic, family, social media, and more biography!"
Tobella became the first Spanish-singing act in history to be nominated for Best New Artist at the Grammys. She has won numerous awards throughout her career a Grammy Award, eight Latin Grammy Awards, three MTV Video Music Awards, an MTV Europe Music Awards, two UK Music Video Awards, and more.
Rosalia Vila Tobella: Background
Rosalia Vila Tobella, better known as Rosalia was born on 25 September 1993, at the General Hospital of Catalonia in Sant Cugat del Valles. She is the youngest daughter of Pilar Tobella (mother) and Jose Manel Vila (father).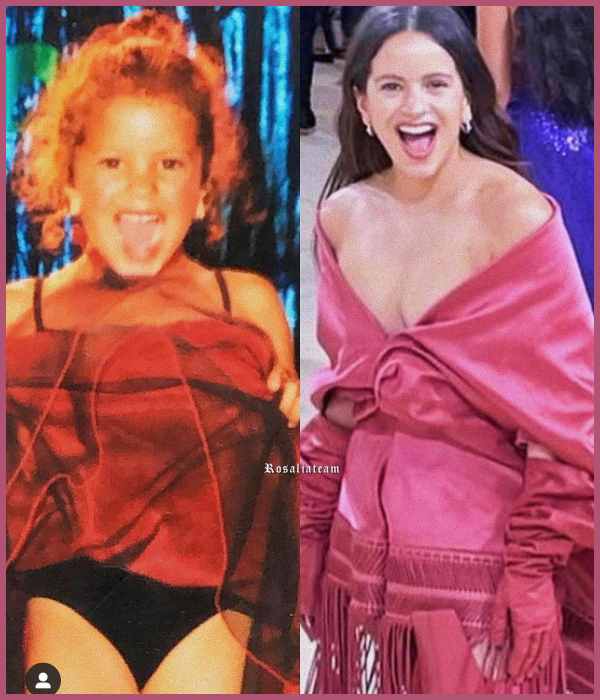 She turns 29 as of 2022. She was raised in Sant Esteve Sesrovires, a small town in Catalonia along with an older sister, Pilar "Pili" Vila. Pili works with her sister as her stylist.
Talking about her Alma mater,  she enrolled at Taller de Musics and graduated from Catalonia College of Music.
Speaks three languages
Rosalia is fluent in three languages; English, Spanish, and Catalan. One of Rosalia's songs, "Milionaria" was performed in the Catalan language in 2019.
Catalan is a language spoken widely in eastern Spain.
Also read "The marriage of Irish singer-songwriter Sharon Corr with husband Gavin Bonnar is over! He is dating the sister of the queen of Spain"
Kylie Jenner is a major fangirl of Rosalia
In 2019, Rosalia flew over to Los Angeles while Kylie met her. The two hang out while enjoying good gossip in a pretty garden. Kylie even posted pictures of two of them and captioned,
"Madre mía rosalía and in love with her vibe," alongside a heart emoji.
Their wardrobes were in sync as both wore snazzy outfits. Rosalia wore a tie-dye crop top with matching joggers. On the other hand, Kylie dressed down in black and white chequered leggings.
Is she dating anyone?
The Spanish singer is currently dating her boyfriend Puerto Rican Singer Rauw Alejandro. The two reportedly have been dating since 2019. Last year, Rosalia make their relationship official on the occasion of her 28th birthday.
She shared a couple of pictures of the duo in which she was in the arms of her boyfriend, Rauw Alejandro. She also captioned the posts,
"BlisssssSSSS Libra, and blessed,"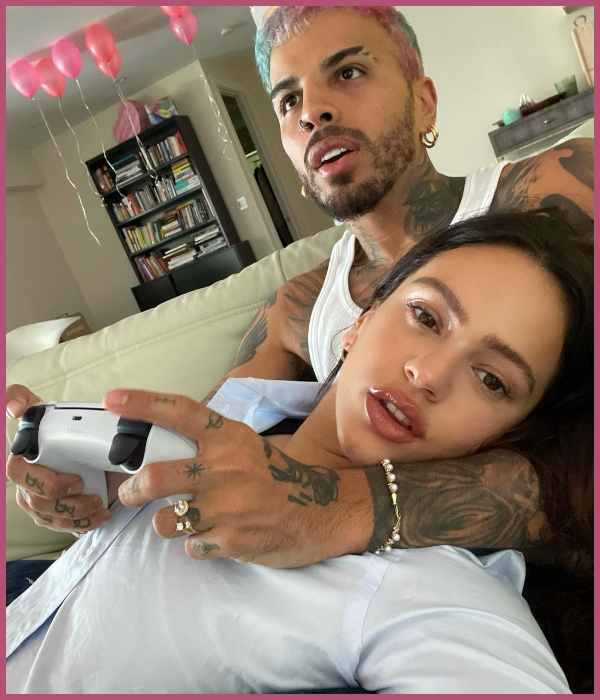 In the shot, it seems like Rauw was playing a video game, as he had a controller in his hand whereas we could see Rauw cuddled up to her boyfriend on a sofa.
The Puerto Rican singer also wished her girlfriend on the social media handle where he wrote (translated),
"Even if the sun leaves, the day never ends with you. Happy birthday, bebe."
Prior to that, the lovebird was caught on numerous occasions holding hands together. The pair was also seen hanging out at the Billboard Latin Music Awards after-party in Miami's LIV Nightclub.
Also read "Singer Leigh-Anne Pinnock is engaged to boyfriend soccer star Andre Gray!"