Never Ending Royal Feud! Prince Harry Accuses Prince William and Princess Catherine for His Controversial Nazi Uniform Scandal!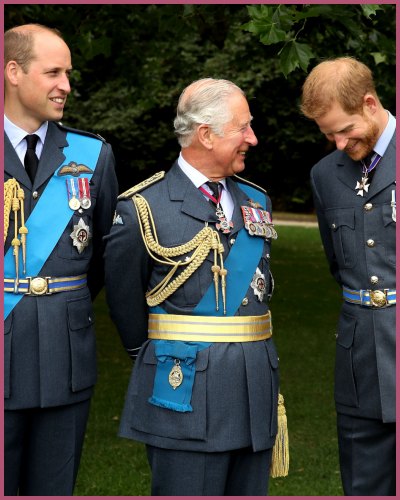 Prince Harry makes shocking claims about his brother and sister-in-law in his new memoir.
The prince blames the Prince and Princess of Wales for his Nazi uniform scandal.
Harry was only 20 when he received severe backlash for dressing up in a Nazi costume.
---
Prince Harry claims William and Catherine told him to wear Nazi costume
Prince Harry has made some serious allegations against his family members in his upcoming memoir Spare. One of the most controversial statements made by the prince is his accusation toward his elder brother, Prince William, and his sister-in-law, Princess Catherine.
In his memoir, Harry says that William and Kate who were dating at the time howled with laughter when they saw him dressed up for the 2005 party.
The 20-year-old prince at the time faced severe criticism when the Sun newspaper published a full front-page photo of him in the Nazi uniform with a red armband with a big swastika.
Harry had to attend a costume party with a Native and Colonial theme where his big brother also participated in wearing a homemade lion outfit.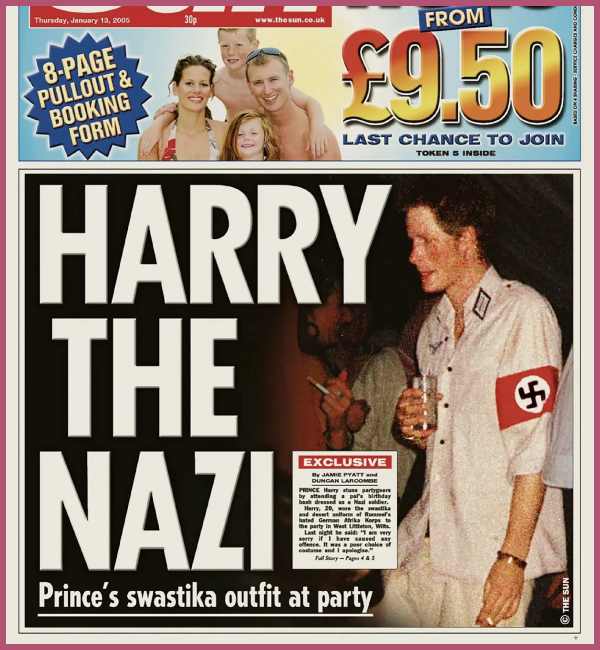 One part of the book claims that the 6th in line to the throne said he had to choose between two costumes: a pilot and a Nazi.
Harry writes:
"I phoned Willy and Kate, asked what they thought. Nazi uniform, they said,"
He added that when he went home and tried the uniform, "They both howled. Worse than Willy's leotard outfit! Way more ridiculous! Which, again, was the point."
The Duke of Sussex has made other serious allegations against his brother, Catherine, and stepmother, Camilla Parker Bowles.
Also, Read That is Not the Way to Get Your Family Back! Royal Experts Slam Prince Harry for his Reconciliation Statement!
Harry and William's relationship suffered because of the Nazi uniform
The Duke has called the Nazi uniform "one of the biggest mistakes in my life,"
One senior publishing source who has read the memoir said,
"It's strange as you would think that Harry would take ownership of this and just move on and not drag his brother into it, but he makes it clear that he feels strongly about William's role in the scandal."
Royal historian Robert Lacey once wrote that the trouble between the brothers started when Harry had to face the consequence of wearing the controversial outfit while it was William who helped him choose the outfit.
The writer wrote in his 2020 book Battle of Brothers,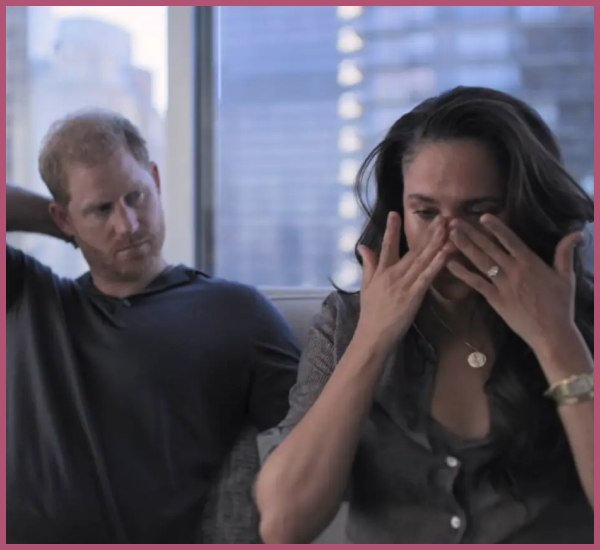 "Harry chose his costume in conjunction with his elder brother — the future King William V, then 22, who had laughed all the way back to Highgrove (Charles' country home) with the younger sibling he was supposed to be mentoring — and then onwards to the party together,"
Lacey also added that Harry started to feel alienated from his own family after the incident and said:
"The young prince began re-evaluating his elder brother's involvement and the unfairness of William's subsequent emergence smelling of roses."
The relationship between the brothers started suffering and they barely spoke.
Somewhere in the memoir, Harry also made a bombshell revelation about how Prince William persuaded him not to propose to Meghan Markle for marriage.
Also, Read Prince Harry Said He Wants to Get His Father and Brother Back Just a Week Before the Release of His Memoir Book!