10 Most Fancy, Unique, Royal Wedding Cakes During Their Marriage! What Was The Price?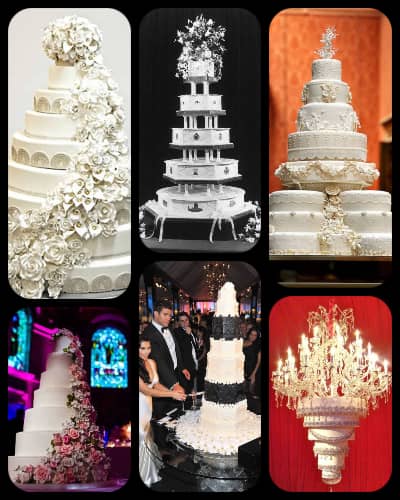 While everybody loves a wedding, you can't deny that some weddings are definitely more exciting than others. At the wedding, everything is highlighted from the wedding dress to the wedding cake!
From amazing themes to impossible heights, from imported ingredients to unexpected decoration, these happy couples want nothing but the best.
Some of these Hollywood couples aren't even together anymore, but their cakes will be in our memories forever!
1)Chelsea and Marc's $11,000 wedding cake
Chelsea and Marc married on July 31, 2010. Their wedding cake was made of vanilla sponge cake was created with a gluten-free flour blend, layers of chocolate mousse and covered in vanilla fondant, and measured in at four feet tall with nine tiers. The cake weighed almost 500 pounds decorated with 1,000 sugar flowers in the shape of roses, calla lilies, and orchids.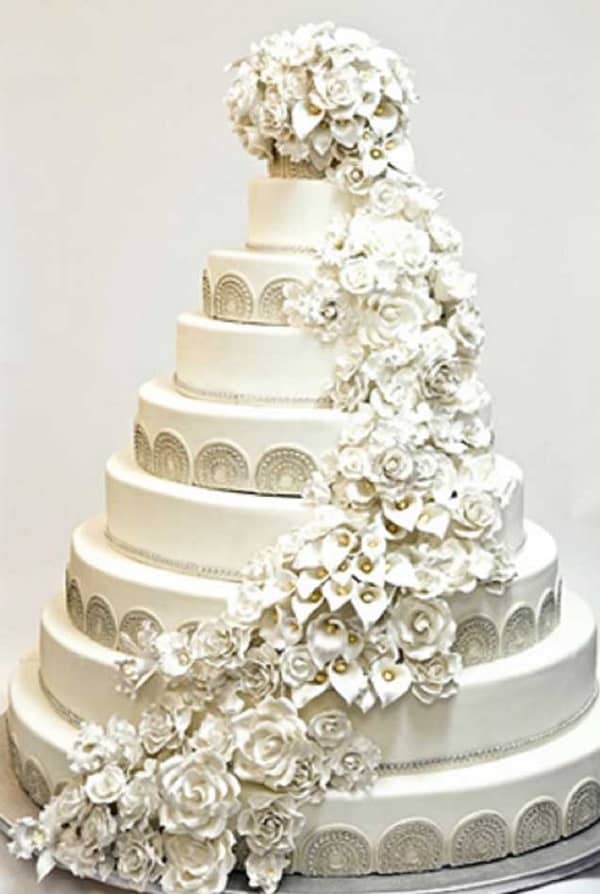 2)Kim and Kris's wedding cake price?
Kim wed Kris in 2011. The $20,000 by Patrick Hansen eight-foot-tall estimated around 600 pounds. The tiers alternated between black and white, simple in comparison to their larger-than-life wedding. They ended up in their marriage after 2 months. Kim filed for divorce after only 72 days of marriage.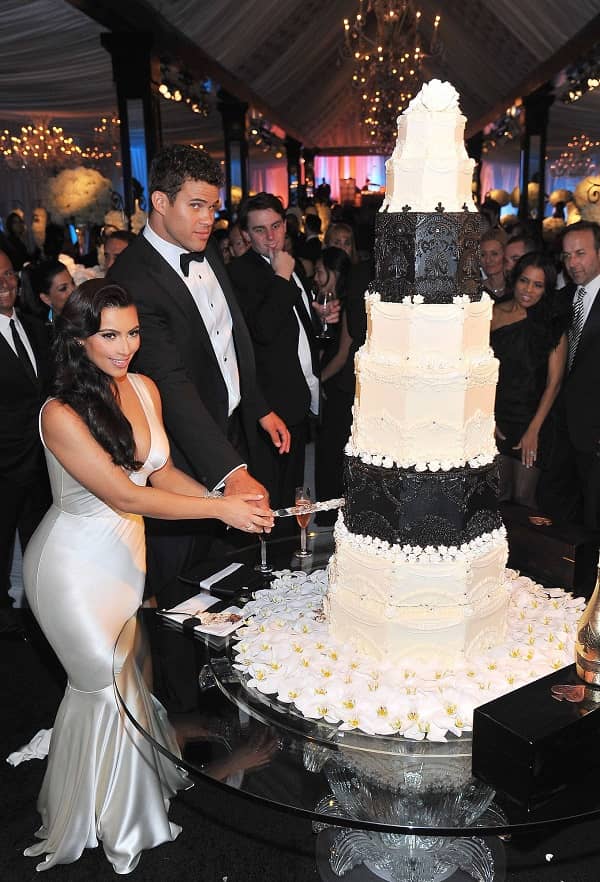 3)Have you ever heard of upside-down wedding cake?
Kaley Cuoco and Ryan Sweeting wed on December 31, 2013.  The cake was created by Kimberly Bailey from The Butter End Cakery, the cake took two hours to install, and had to be held upright by planks and sandbags. They spent $11,000 on their 500 pounds 9 tier cake. Unfortunately, they ended up in their marriage on May 6, 2016.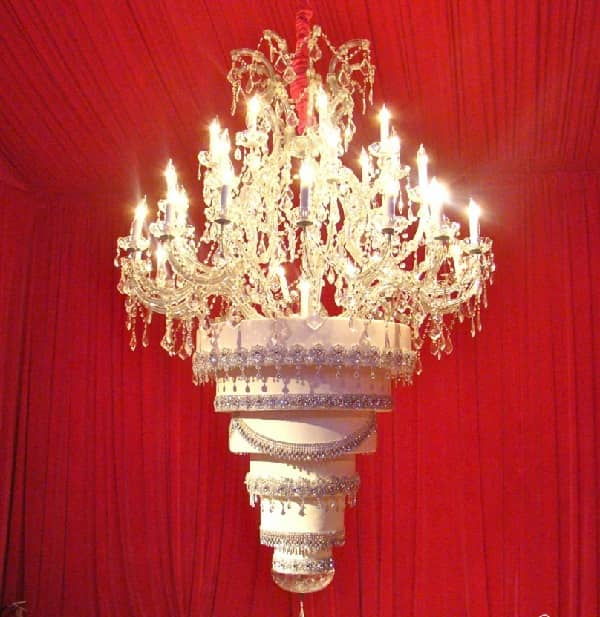 4)Michael and Catherine's vanilla wedding cake
Hollywood famous actors Michael and Catherine tied the knot in 2000. Their grand wedding was then made luxurious with the big cake that was made by Sylvia Weinstock and was made with buttercream and vanilla as well. $7,000 cake was 6 feet tall and has the topping of the white flowers.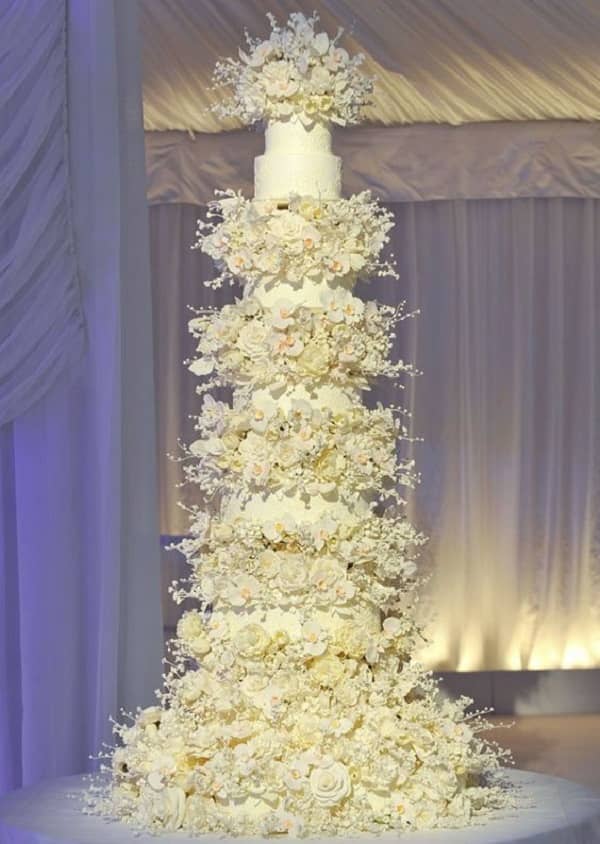 5)Kim and Kany's 7-foot tall wedding cake
On May 24, 2014, Kim and Kanye were officially married at Fort di Belvedere in Florence, Italy. This couple ordered $6,685 which was 7 feet tall for their wedding. It was a pure white cake decorated with multi-flavor flowers.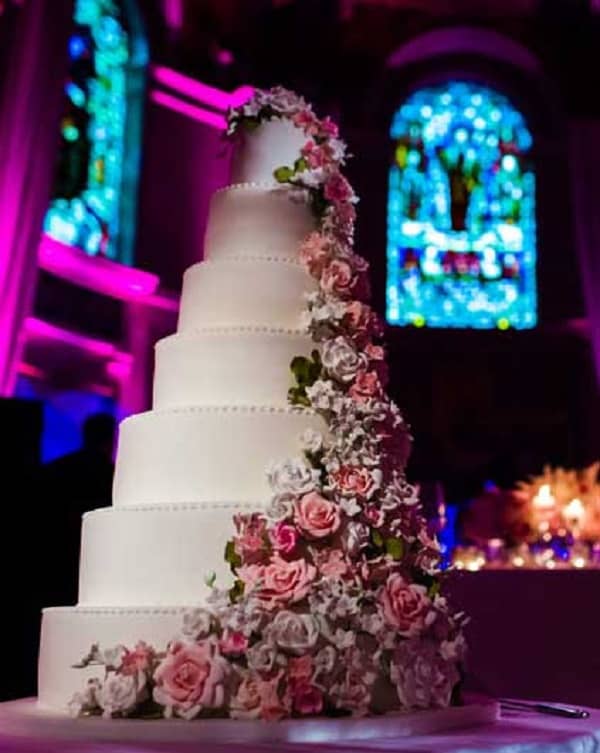 6)Eddie and Nicole's Floral $25,000 wedding cake
Eddie and Nicole tied their knot at the Grand Ballroom of the Plaza Hotel in New York City on March 18, 1993. Their wedding cake was the sensation of that time. $25,000 cake was a multi-tiered white icing cake that was just overflowing with what appear to be sugar roses in pastel shades.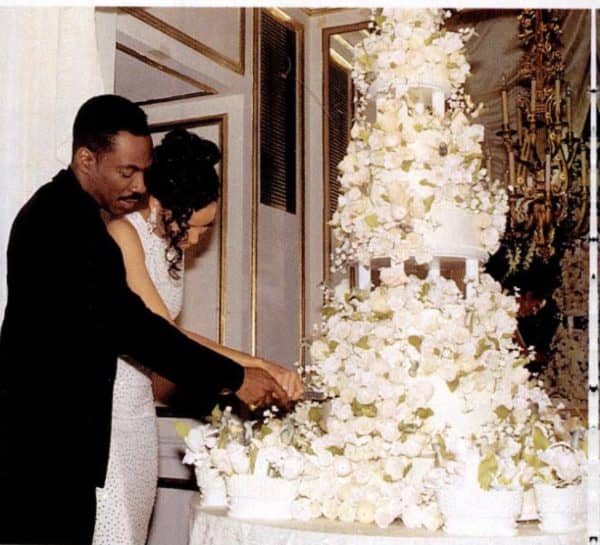 7)Princess Diana and Prince Charles Royal flower-themed cake!
Princess Diana and Prince Charles wed on Wednesday 29 July 1981 at St Paul's Cathedral in London, United Kingdom. $40,000 masterpiece cake that also boasted a floral theme decorated with roses, lilies of the valley, and orchids, as well as the Prince's family's royal coat of arms. The 5-foot cake was only one of 27 cakes that had been created for the matrimonial day.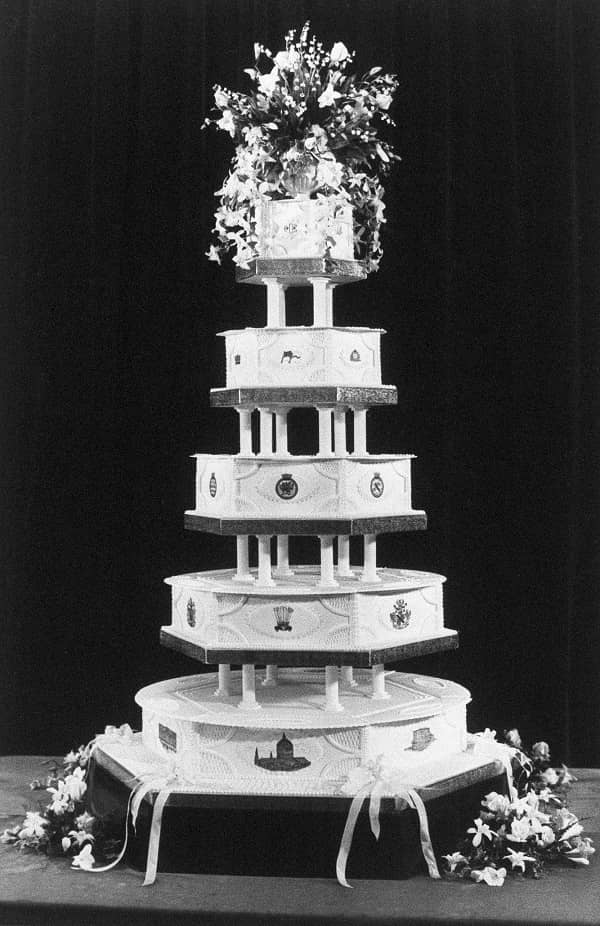 8)Liza and David's $40,000 Red Accent Wedding Cake!
The dramatic 12 feet high cake was Stripes of sterling silver leaf appeared throughout the cake while a multitude of stunning red and purple sugar roses spilled and curved their way across the cake. The $40,000 cake was black and white with red accents. Liza and David wed on March 16, 2001, in New York, United States.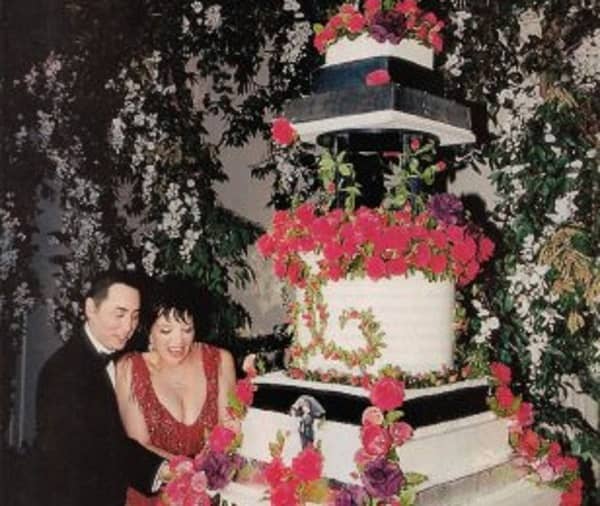 9)$80,000 Royal Wedding Cake
Prince William and Kate Middleton's wedding took place on 29 April 2011 at Westminster Abbey in London, United Kingdom. The magnificent wedding cake was an eight-tiered fruit cake with white icing and 900 sugar paste flowers ringing. The cake included 17 different kinds of symbolic flowers.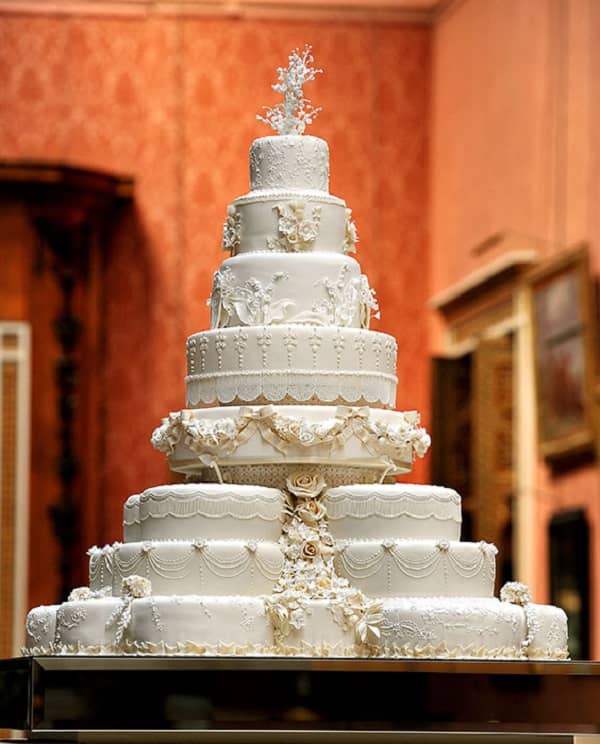 10) Priyanka and Nick Jonas' £15,000 wedding Cake!
Priyanka and Nick get married at an actual palace Umaid Bhawan Palace, in Jodhpur, India, on December 1, 2018. The eighteen-foot wedding cake contained golden columns, little windows, and a miniature chandelier, and puts all of our childhood dollhouses to shame. As per the report, the beautiful wedding cake was created by Nick Jonas' personal chefs.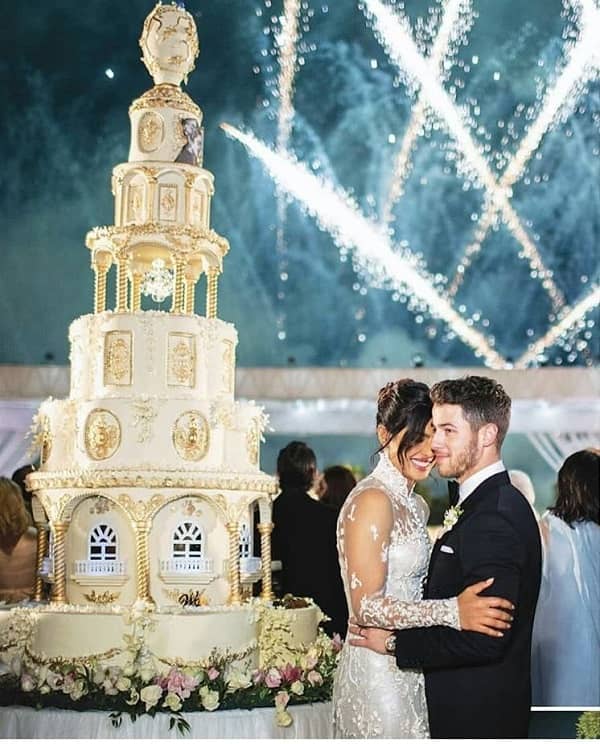 You may also like to read How is Bobby Flay holding up with three failed marriages? His ex-wives and cause of divorce