Salma Hayek brings her daughter Valentina, 11 along with her to the Milan Fashion Week
American-Mexican actress, Salma Hayek was spotted at the Milan Fashion Week the last week. But who was that smart and attractive girl she had in tow?
Salma Hayek 's daughter Valentina at Milan Fashion Week
Salma Hayek was, at the Fashion Week held in Milan this last week. But she was not alone. She had taken along her 11-year-old beautiful daughter Valentina. On Wednesday, Salma and her daughter were at the Gucci's fall 2019 fashion show. Salma 's husband, François-Henri Pinault was also with them at that time.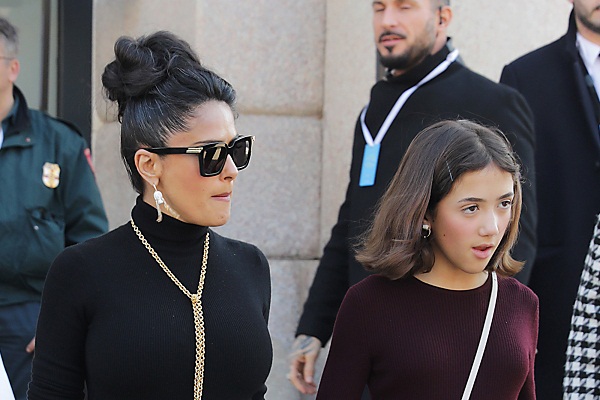 Valentina was dressed to impress. She was wearing a pink sweater which was, slightly oversized. She was in her sneakers which might be worth $ 1590. Her mother also looked stunning in her bright purple dress with red-blooded fur accents. She had worn golden platform heels and had covered her eyes in oversized sunglasses. When Valentina was at the Bottega Veneta show, she had worn the same sneakers at that time. But her dress was different. She was wearing a dress with long sleeves and was holding a white leather purse. The purse would be worth $ 1250.
Salma and her husband have kept their daughter Valentina away from the spotlight until now. It looks like that are gradually getting her into the Fashion world and who knows in another few years she may also walk the ramp.
About Salma Hayek and her family life
Salma Hayek, 52 began dating French billionaire François-Henri Pinault and on 9 March 2007, she confirmed that she got engaged to him. At the same time, she also announced that she is pregnant. She delivered her first child a daughter named Valentina Paloma Pinault in September 2007. The delivery took place at Cedars-Sinai Medical Center located in Los, Angeles in California.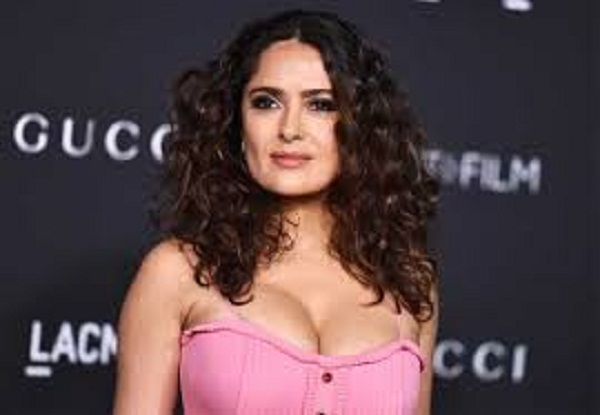 The couple married in Paris in 2009 on Valentine's Day. But this was not all. The couple HD a second ceremony to mark the day in Venice on 25 April 2009.
Salma Hayek had published an article in The New York Times on 13 December 2017 where she stated that Harvey Weinstein had harassed her when she was filming for Frida.
About Salma Hayek 's husband François-Henri Pinault
François-Henri Pinault is a Frenchman and a billionaire. He is the CEO of Kevin which co-owned Gucci, Saint Laurent, Balenciaga, Alexander McQueen, and Bottega Veneta.
He has good married life but in 2011 in the month of July, he was, slapped with a paternity claim. Supermodel Linda Evangelista claimed that he was the father of her son, Augustin James who was born in the year 2006 in October.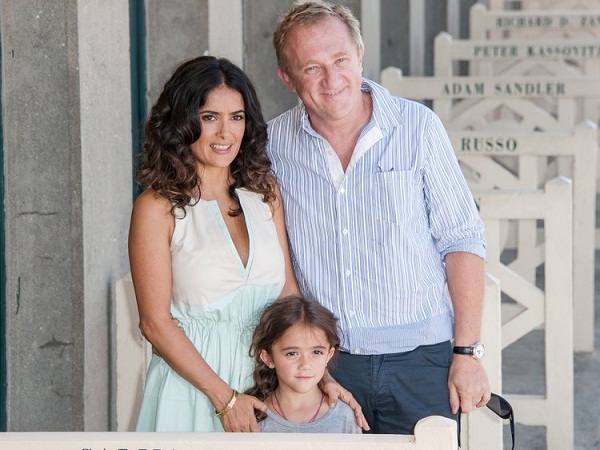 He first denied the allegations stating that they were false. But later on, he had reached a settlement with Linda but he did not disclose its details to the media. Linda was asking for child support of $ 46000 per month. Francois had later said that he has recognized Augutin since 2007 and that he is an important part of his family. He further added that his daughter Valentina treats him like a brother.
Linda had earlier claimed that the father of Augustin was a New York architect. It was only when her court papers were leaked that the truth was out that Francois had fathered Augustin.
Source: page six, Wikipedia, hello magazine