Sam Dekker and Olivia Harlan have hitched! They collected charity instead of receiving wedding gifts and donated at Children's Cancer Family Foundation
Congratulations NBA forward Sam Dekker and ESPN sideline reporter Olivia Harlan!!! They got hitched on 14th July 2018. They revealed that they are seeing each other last year and got engaged in May 2017. Carrie Baldwin and Harlan's mother were the wedding planners. The wedding planners said,
"We had fun making everything so personal."
Oliver wanted to look Classy, elegant and all-American with a little flash while the groom's look was,
"His look was so elegant and old-fashioned, but in a stylish and current fit kind of way."
Including their family and friends, 160 guests were invited. The couple announced that they will not be receiving the gifts from their guests and instead of gifts they will be accepting money. And that money they will be giving for a charity at Children's Cancer Family Foundation.
I love this girl. #MrsDekker pic.twitter.com/OPKWBV6dw8

— Sam Dekker (@dekker) July 14, 2018
The happy groom, Sam shared a picture on Twitter of his newlywed wife, Olivia with the caption,
"I love this girl. #MrsDekker"
Whereas the bride shared the photo with her husband on her social media profile with the caption,
"7.14.18 Love of my life 📸@paperantler #enjoythejourney"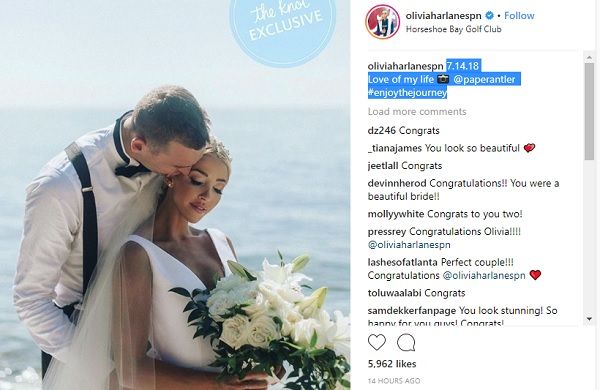 Olivia Harlan and Sam Dekker's short wiki
Olivia Harlan is working for SEC Network team as a football reporter with Taylor Zarzour and Andre Ware. Prior she worked as a sideline reporter for ESPN, Atlanta Hawks, and Green Bay Packers.
Sam Dekker is an American basketball player who plays for Los Angeles Clippers of the National Basketball Association.