Samira Wiley and Lauren Morelli, After 3 years of relation finally got Married!! Know Lauren Coming out Story and her Divorce with her Ex-husband!!!..All details Here!
Samira Wiley and Lauren Morelli the longtime couple have finally got married and the internet is haywire right now! Everybody is gushing about the cutest couple. Do you wanna know the story about their marriage? Don't worry we got you covered!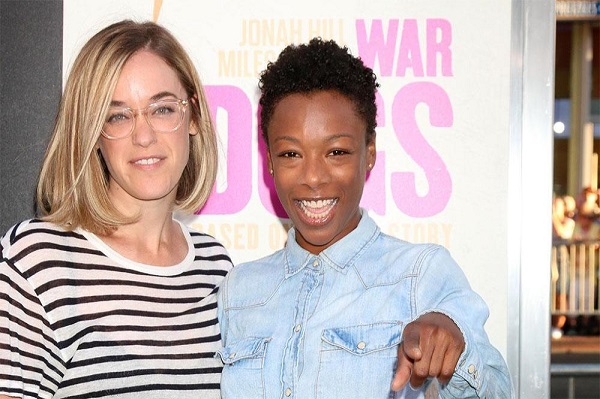 The Wedding
They do! Samira Wiley got married to her fiancée, the series writer Lauren Morelli, in a romantic function held in Palm Springs, California, on Saturday, March 25, it has been reported by Martha Stewart Weddings. Samira Wiley and Lauren Morelli were married on March 25 in an intimate ceremony attended by friends and family.
The couple took to the dance floor and there was a blast of confetti at that time. It was a "funfetti" theme for the wedding. Both donned Christian Siriano gowns. Wiley modified hers slightly before stepping out on the floor. The couple walked down the aisle to the tune of Montell Jordan's "This Is How We Do It," and also grooved to "Baby" by Justin Bieber. Wiley's parents officiated the outdoor ceremony, which was again confetti-themed which was due to their mutual love for Funfetti cake.
Congratulations! Samira Wiley and Lauren Morelli took to social media to share their wedding news. On Saturday night, the writer shared a photo from their wedding on Instagram, captioning the pic, "Wifey for Lifey."
The couple first met on the set of the hit Netflix prison drama, "Orange Is the New Black," on which Wiley stars as Poussey and Morelli is the writer and producer. The two got engaged last October in the same Palm Springs location where they now exchanged their vows. At the time, Wiley shared the news on her social media with a photo of her new ring and a captioned it as "Yes."
Also read 'Orange is the new Black' Samira Wiley and wife Lauren Morelli: Married Couple visited Disney Land for their Post Wedding and enjoying Before Honeymoon!!
Morelli Coming Out
Morelli had opened up about her sexuality in 2014. Morelli wrote that writing for the series had helped her come to terms with her own sexuality, and led her to put in papers for divorce from her husband of two years.
Morelli, who came out via "While Writing for 'Orange Is the New Black,' I Realized I Am Gay," had previously revealed that her sexuality was the reason she decided to divorce her then-husband, Steve Basilone, in 2014 after two years of marriage. She and Wiley went public with their relationship in September of that year.
She wrote,
"I went through it all on set: I fell in love with a woman, and I watched my life play out on screen…It feels liberating and appropriate to live my life in front of you."
The couple was also interviewed for Out magazine in December, where they talked in a happy tone about their relationship, and Morelli revealed her nerves on the day of their engagement.
"I was so nervous and terrified she knew it was coming, but she was so shocked that I couldn't get her to stop crying. She was very clear she'd wait for me to be ready, so to give her something I knew she wanted so much was incredible. It was the most magical day of my life."
Lauren explained how she had the urge to propose while she and her then-girlfriend enjoyed a complete weekend getaway in the desert retreat.
"I realized I could propose right before and then we'd have the weekend there to celebrate,' the writer told the magazine."
She continued,
"I found a ring, and they shipped it to me, and it was as if someone had handed me a ball of fire and said, 'Here, tend to this.'"
Samira celebrated her bachelorette party in Miami this month. She partied at the Miami club E11EVEN taking along 13 of her closest pals, which also included OINTB co-stars Danielle Brooks and Uzo Aduba, as per E!News.
You may like to read Ellen Degeneres reignites her prank war with Matt Lauer! Ellen DeGeneres Scares Matt Lauer in Epic Prank War- 'it's the Favourite one so far'
Public appearance since engagement
The couple was very open about their relationship whether it's in social media or in public after announcing their engagement. And the couple has a very specific reason why,
"Lauren and I both really believe in LGBT visibility and I think that we have done that in a really unapologetic way. The way that we live our lives, the way that we post pictures of each other … Sometimes I don't feel like we're doing something that's so radical. We're just living our lives. But in these times, it is radical, because people have not felt comfortable just living their lives."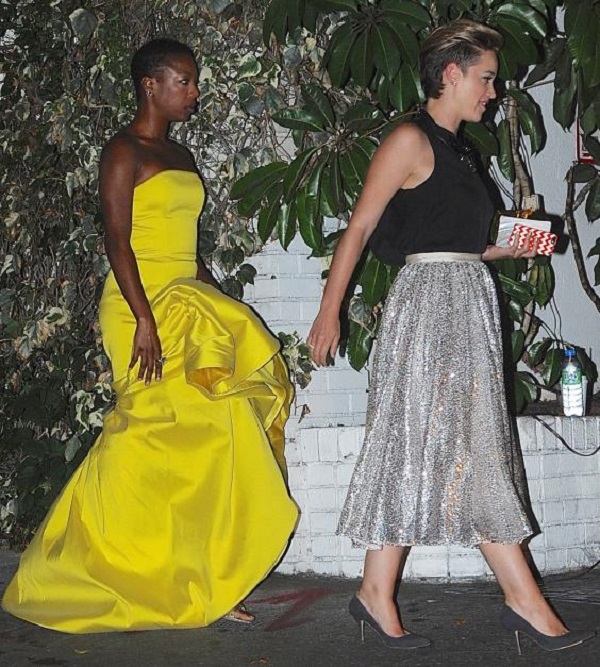 Wiley and Morelli first commenced dating in 2014 after Morelli's separation from her husband, Steve Basilone. She's written about how working on Orange is the New Black and meeting Wiley helped her realize her identity.
Since then, their relationship has become meaningful to more people than just the two of them. Wiley revealed that she's been contacted by fans from around the world who have thanked her for being so visible in a lesbian relationship. She stated,
"I get messages online from people from different continents, people from Africa, people from all over Europe and Asia, people who can't talk about this to anyone. They send secret messages to me online about what we mean to them, and about us giving them hope. And honestly, that's real because we're just showing who we are and just showing people that that is OK."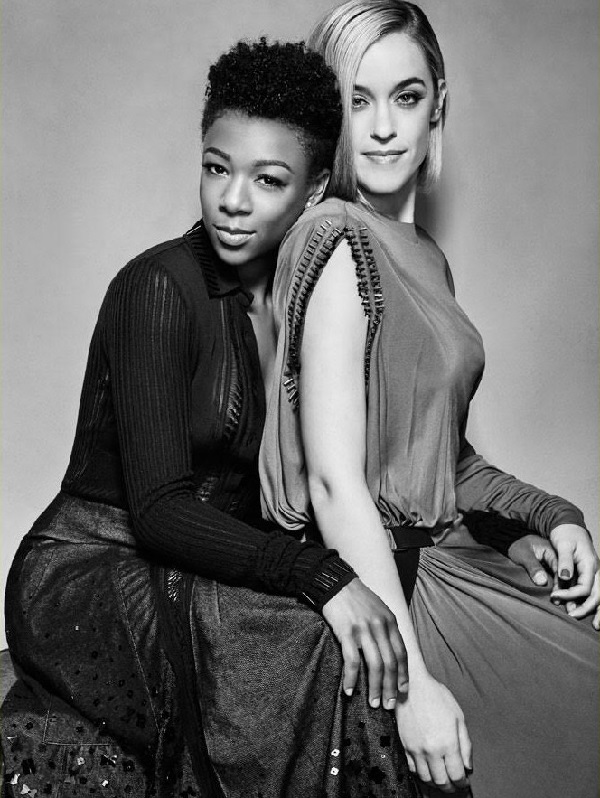 Adding,
"Fortunately my parents are both very supportive and have always been. That's who I am, and how I live my life. But not everyone has that privilege. Not everyone is able to even see examples and we take it so seriously that we are able to be that example."
Short Bio on Samira Wiley:
Samira Wiley is an American actress and model best known for playing Poussey Washington in the Netflix original series Orange Is the New Black. More bio…
Short Bio on Lauren Morelli:
Lauren Morelli is an American writer best known for her work on the Netflix original series Orange Is the New Black. More bio…