Sarah Hyland and Wells Adam's milestone in their relationship! Are happy after moving in together! Get details about their love and relationship!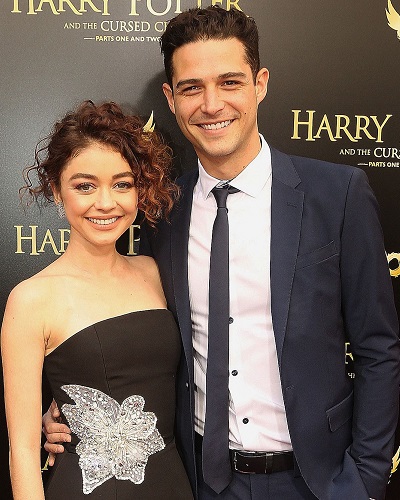 Sarah Hyland, 27 and Wells Adam, 34 made a life-changing decision to move in together a month ago and they are very happy with their decision. They had moved from Nashville to L.A.
The big move
They were spotted sharing kisses in front of a parked truck outside Hyland's Los Angeles home. Sarah is famous for her role in Modern Family and Adam is The Bachelorette alum.
Sarah told the PEOPLE:
"I think it's brought us closer. I don't think it's been long enough to discover pet peeves with each other."
She added:
"I think we're in the honeymoon phase of living together. It's good that nothing is already starting, because then I think that would be a bad sign. He's more anal and cleaner than I am, so it's great for me."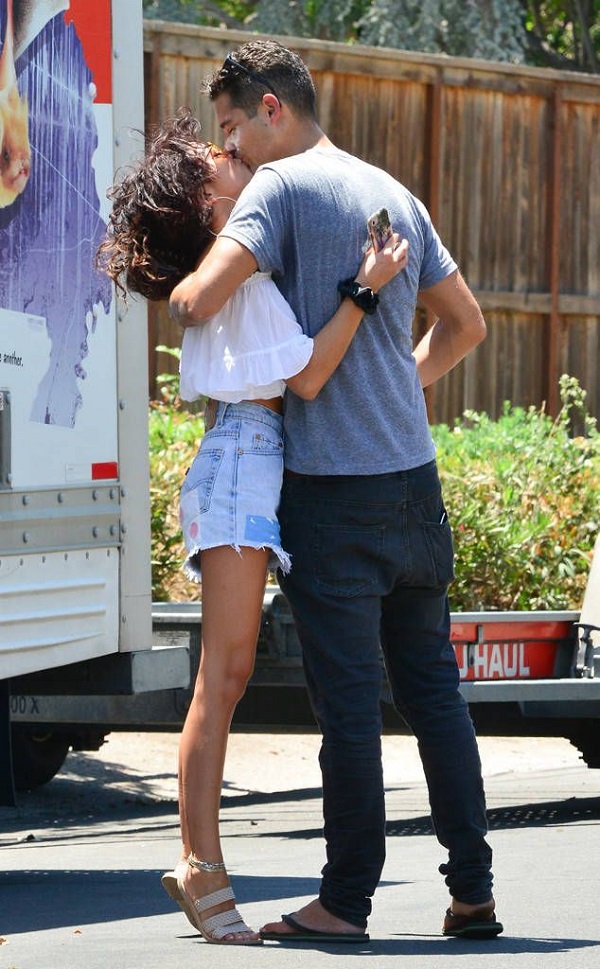 Adams was above excited:
"I'm straight up moving to LA. Should I have not have said it? I've got to go!" 
When Adams announced he and Hyland were moving in together on 20 episodes of Your Favorite Thing with Brandi Cyrus, he was worried about one thing.
"I'll tell you what I'm most concerned about. I'm not concerned about us living together or us getting along or whatever. I'm most concerned about my dogs and her dogs. Carl sleeps on my bed, right? And her dog Boo sleeps on her bed. What's gonna happen?"
Also read Wells Adams and Sarah Hyland are dating!! The Bachelorette contestant and star from Modern Family are now officially in a relationship!! Know what they have to say about it!!
The dogs are on the same page now since they moved in!
Sarah shared:
"The dogs are amazing, there's a little bit of a power struggle with Boo and Carl because they're both big dogs, but Boo is more of a predominantly alpha personality, whereas Carl is just an alpha-sized dog. They're having so much fun playing and it's really amazing to see Boo finally getting to play with a dog her own size."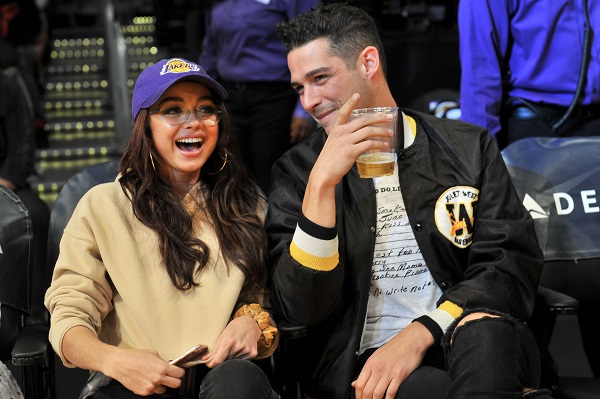 Sarah Hyland and Wells Adam relationship
The couple had met on Twitter last summer while Adams was the bartender on Bachelor in Paradise.
The milestone came after a year of dating. When the couple was moving in together, Sarah was so excited that she shared an Instagram story of herself unpacking hair products for herself and Adams. The gift was from celebrity hairstylist Jen Atkin.
She had said:
"You guys Jen was not lying when she said she would send stuff for me and Wells. I mean I already started unpacking, but are you kidding."
Also read Sarah Hyland: the latest victim of the nude hacking and online leak scandal! Click to grab the details!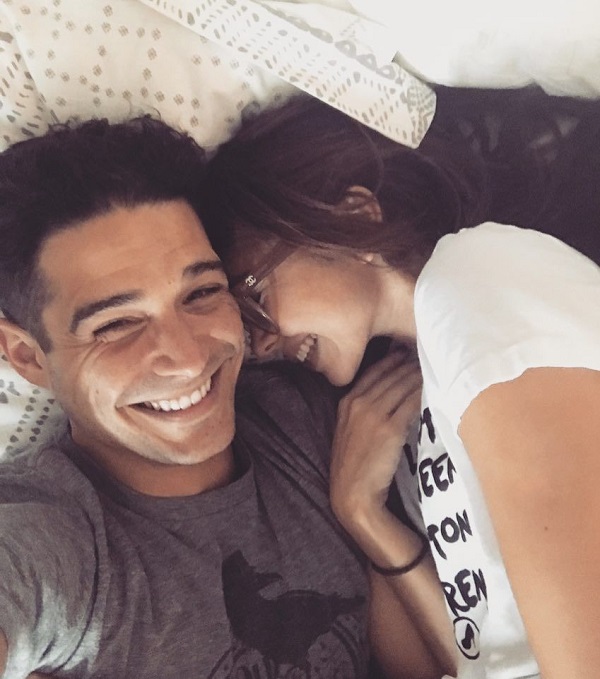 Sarah shared her feelings she has for her boyfriend on Instagram with a cute picture together:
"This picture was taken three days after three words were exchanged. My smile has only grown, my heart has only deepened, and my world has only gotten better ever since. @wellsadams? You are the most phenomenal man I have ever met and I am the luckiest woman in the world to have you by my side. Thank you for calling me baby even when I'm acting crazy."
When Sarah went through a kidney transplant in 2012 due to kidney dysplasia, Adams was there by her side to give love and support.
A source had said:
"Sarah's friends love and accept Wells and say he treats Sarah very well… particularly during her recent health struggles."
Also read Sarah Hyland's struggles with her kidney dysplasia! Her renal transplant and fluctuating weight! Know how she slammed the body shamers!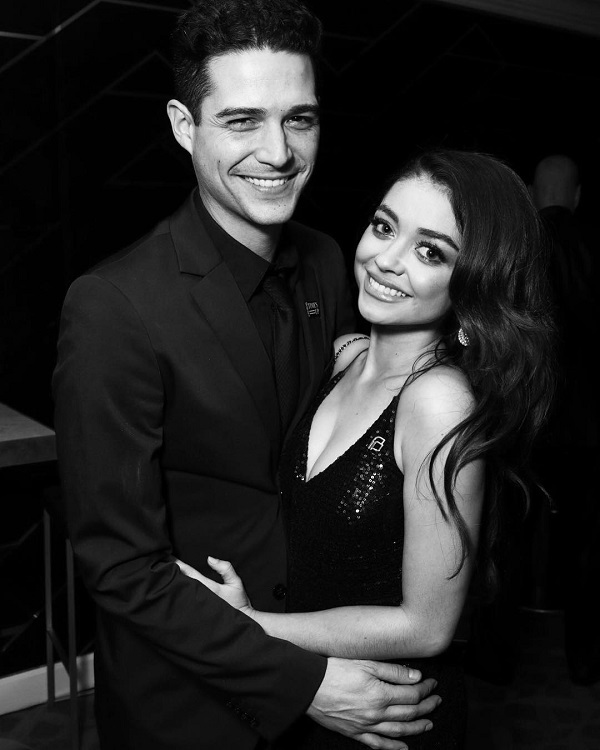 Update on Sarah and Wells relationship
The beautiful couple Sarah Hyland and Wells Adam announced their engagement in July 2019. She posted many pictures on her Instagram and captioned,
"That can't eat, can't sleep, reach for the stars, over the fence, world series kind of stuff,"
Sarah Hyland bio
Sarah Hyland was born on November 24, 1990, in Manhattan, New York, the U.S. Her birth name is Sarah Jane Hyland. Her parents are Melissa Canaday and Edward James Hyland.  She also has a brother named Ian Hyland.
The actress went to Professional Performing Arts School in Manhattan. The movies in which she has flaunted her acting skills include Private Parts, Advice from a Caterpillar, Joe Gould's Secret, Scary Movie 5, Cougars Inc., XOXO. She had lent her voice as the Batgirl in the movie Lego DC Comics Super Heroes: Justice League – Gotham City Breakout.
Above all, she is best known for her portrayal of Haley Dunphy in the ABC series Modern Family. Full bio…
Also read Sarah Hyland revealed her weight loss through the Twitter; Her journey during the weight loss, being accused of promoting Anorexia, and much more
Short Bio of Wells Adams
Wells Adams is an American Radio DJ. He has recently gained popularity as one of the contestants on an American reality show, The Bachelorette. He is the morning show host of Nashville's independent radio. Currently, he is an on-air personality at iHeart Radio. More bio…
Short bio on Sarah Hyland
An American actress, Sarah Hyland is famous for playing in the prominent movies such as Struck by Lighting, Vampire Academy, Scary Movie 5 and XOXO. Sarah also has won a number of highly acclaimed accolades. These include Screen Actors Guild Award and Critics Choice Television Award. See more…
Reference: (people, bustle, eonline, Wikipedia)