Sarah Jessica Parker's Twins make Rare Red Carpet Appearance for Hocus Pocus 2 Premiere!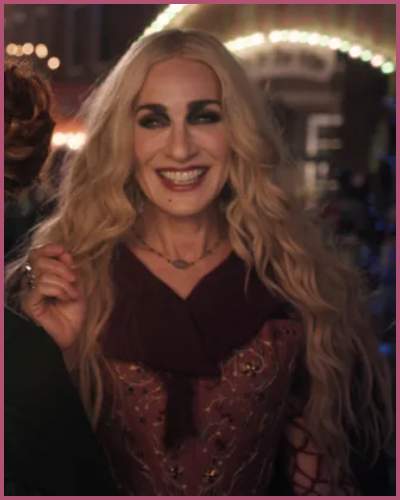 Sarah Jessica Parker walked the red carpet with her twins at the premiere of Hocus Pocus 2.
Her 13-year-old twins Marion and Tabitha are all grown up as spotted at AMC Lincoln Square Theater in New York City.
Learn about the twins and their dad Matthew Broderick in detail.
---
Sarah Jessica Parker took her twins Marion and Tabitha on the red carpet at the premiere of Hocus Pocus 2!
All eyes are on the Twins of The Sex And The City alum Sarah Jessica Parker
Sarah Jessica Parker made the Hallowe'en flick premiere a family affair at the AMC Lincoln Square Theater in New York City. She walked in with her twin daughters, 13-year-old twins Marion and Tabitha in style at the red carpet premiere of Hocus Pocus 2.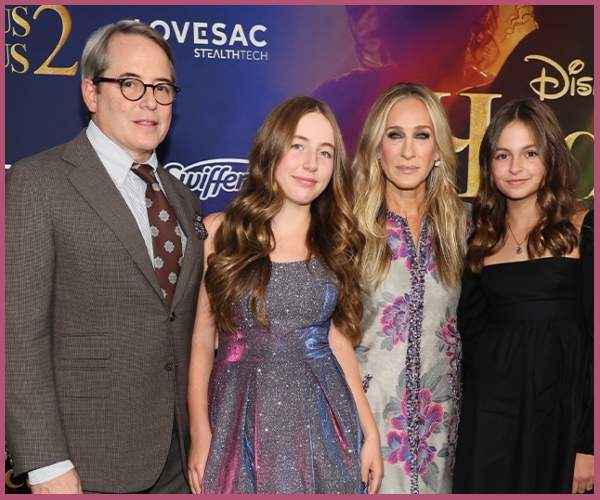 The trio of Sarah was snapped looking stylish, while others could not gaze their eyes off the family. Even her husband Matthew Broderick joined them.
The twin Marrion donned a strapless cocktail dress wearing peep-toe heels from the mum's fashion brand SJP Collection. Tabitha also chose a plain black mini-dress.
Sarah Jessica Parker wore a silver Mandarin top with a pink floral print while walking with Matthew who was styled in a brown suit and tie combo. It's a rare occasion for the Parker family when they are seen together.
Last time, the full family including, James Wilke Broderick, 19, celebrated the opening-night performance of the Broadway revival of Neil Simon's Plaza Suite in March 2022. Jessica about her family told,
"The house is different. We are different. They need us more. And far less. So many know."
Who are Marrion and Tabitha?
Well everyone knows that Actress Sarah Jessica Parker has twins daughters Marrion and Tabitha. The daughters were born on June 22, 2009, via a surrogate, which the actress announced by saying,
"The babies are doing beautifully and the entire family is over the moon."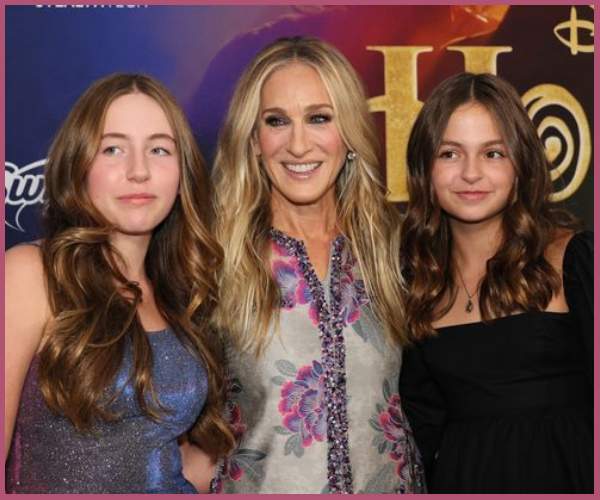 Marion was born at 3:58 p.m. weighing 5 lbs and 11 oz after the parent Parker and Broderick were unable to conceive naturally. They revealed their struggle to expand their family and decision to opt for an alternative saying,
"Well, you know, we've been trying to expand our family for a number of years and we actually have explored a variety of ways of doing so. This was one of the things we discussed with seriousness that had real possibilities for us."
Daughters Marion and Tabitha were in the news in 2014 when their mother was helping them sell homemade cookies. Everyone's eying Marion Loretta Elwell Broderick and Tabitha Hodge Broderick as they are turning more stylish.
Also, Read Jojo Siwa and Her New Girlfriend Avery Cyrus Make Their Red Carpet Debut!