All about Sarah Shahi and Adam Demos' relationship timeline!
Sarah Shahi and Adam Demos are the hot couples
They found love while working on Sex/Life together
They confirmed their relationship in January 2021 and are going well
---
Sarah Shahi and Adam Demos found love in the set of Sex/Life. Even though they had a complicated on-screen romance but their off-screen romance seems to be going pretty well. Their hot showmance gives us an idea of their real-life romance. Here's a quick timeline of the couple.
Relationship timeline of Sarah and Adam
September 2020: Sarah Shahi and Adam Demos met each other on the set of Sex Life as they played 'Billie and Brad'. On 22nd September 2020, Adam shared two backstage pictures of them on the set. A video was posted on the Official Instagram page of Sex/Life where Sarah said,
"I remember meeting Adam in the trailer on the first day and, you know, he's tall and charismatic and good-looking. And I remember being like, 'Oh…okay.' We did our first scene together and I heard how he said the words and I was like, 'Oh, now I get why you're Brad. Like he just owns that mysteriousness."
December 2020: They wrapped the project and praised the co-stars. The same month on New Year's Eve they shared their first official photo as a couple on Instagram.
January 2021: On 10th January, they confirmed their budding romance. Adam wished girlfriend Sarah on her birthday with a sweet message,
"Happy bday my baby, I f*#kin love you. You're everything."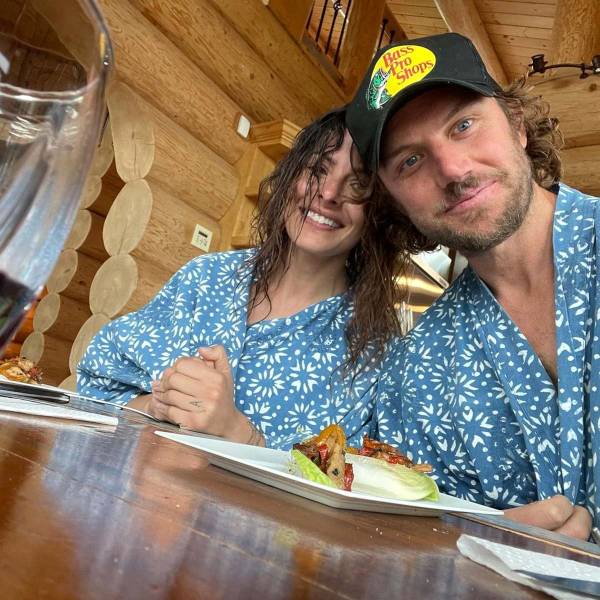 Also read Why Are Steve Howey And Sarah Shahi Ending Their 11 Years Of Marriage? The Couple Finalized Their Divorce!
More on their relationship
February 2021: They celebrated their first Valentine's Day together and Demos shared a selfie of them.
May 2021: On 22nd May, Sarah wrote a love letter to her hot lover writing,
"Not exactly sure how two people on opposite sides of the world could have more in common, were meant to meet, were meant to be together. I do know I found my forever. I do know I've never loved deeper, harder, more ferociously. Also, I do know I'm overly grateful for him."

At this point, they were spending a lot of time together and had multiple romantic getaway.
June 2021: On 17th June, Sarah showed her brand new tattoo on Instagram where she inked 'A' on her hand which was a tribute to her boyfriend Adam.
July 2021: Shahi gave detail about their relationship. Their relationship seems to be going well as of now.
Also read Sex/Life Co-Stars Sarah Shahi And Adam Demos Are Dating In Real Life!
Short bio on Sarah Shahi
Iranian-American Sarah Shahi is a TV actress. Shahi is renowned as Lisa of Bullet to the Head and Erica of Old School.
Next, in 2020, she will be appearing in Language Arts as Allison Forche-Marlow. Read more bio…