Scandalous reports about Christina Milian and Karrueche Tran being 'more than friends' circulating! Gossip Cop clears the air!
MediaTakeOut states…
The tabloid MedaTakeOut is to its old ways again! It has titled a recently published story about Tran and Milian as:
 "Christina Milian And Her BEST FRIEND Karrueche Are Spotted FROLICKING On The Beach… Do Y'all Think… These Two Are 'MORE THAN FRIENDS'???"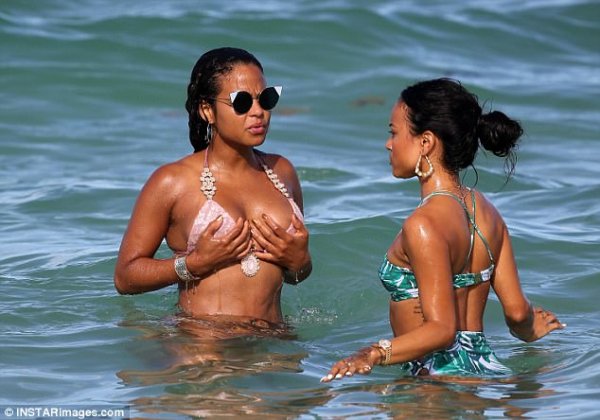 It writes in the story:
"Karrueche Tran and Christina Milian have been close 'friends' now for many years. But there's something about the way these two act – it makes us think that there's MORE going on than meets the eye."
The webloid states that they were at a gala together followed by going to the beach in Florida. They write:
"The two have been partying in Miami all week," 
They support it with pictures of the two in the ocean and on the sand.
Gossip Cop found out….
Gossip Cop has found out that this story is just made sensational and misleading. Facts have been twisted. Gossip Cop got the information that actress Karrueche Tran and singer-songwriter Christina Milian were in Miami for a friend's birthday.
The tabloid deliberately cropped the pictures in such a way that it appeared that the two were alone on the beach. Even if they had decided to hit the beach alone, it by no means implies that they are 'more than friends'.
Gossip Cop spoke to Tran's representative. The rep said:
"It's B.S.'.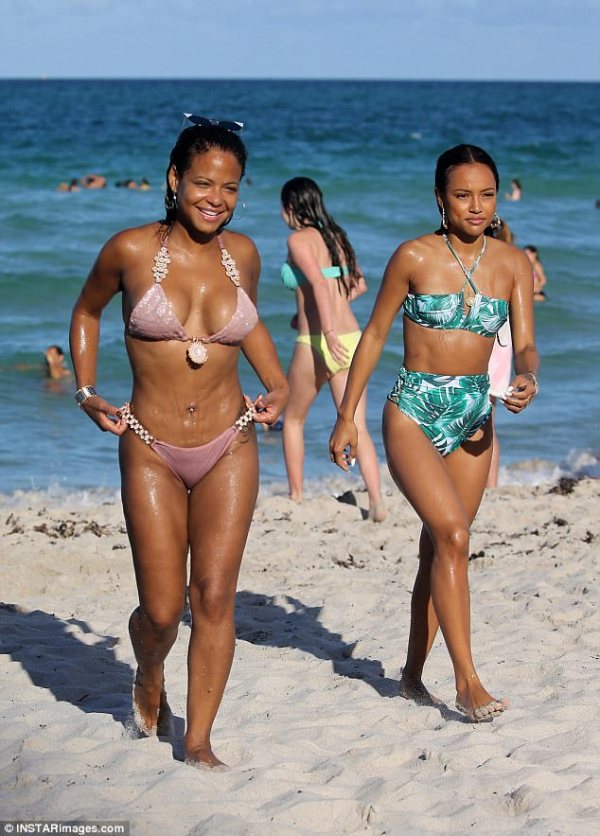 It has been learned that the same outlet had stated in December 2016 that Christina Milian was pregnant. Before that, the same tabloid in September 2016 had falsely claimed that Tran was pregnant with Chris Brown's baby.
It is amusing that the outlet has not mentioned about those babies here in this story. The MediaTakeOut has been spreading false rumors about the two friends and taking their platonic friendship in a wrong way.
Gossip Cop has found out that this is not the first time that the webloid has given a different meaning to a pure friendship between two female friends.
In March 2017, they had claimed that model and actress Amber Rose and singer Teyana Taylor were getting involved romantically. They had based their claim on a video which showed the two having a party at a strip Club.
You may like to read Look what Christina Milian has done on her baby bump as she gears to deliver her second baby!
Tran-Milian long-dated friendship
It might be recalled that Tran and Milian were sighted at Miami Beach on 11th July 2017. They were flaunting their gym-toned bodies in their bikinis. Christina Milian had on a shimmering two-piece pink bikini.
Her best friend Karrueche had donned a green printed bikini. They relished on burgers after their swim and walked on the sandy beach. They had also attended a gala the night before.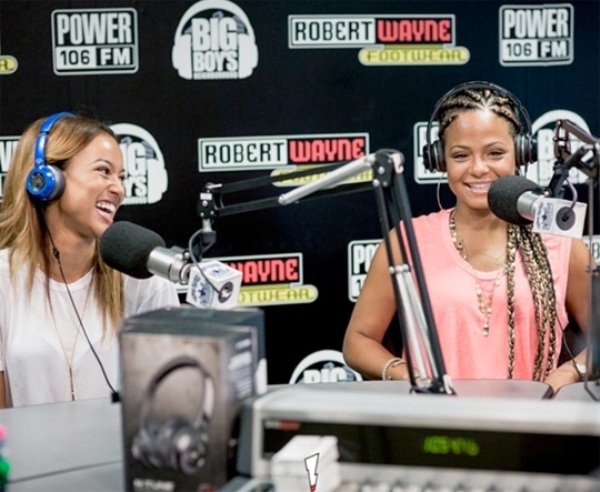 Christina Milian and Karrueche Tran have been friends now for many years. They are spotted often at lunch or dinner or during vacations together.
They even attend awards functions and the like together, whenever possible. They are the best of pals and do stand for each other at times of trouble.
Christina Milian had helped and stood by Karrueche Tran during her split from her boyfriend Chris Brown over cheating allegations. Chris Brown had fathered a daughter with Nia Guzman.
Tran at that time had tweeted:
"Listen. One can only take so much. The best of luck to Chris and his family."
In March 2016, when Chris had called Tran 'vulnerable', 'barely famous' and 'emotionally distraught', Tran had hit back:
"CAN ALL THIS PETTY S*** STOP. IT IS SO UNNECESSARY. You have a beautiful daughter and so much to live for. LIVE YOUR LIFE and be positive. I am so over the drama!"
Milian was right beside Tran during this time also to provide her with the much-needed support. The two have stuck to each other through thick and thin.
Their Instagram posts and pictures and the paparazzi snaps are all witnesses to the great and lasting friendship of these two girls.
Milian has always gushed about Tran. She had said:
"She's a really good friend of mine, and I love her,"
Also read Christina Milian and Matthieu Pokora welcome their son. Who is Matthieu Pokora?
Short bio on Christina Milian
Christina Milian is an American singer, songwriter, and actress. She is best known for her lead role in the 2003 teen comedy film Love Don't Cost a Thing. She is also popular for her second studio album, It's About Time. She was named #30 on the Maxim magazine Hot 100 of 2005 list. More bio…