Shannen Doherty: the return of her curly brown hair locks, her battle with breast cancer, the family support and her remission! Click on to know more!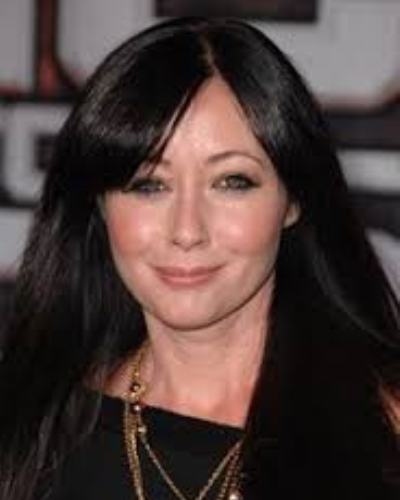 Shannen Doherty's hairs have regrown!
American actress Shannen Doherty is growing back her curly brown locks! Shannen Doherty had revealed 2 months back in April 2017 that she has won her two-year battle with breast cancer.
On 21st June 2017, Shannen Doherty has uploaded a photo on her Instagram of herself and her husband, Kurt Iswarienko while on a vacation in Tulum, Mexico.
Kurt Iswarienko is a photographer in Hollywood. Shannen Doherty looks happy and healthy in it. They seem to be showing off their similar curly locks.
Shannen Doherty jokingly captioned the photo as:
"I think my husband and I are morphing into each other," she joked in the caption, adding "#curlyhairdontcare."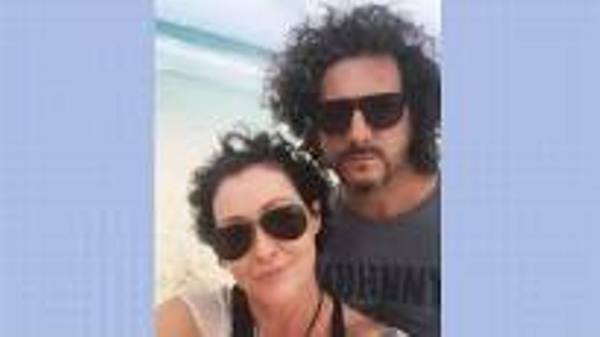 She added another photo of her curly hair cuddling a dog that she found in Mexico. She captioned it as:
"For me, there is always a dog. This is Sophia. She can't give enough love. Neither can I,"
Shannen Doherty is an animal fan and she has in May 2017 being selected on the Board of Directors for the AHFW Foundation (www.animalhopeandwellness.com). She feels honored and humbled by this selection.
Announcement of her remission
Shannen Doherty was told by her doctors in April 2017 that she is in the remission phase of her cancer. She was delighted and took to Instagram to share the good news with her fans.
She wrote an emotional post which read as follows:
"Moments. They happen. Today was and is a moment. What does remission mean? I heard that word and have no idea how to react. Good news? YES. Overwhelming. YES. Now more waiting."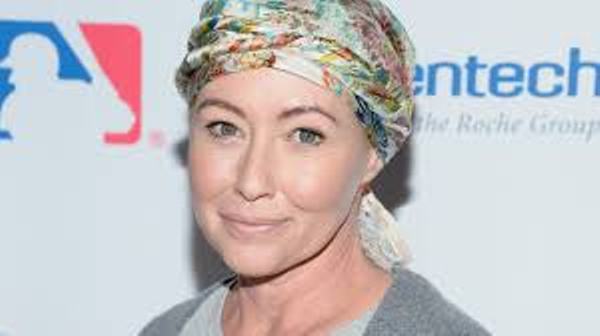 She also disclosed in this post the details of the next five years of her life. She continued:
"As every single one of my fellow cancer family knows, the next five years is crucial. Reoccurrences happen all the time. Many of you have shared that very story with me. So with a heart that is certainly lighter, I wait. In the meantime, decisions. Reconstruction which is several surgeries. Decision on taking a pill for the next five years that comes with its own set of problems and side effects. I am blessed, I know that. But for now…. remission. I'm going to just breathe. #cancerslayer"
Her journey of the last two years!
Shannen Doherty was diagnosed with breast cancer in February 2015. She was also informed that the tumor has spread to the lymph nodes.
In February 2016, Shannen Doherty was put on anti-estrogen treatment to shrink the tumor so that mastectomy could be avoided. It was felt that with this treatment she could be benefited by a lumpectomy later.
However, on follow-up, it was revealed that Shannen Doherty had multiple tumors and a lumpectomy may not help. She was then subjected to a single mastectomy in May 2016.
During the surgery, it was realized that cancer had spread even beyond the lymph nodes. Noting the advanced nature of her disease, Shannen was advised to have chemotherapy and radiotherapy sessions.
She started the prescribed treatment and in April 2017, she was found to be in remission. She has revealed in August 2016 that her dog had diagnosed her cancer even before she went to the doctor and it was diagnosed.
She said that her German shepherd dog Bowie used to sniff around the area where she had cancer repeatedly. She did not understand it then, but later when she came to know about her disease, her dog's behavior made sense.
Talking about her wonderful dog, Shannen Doherty revealed to Entertainment Tonight:
"When I got back from surgery, [Bowie] again was kind of right in this area.Then when I had my first chemo, she would sniff my entire body up and down. And she was always protective before, but she has become this crazy, protective dog. It's hard to get close to me when she's around."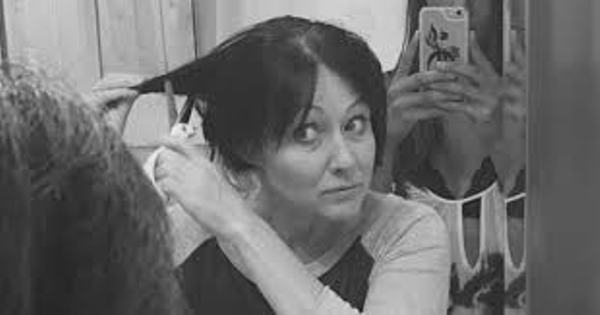 Shannen had the support of her family and husband during her testing days. She boldly faced it all with their assistance.
She also used to regularly update her fans about the progress of her disease and treatment, about her chemotherapy sessions, her feelings at that time, and shaving off her lovely locks.
Update: Shannen is suffering from Stage IV breast cancer.
www.marriedbiography.com wishes the actress a healthy cancer-free life ahead!
Short Bio on Shannen Doherty
Shannen Maria Doherty is an American actress, producer, author, and television director. She is known for her roles as Heather Duke in Heathers (1989), Brenda Walsh in Beverly Hills, 90210 (1990–1994) and as Prue Halliwell in Charmed (1998–2001). More bio…