Who is Sharon Fonseca? Her pregnancy with Gianluca Vacchi, 6 skin care tips, social media, biography
Sharon Fonseca is a Venezuelan model based in Miami. Sharon is also a journalist and actress. She has appeared in series like Jenni Rivera: Mariposa de Barrio and Bajo el mismo cielo. She has also co-founded a jewelry line that has pieces inspired yoga and spirituality. On her website, she shares beauty, lifestyle, and fashion-related content.
Fonseca was born on 31st January 1995 in Venezuela. She is 25 years old at present. Similarly, she attended the University of Miami and graduated with a degree in fashion designing.
Sharon Fonseca and Gianluca Vacchi expecting a baby together
Sharon Fonseca and Gianluca Vacchi are expecting their first child together. They announced that they are expecting a baby girl. They shared a playful video of Gianluca communicating with his unborn child as he cradled Sharon in an adorable Instagram video. He asks,
"Amor, who is your favourite person in the world?"
After that, he takes out a stethoscope and holds it against Sharon's stomach in which to suggest he is going to get a reply. Recently, they put on an animated display as they danced for a video shared via Instagram during their trip to Sardinia.
Fonseca looked stunning as she showed off her growing baby bump in an orange bikini. They showed off their dance skills. The couple stood in front of a pool standing toe-to-toe with one another.
Sharon and Gianluca are dating for a while now. They have an age gap of 27 years. But it does not bother the lovely couple. He revealed,
"Not at all, if it doesn't bother her. Even though I have this white beard, my enthusiasm is that of a boy of 15."
Also read Actress Vanessa Morgan pregnant with her first child! Insight on her married life with Michael Kopech, net worth and getting paid less than other cast
Some of her tips on skincare
On Sharon Fonseca's website, she has talked about her skincare routine. She has listed some tips.
1) Her dermatologist recommended her to use strawberry due to its astringent and exfoliating properties. She loves strawberries with honey or natural yogurt.
2) She suggests using moisturizer on the wet face which prevents water loss from the skin.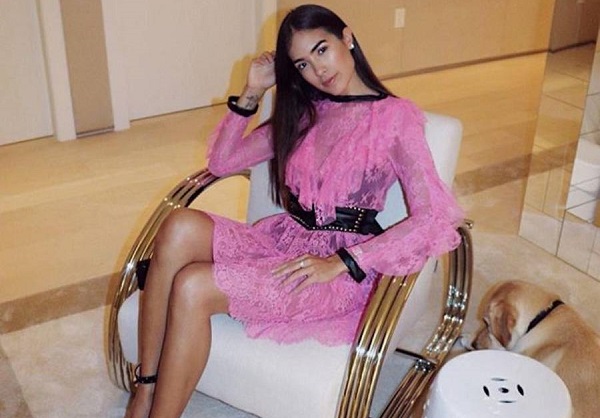 3) Fonseca suggests using an old toothbrush to exfoliate lips or using sugar and honey as a lip mask.
4) She suggests using sunscreen daily to avoid skin problems. Likewise, she uses Bioderm 50 with color.
5) For the oily face, she recommends checking skin care routine before applying makeup and using lighter makeup products. She said,
"I would recommend you consult a specialist about what type of products you should use for your specific skin type. But with oily skin, I would pay attention to what products you're using. Oil free products and light moisturizers that don't  clog your pores, are a good idea."
6) Sharon consumes a healthy and balanced diet for her skin. She has stopped consuming eggs, gluten, and sugars.
Also read After the makeup ban, North West has a new obsession – experimenting with skincare products like her mom Kim Kardashian and her aunts!
Sharon Fonseca on social media
Sharon Fonseca has around 2.4 million followers on her Instagram account. She is following personalities on Instagram like Roger Gonzalez, Sarah Kohan, Victoria Bonya, Riccardo Pozzoli, Tony Dandrades, Sebastian Yatra, and many others. She shares her modeling shots on her Instagram.
Fonseca has traveled to different places. She also shares pictures with her boyfriend Gianluca Vacchi. She first posted on Instagram on 8th February 2013 which was her first photoshoot. Likewise, she was very young at the time.
Since then, she has been posing on Instagram. In 2015, she walked in International Swim Fashion Week in Santa Barbara. Her recent posts are about her pregnancy and belly bump.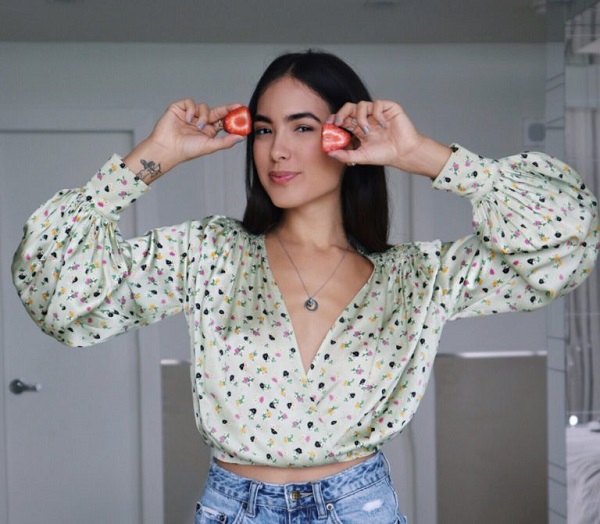 Moving towards her Twitter, she has more than 500 followers. Fonseca joined Twitter in November 2015. She is not much active on Twitter and posts rarely. Talking about her Facebook, she has 118k followers. She posts regularly on her Facebook account.
Short bio on Gianluca Vacchi
Gianluca Vacchi is an Italian entrepreneur, financier, DJ, and millionaire playboy. He is the president of SEA Societa Europea Autocaravan. He has over 10 million Instagram followers and counting. Read more bio…