Explained! Shelby Sevierr Mama Brooke TikTok Details
A woman named Shelby Sevierr in a now-deleted TikTok told the story about her daughter, her daughter's mother Brooke, and her husband.
After the video went viral, the hashtag RIP Brooke is trending on TikTok.
---
The Shelby Sevierr TikTok Explained
Shelby Sevierr revealed the story of her daughter, her daughter's mother Brooke, and her husband in a now-deleted TikTok. Picture slideshows were used to tell the story and although it was deleted, someone thought to screen-record it.
The first picture explains:
 "That is my daughter in that cute belly but this is not me." 
The following pictures continue on the slide with the story written on top:
"This is Brooke, she's our daughters mother… She and Steve were married for 4 years before she passed away in childbirth… This is our daughter, Savannah… This is me the first time I ever met her… WE hung out all the time while Daddy worked… He learned how to be the best dad while grieving his wife… We fell in love pretty quick despite everything going on around us… I couldn't think about anything but them… Caught the bouquet at my besties wedding… and we became a family…"
The next images depict Shelby and Steve getting married and having children. Everything seems great and usual, but the chronology is what raises red flags. Savannah is just about six weeks old when Shelby first meets the daughter in the photo.
According to this, Shelby entered their lives only six weeks after Brooke went away.  TikToker @cvlprit discovered Shelby's now-deleted Instagram after some detective work.
Savannah was being cared for by Shelby when she was just six weeks old. Shelby and her husband allegedly have a sizable age difference.  When they first met, she was only 19 and he was in his 30s.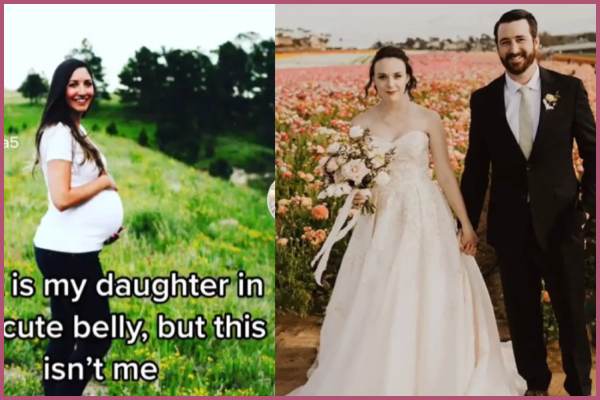 When @ilovejuudy screenshotted Shelby's reply claiming that she met her current husband during the baby shower for him and his late wife's child, she discovered the truth.
Read more: Tiktoker Waffler69 Known For Eating Bizzare Food Dies at 33
Many viewers did not like how Shelby talked about Brooke
Steve moved on very quickly which did not please the viewers but it was how Shelby referred to Brooke. Many of the viewers felt like Shelby disrespected Brooke by making her sound like her "surrogate."
A user with the username @dammitdes wrote:
"It was the 'this is my daughter in her stomach' for me."
Another user, @bailey.frey wrote:
"All us women coming in for Brooke after Shelby called her baby hers like Brooke was just the surrogate. As someone who could have died during childbirth… how dare you."
TikTok deleted the Brooke Sevierr video
Some viewers are alarmed by how quickly Steve moved on from Brooke. A user remarked that Savannah looked like a newborn infant when she first met Shelby. Shelby hasn't confirmed Savannah's age, and neither has Steve.
Shelby said that she had met Steve during Brooke's baby shower. However, some have defended her, describing Shelby's admiration for Brooke as "amazing."
At the age of 30, Brooke passed away in La Mesa, California, in September 2016. This data is taken from her obituary. People have brought her flowers ever since the TikTok video was posted.
The original video, in addition to her TikTok account and Instagram, is deleted.
You may also like to read: Young TikTok Star! North West Dresses Up as Her Dad Kanye West after Rapper Said He Did Not want Her on the Platform!