Shiloh Jolie-Pitt on a solo shopping trip sans mother Angleina Jolie and sister Zahara!
Shiloh Jolie-Pitt, the daughter of actress Angelina Jolie and actor Brad Pitt was sighted on a solo trip in Los Angeles. She is 13 and gradually becoming independent. The last time she was with her mother Angelina and elder sister Zahara, but this time she was all alone. The tomboy Shiloh does look like her father, Brad Pitt.
The solo trip-Shiloh Jolie-Pitt enjoys her day out alone
Brad Pitt and Angelina ought to be proud of their daughter Shiloh. She is now a teenager and aged 13. She is spotted often on outings in Los Angeles with her family or friends. But this time, Shiloh was all alone. Of course, being a star kid, Shiloh cannot walk alone to shopping malls. Hence she was accompanied on this 'solo' shopping trip by a trusted bodyguard.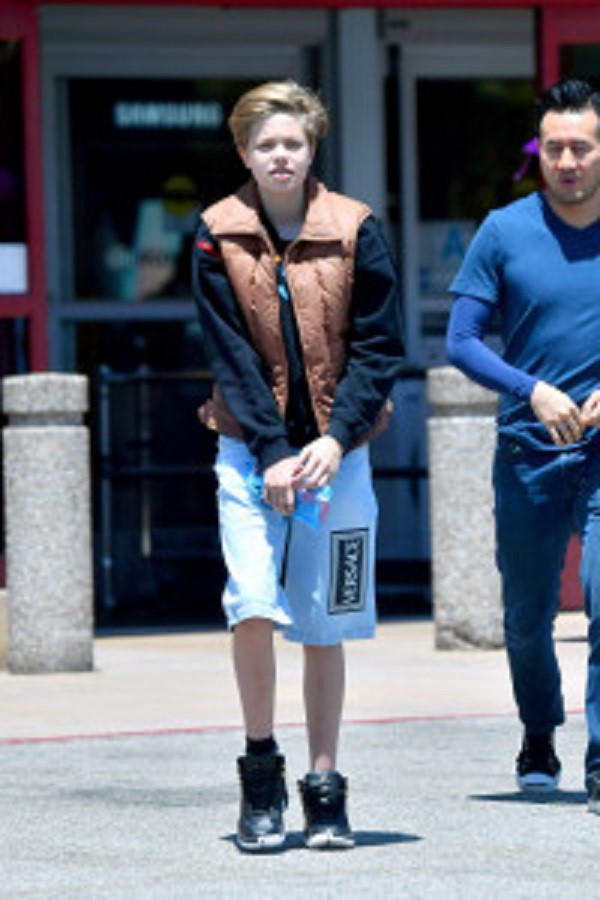 She seemed to be enjoying her freedom. She was wearing Versace shorts with a brown vest and there was a sweatshirt below. Daily Mail which reported this news said that Shiloh visited Best Buy and purchased some electronic items. She did some shopping errands. But people were surprised to see her alone and without her mother or any other family member accompanying her.
Shiloh Jolie-Pitt and her previous outings this summer
Prior to this, Shiloh was seen spotted with her stunning mother Angelina and elder sister Zahara, 14 on 29 July 2019. She was in a cool attire and looking well-grown-up. She had put on a lovely smile on her face and was looking beautiful in her short blonde hair. This was her girls' day out.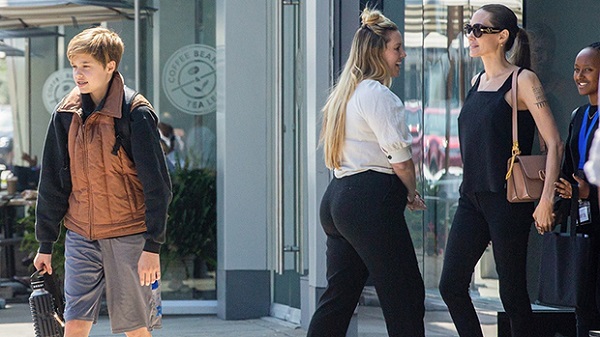 On this previous outing, though the day was warm, Shiloh preferred to wear a hoodie and a puffer vest. She had donned matching shorts and Nike hi-tops. She was carrying a light backpack and her little finger had a small ring on it. Of course, she was in her dental braces still.
The trio visited an art gallery in Hollywood and held hands as they came out. The two children were holding tote bags with goodies in it. They had probably shopped on their way out from the gift shop in the gallery. Shiloh also had a water bottle.
Before this, she was out on 16 July 2019 with younger sister Vivienne Jolie-Pitt at the Knott's Berry Farm Theme Park.
Shiloh Jolie-Pitt and her resemblance to father Brad Pitt
Shiloh is growing up pretty fast. She has a tomboyish charm and appearance. She, unlike sister Zahara, prefers more of boys wear. Hence, it is but natural that people compare her with her father more. In her appearance and with her hair trimmed short, Shiloh has a striking resemblance to her father Brad Pitt. People cannot overlook the similarities and compare her often with him.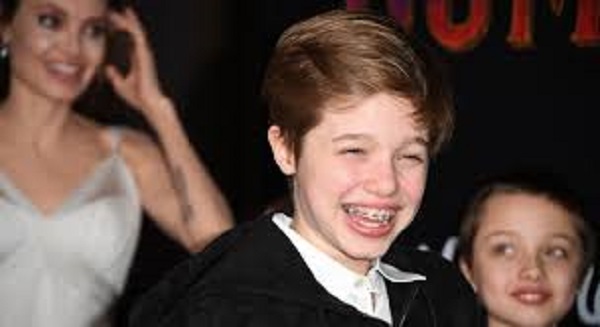 The children of Angelina-Brad are growing but they do not have access to social media as yet. They are not allowed to chat with friends online. But they are gradually gaining independence and moving out around the neighborhood with friends. Millie Bobby Brown is a great pal of both Zahara and Shiloh and they enjoy some time with her. Both Zahara and Shiloh are seen in Millie's social media pages.
Source: Celebrity Insider