Singer Demi Lovato get a new 'most meaningful' tattoo inked on her forearm in honor of her great grandmother who died in 2016!
Singer Demi Lovato has 15 tattoos already on her body. She now has, another one inked on her left arm. She says that it is the most meaningful of them all.
Demi Lovato and her new tattoo
Demi is fond of tattoos. She has 15 tattoos inked on her body. She now has a new one made on her forearm. It is a black and white portrait of her great-grandmother. The celebrity tattooist Dr. Woo has done this marvelous work for Demi.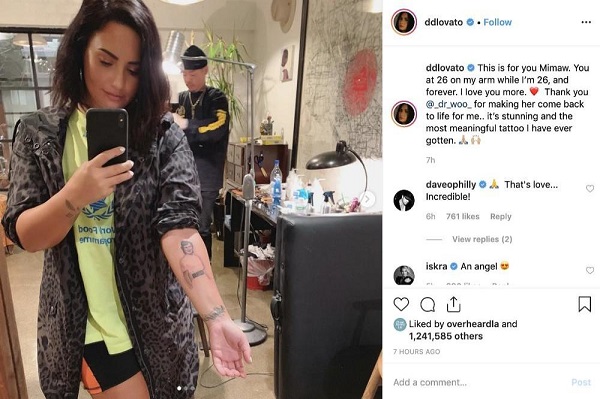 Demi posted a picture on her Instagram of this new artwork. She captioned it:
"This is for you Mimaw. You at 26 on my arm while I'm 26, and forever. I love you more. ❤️ Thank you @_dr_woo_ for making her come back to life for me.. it's stunning and the most meaningful tattoo I have ever gotten. ????????????????"
Demi Lovato and her relationship with her great grandmother
Demi shared a strong relationship with her great grandmother who expired in 2016. She has been quite open about this great bond and had once put on her social media:
"I attribute my strength to her,"

"I'll miss your smile, your wittiness, painting your nails and your kisses. I really do love you more."
Demi had put this post after her great grandmother passed away.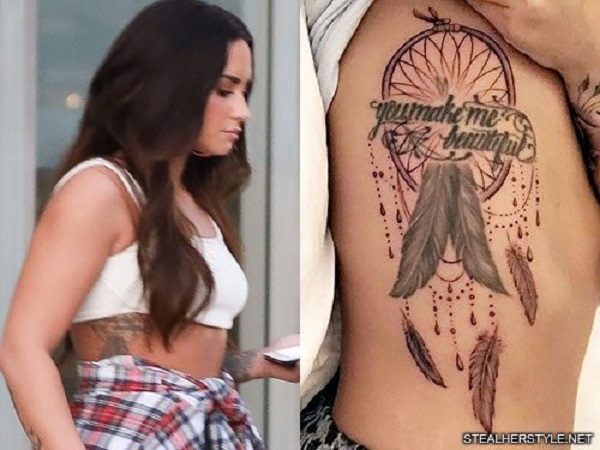 Demi Lovato and her 15 tattoos
Demi's first tattoos came when she was 16. After that, Demi, 27 did not slow down and used to have it very often. In 2014, she told iHeart Radio:
"Well, it's difficult because it's like I lost count […], Do you count the 'Stay' and 'Strong'? Do you count the individual birds? And, then, I have feathers connected to an old tattoo, so I have no idea. I have a lot. It could be 10. It could be 26! I have a very, very high pain tolerance."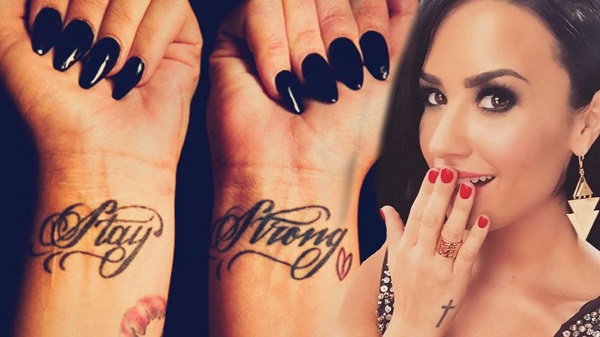 The first tattoo was' You Make Me Beautiful 'inked on her right rib cage. Now, she has added a dreamcatcher around it in red ink. She has Roman numerals III inked on the side of her left wrist in honor of her father who died in June 2013. She has 'Stay Strong' tattooed on her left and right wrists in 2011. Just below her right elbow is the word Faith inked and all along the forearm are 12 birds. On the back of her right shoulder are the words "Now I'm a warrior". On her inner upper forearm is an outline of Africa. And, on her left forearm are two roses. Bang Bang has inked this for her. A 'smiley' is tattooed on her right little finger. Across her feet is written:
"Let Go & Let God."
Demi Lovato and her more tattoos
She has Roman numerals on her left side of the body. These are birthdays if her mother Dianna de la Garza (8 August 1962), her older sister, Dallas Lovato (4 February 1988), her younger half-sister, Madison de la Garza (28 December 2001), her stepfather, Eddie de la Garza (14 February 1963), and her biological father, Patrick Lovato (23 October 1960). She also has a cross on her left hand. She also has a feather inked behind her left ear.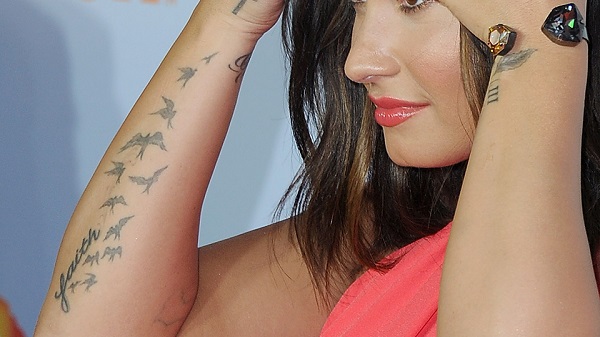 On the inner side of her middle finger of her left hand, she has the word Peace tattooed. At the same place is also the word Rock n Roll. She got Buddy was Here inked on her left feet inner side. There is a tattoo of a lion head on her right-hand outer side.
Short Bio on Demi Lovato
Demi Lovato is an American actress. Demi is also a singer as well as a songwriter. She portrayed the character of Sonny Munroe in the Disney Channel's series Sonny With a Chance from 2009 to 2011.
She is also famous for her sophomore album; Here We Go Again. In 2010, the album became top on the Billboard 200 chart in 2010. More Bio…
Source: pop sugar UK