Singer Taylor Swift gets support online from her celebrity friends after rapper Kid Rock's rude tweet on her!
The famous American singer Taylor Swift has too often been criticized in public by mine other than her own peers. When it gets too much, her friends do step in to take her side. When country singer Kid Rock slammed her on social media for her political stance, her friends decided to intervene you give it back to him. Here are the highlights of this Twitter war.
Kid Rock and his rude tweet for Taylor Swift
Rapper Kid Rock has some rude words for singer Taylor Swift. Taylor Swift wants to be a Democrat and learning this, Kid Rock who is a strong Republican tweeted harshly on 10 August 2019:
"Taylor Swift wants to be a democrat because she wants to be in movies….period. And it looks like she will suck the door knob off Hollyweird to get there. Oldest move in the book. Good luck girl,"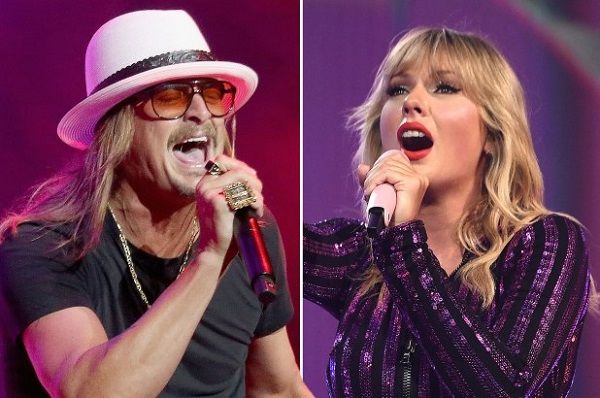 He tried to reveal to the world Taylor's motives in becoming a Democrat.
Kid Rock receives befitting replies in large numbers
After Kid had tweeted against Taylor Swift, her fans and friends responded back in large numbers. Within a short span of time, his tweet had 60k responses and comments. Some of them were big stars from Hollywood who did not hold themselves back to reply to the country singer's comment on behalf of Taylor Swift. Taylor Swift did not reply but her friends did. Chrissy Teigen who is anti-Trump wrote:
"you're pathetic. – Chrissy Teigen https://twitter.com/kidrock/status/1159850492874375168 …"
Sheryl Crow commented:
"Spread love. Not hate. End of subject."
Patricia Arquette tweeted:
"Somehow that tweet was both gross and boring."
Kate McPhee put a picture of herself jumping and wrote:
"the floor is kid rock's toxic masculinity. "
the floor is kid rock's toxic masculinity pic.twitter.com/KTa89TjTs3

— Kat McPhee (@katharinemcphee) August 10, 2019
Carly Aquilino wrote:
"Kid rock acting like Taylor Swift is a loser is the absolute funniest thing that's ever happened since the beginning of time."
Whitney Cummings tweeted:
"I feel like the most surprising part of Kid Rocks tweet was that all the words in it were spelled correctly. "
More online support for Taylor Swift
There were more people who absolutely were for favoring Taylor Swift. Andy Lassner was sarcastic about the rude rapper and his career when he wrote:
"Have to give Kid Rock some credit for getting people to talk about him for the first time since 1996."
Roxane called Kid Rock grandpa and tweeted as a reply:
"ok GrandpaRock."
Molly Jong-Fast and Kathy Griffin had some laugh between them. Molly scratched her memory trying to recall who exactly is Kid Rock. She tweeted:
"I'm still trying to remember who kid rock is. He's the one who posed with Sarah Palin at the White House once, right?"
Kathy Griffin replied to her adding to and enjoying the fun:
"I think he's actually convinced himself that he's the uncredited member of seal team six."
Blogger Perez Hilton could not remain quiet. He tweeted:
"I'm so happy to hear you're still alive!!!"
I'm so happy to hear you're still alive!!! pic.twitter.com/WaQ55zwcnw

— Perez (@ThePerezHilton) August 9, 2019
Short Bio on Kid Rock
The American singer-songwriter Robert James Ritchie professionally known as Kid Rock is also a rapper, musician, record producer, and actor. He was the member of the hip hop music group The Beast Crew. Similarly, his music is noted for its eclectic sound. More Bio…
Source: Elle Australia