Sir Michael Caine gives an update on his health post-ankle injury last February!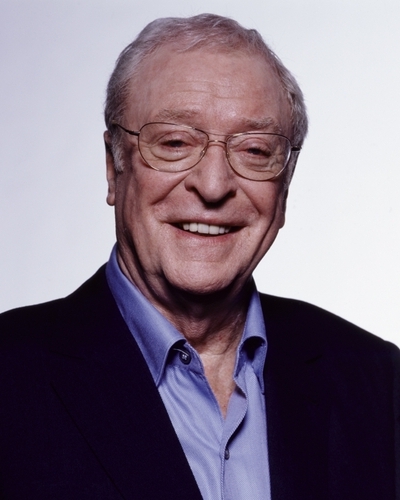 Sir Michael Caine had broken his ankle last February. Giving an update on his health after the injury, Michael stated that it will take time for him to recover completely after this ankle injury but he also said that he is getting close to that.
Sir Michael Caine and his health update
The famous actor Michael Caine has opened up about his health after he sustained an injury to the ankle last February. The legendary movie star said that he has to use a walking stick when he goes out now. He can walk but with the aid of his walking stick.
Michael Caine let his fans know that he is better and even joked that he used the walking stick when he has to climb at a place where there is no lift or the lift is broken.
Michael was on the show The Jonathan Ross Show on ITV recently. The iconic actor said:
"It takes a long time to get better. I am nearly there."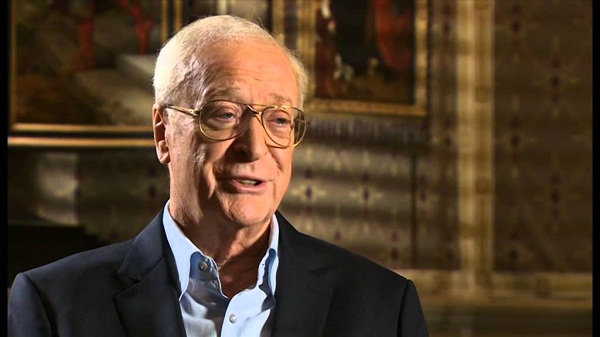 He also added:
"I only have this stick when I go out in case I get [into] circumstances."
Michael is now 85 years of age and he said:
"If you have a broken ankle, everywhere you go, the lift is out of order. You'll notice that!"
Also read The full trailer of Michael Caine's new film King of thieves is released! It is his first film after his broken ankle!
Michael Caine and his autobiography
When Michael Caine suffered an injury to his ankle after he slipped in the snow, he had to be on bed rest for recovery and healing to take place. The father-of-two wrote an autobiography during this time and the book is titled 'Blowing the Bloody Doors Off: And other lessons in life'.
When Michael was on the ITV show, he also talked about his autobiography. He said:
"I was going to write the book and I was doing notes on it."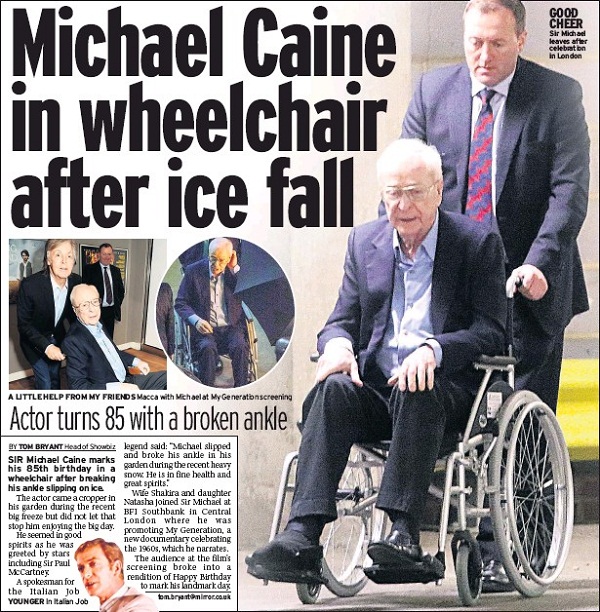 He continued:
"Then I broke my ankle and I'm sitting there doing nothing, watching television in the day time."
Michael further said:
"In the book I write something which I say to my children and grandchildren, 'if you find a bad situation, try to use the difficulty and find something good in it."
He said:
"I thought, I'm sitting here for weeks with this broken ankle, use this difficulty 'so I wrote the book'."
Michael Caine talks about retirement at 60
Michael Caine feels that retiring at 60 is too premature. He said that retiring at 60 is a mistake and that 65-year-old people are still young. Michael recalled:
"Having retired, I went to win an Academy award for the Cider House Rules, and made six fabulous movies for Christopher Nolan, including three Batmans."
Michael spoke further on it:
"I suddenly realized what a mistake you can make thinking that your life is over, and you've retired, 65 is a very young age now."
Michael wants others to also think before they retire. He said:
"If you're going to retire, think about it because you may be making a mistake like I did."
Michael Caine talks about his love
Michael is now married for 45 years and is happy in his married life. He gave some words of wisdom to his host David Walliams. He said that he had seen his future wife Shakira in a TV ad and thought she was a Brazilian and had plans to travel to Brazil to meet her. Similarly, he then came to know through a friend that she was an Indian and lived on Fulham Road. He said:
"So the moral of that tale [is] be prepared for it to come out of nowhere."
The couple has a daughter named Natasha and there is another daughter from his first wife Patricia Haines.
Also read English actor Jake Wood recalled his wife's near-fatal attack by an alligator during a family vacation in Florida!
Short bio on Michael Caine
Michael Caine is an English actor, author, and producer. He is best known for his distinguishing talents which are showcased in his movies. He has given a special trademark in every work which is his cockney accent. Michael has been active from the 1960s to date. He made his breakthrough from his starring roles in British films, like 'Zulu' in 1964, 'The Ipcress File' in 1965, and 'Alfie' in 1966. See more…
Source: Express UK