Sir Rod Stewart in a rare picture with the four women with whom he fathered his seven children? Who is missing?
It is a rare picture indeed! The occasion was the 40th birthday celebration of Kimberly in Los Angeles. Kimberly is the daughter of Sir Rod Stewart. It is incredible how close he is still to the mothers of his children. The four women with whom he fathered seven kids are in the picture with him and their children.
Rod Stewart and the rare picture
Rod Stewart was at the 40th birthday celebration of his daughter, Kimberly. But what is the most unusual thing is that it was attended by four women with whom Sir Rod Stewart has fathered his children. The evidence of it is in the form of a picture taken on this happy occasion.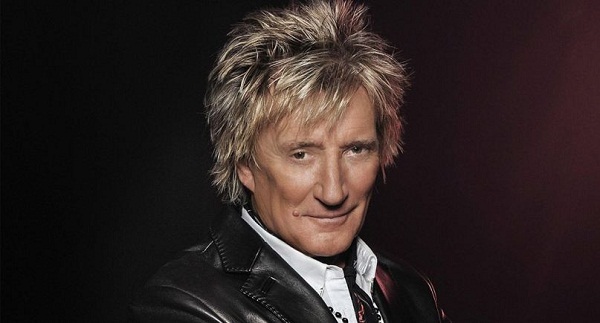 In the photo, he is seen with his four baby mamas. He has managed to remain close to them. He was able to gather four of his five baby mamas and make them pose for a picture with him as a memory of the occasion. And this is laudable as well as surprising. It sure needs the luck to be in that position.
The photo is a rare one since it is the first time that so many of his ex-partners are seen together.
Details of the rare pic of Sir Rod Stewart
The rare picture shows Rod Stewart, 74 in the center. The singer has worn a silk waistcoat and his usual leopard-print loafers. Next to him is Rod's current wife, Penny Lancaster, 48. She is a panel member of Loose Women. And to her right is Alana Stewart, 74. Alan was an actress and Rod's first wife. She is the mother of Kimberly. To the left of Rod is his former girlfriend model Kelly Emberg, 60. To Kelly's left is Rod's second wife, Rachel Hunter, 49. She is from New Zealand and a former model.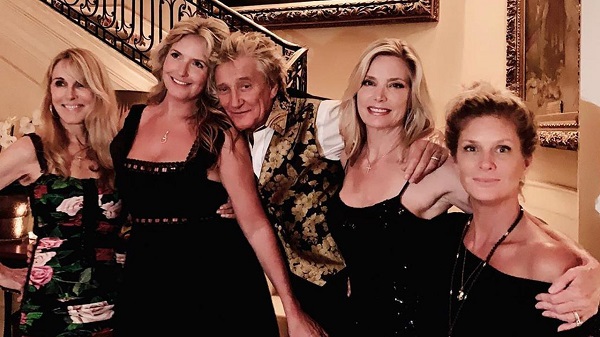 Kelly shared this picture with her friends. She had joked:
"A mothers' reunion."
Not in the picture was Susannah Boffey. The couple had a daughter named Sarah Streeter who is now 56. Susannah has not forgiven Rod and had said in 2013:
"The reality is that he's got a daughter whose life he messed up for a very long time — and my life, too,"
Daughter Sarah, however, managed to pardon her biological father and had said:
'I used to be like Susannah, full of resentment, but then I realized that dwelling on the past doesn't get you anywhere.'
Rod Stewart and his multiple relationships
Rod Stewart had been with many women in his life. He was first dating in 1963-1964 an art student Susannah Boffey with whom he had a daughter Sarah Streeter who was given up for adoption. in 1965 to 1967, he was with model Jennie Rylance. Later in 1971-1975, Rod was dating model Dee Harrington. Next, he switched to actress Britt Ekland from 1975 to 1977.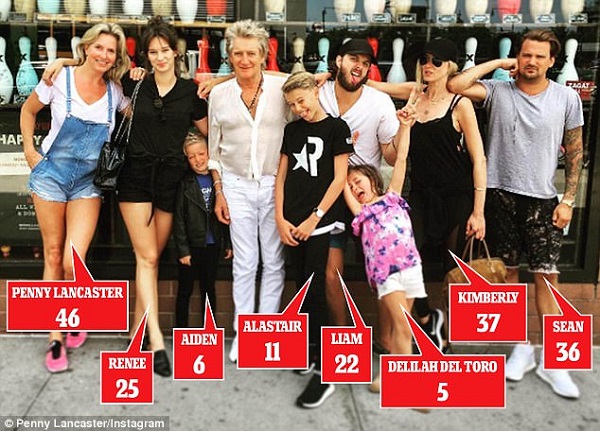 In 1979 to 1984, Rod was in love with and married model-actress Alana Stewart. Kimberly was born in 1979 and Sean in 1980. He had already started dating model Kelly Emberg in 1983 before he divorced Alana. They were together until 1980. Ruby was born to Kelly in 1987. Rod then married model Rachel Hunter in 1990 and their marriage lasted until 2006, though they separated in 1999. They have Renee born in 1992 and Liam born in 1994. His third marriage was to model Penny Lancaster in 2007. She is his current wife. They have Alastair who was born in 2005.
Last year, Rod has spoken about his three old flames. He said:
"They all live within three minutes of me, and we've all got children together."

"So we've got to be in each other's lives for the rest of our lives."
Short Bio on Rod Stewart
Sir Roderick David Steward is a British rock singer and songwriter. His evergreen songs include 'Tonight's The Night', 'You Wear It Well', 'You're In My Heart', 'The Killing of Georgie,' 'Maggie May,' etc. Similarly, he is one of the best-selling music artists of all time. As he has sold over a million records worldwide. Moreover, he was listed as No. 17 by the Billboard Hot 100 All-Time Top Artists. More Bio…
Source: Daily Mail