The American soccer player Julie Ertz brings USWNT's World Cup trophy home ahead of New York parade. Know about her married life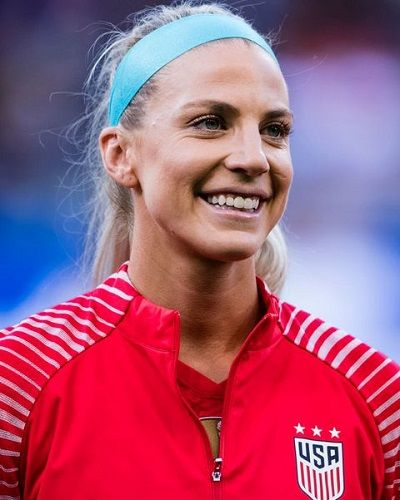 In the year 1991, the US women's soccer team arrived home from China after winning FIFA's first global women's soccer championship.
Similarly, it wasn't yet called the World Cup back then the moment was barely noticed.
---
The soccer player Julie Ertz carried the trophy down the steps to a red carpet whose VIP guests included New Jersey Gov. Phil Murphy, his wife, Tammy, and their family.
Similarly, they exchanged pleasantries with the players and coaches and posed for photos with Carli Lloyd and U.S. Soccer Federation president Carlos Cordeiro.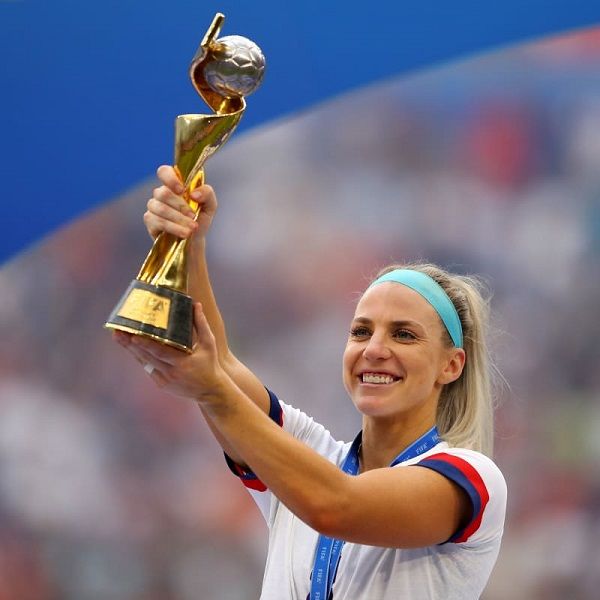 The reporters said,
"It was pretty special to have that transcendent moment outside of sport, outside of soccer, outside of anything. It's so much bigger than just what's happening on the field, and the fans were right there in lockstep with us."
Also Read The professional golfer-Brian Hollins from the USA. Know about his career, father, and soccer player wife!
Is Julie Ertz married?
Julie Ertz is a married woman. She married on 26th March 2017 to Zach Ertz. They married in Goleta, California. Similarly, they engaged at the same baseball stadium where they met on February 26, 2016. He is a National Football League player who plays for the Philadelphia Eagles.
Julie Ertz's life and career
The American soccer player Julie Ertz was born on 6th April 1992 in Phoenix, Arizona, United States. She is the daughter of Kristi Ertz(mother) and David Ertz(father). Similarly, she has an older sister Melanie Johnston.
She joined Dobson High School from the year 2006 to 2010. At that time, she volunteered as a student athletic trainer for all four years and also was a member of the National Honor Society. Likewise, she enrolled at Santa Clara University and completed her graduation in communications.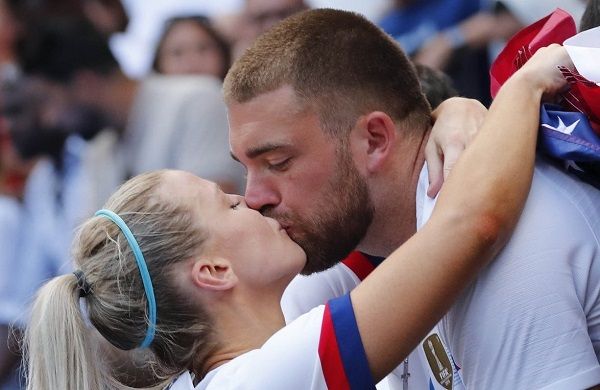 She began her soccer career at her college level. Similarly, on January 17, 2014, she signed with the Chicago Red Stars in the first round of the 2014 NWSL College Draft.
After that, on April 19, 2014, she made her debut in a match against the Western New York Flash and also scored the only goal of the match.
Likewise, in the 2015 FIFA World Cup, she started in each and every match of the tournament and was also named to the FIFA Women's World Cup All-Star Team.
In the year 2016, the soccer star was on the 20-player roster for the 2016 CONCACAF Women's Olympic Qualifying tournament. Furthermore, the United States won the tournament after defeating Canada 2–0 on February 21.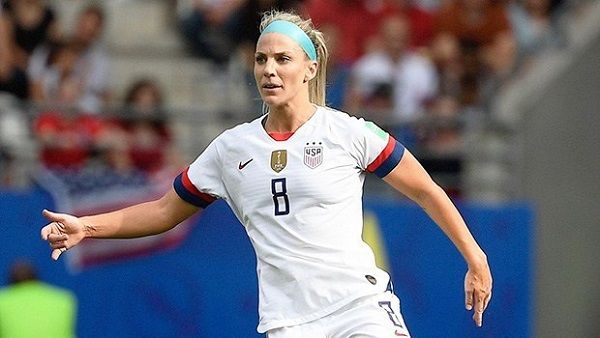 Also Read Olympian soccer player and son of Haiti immigrants, Jozy Altidore is engaged to Sloane Stephens!
Short Bio on Julie Ertz
Julie Ertz is an American soccer player who represents the United States women's national soccer team. Furthermore, she is the 2015 FIFA Women's World Cup champion. Moreover, she also plays for the Chicago Red Stars of the National Women's Soccer League as a defensive midfielder and center-back.
After winning the FIFA Women's World Cup in 2015, Julie was also named to the FIFA Women's World Cup All-Star Team. Besides this, she won the U.S. Soccer Young Female Athlete of the Year award in 2012 and NWSL Rookie of the Year in 2014. See more…
Source: Inquirer, Wikipedia