Social Media Users Call Out Kourtney Kardashian for Bringing Food to the Bathroom!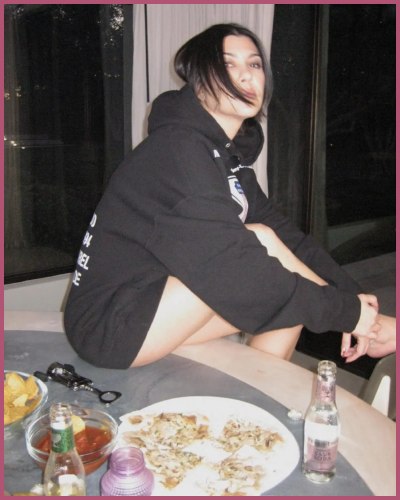 Fans troll Kourtney Kardashian for bringing her food into her bathroom.
Kourtney posted a photo on Instagram where she showed food plates on her bathroom tiles.
Fans shared vomiting or sick green-faced emojis to show their disgust over her new pictures.
---
Kourtney Kardashian disgusts fans with her bathroom food
Fans are not happy with Kourtney Kardashian lately and it's all because of the food that she brought into her bathroom.
Recently, the Kardashians star, 43, posted an Instagram photo of her tiled floor covered in plates full of chicken tenders, fruit, and desserts.
Fans did not approve of the half-eaten burger which was kept on her toilet seat next to a glass of water. Meanwhile, a bag of chips laid beneath a dirty towel next to the reality star's tub.
Many of Kardashian's followers shared vomiting or sick green-faced emojis. There were others who shared their dislike for her lavatory meal.
One social media user wrote,
"I'm gonna be sick this is so f—king disgusting I stg," 
Another chimed in,
''You were wrong for this Kourtney. So gross."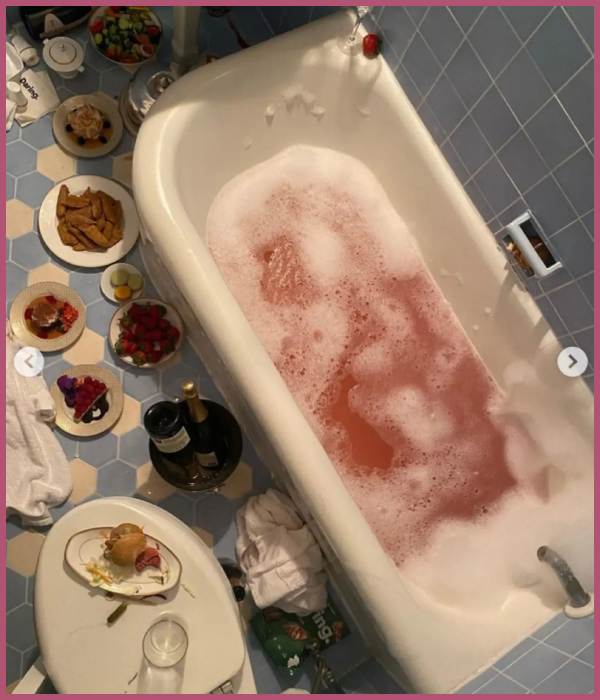 One fan was very repulsed with the Poosh founder setting a sandwich on top of her toilet seat, commenting,
"Putting a burger on her toilet?? I'm calling the police!"

"That is sick fr."
Another person added that "no matter how well you clean" a bathroom, one should "never eat" from its floor, saying,
"You got them poop particles all around."
Also, Read 'Not Pregnant!' Kourtney Kardashian Rubbishes Rumors of Being Pregnant with Her Fourth Child!
Kourtney flaunts her new blonde hair to promote Lemme Sea Liquid
Also on her IG Stories, Kardashian treated her fans with a photo of herself and her husband Travis Barker. Photographed by Ellen von Unwerth, the couple can be seen enjoying food while drinking champagne.
Apart from the first restroom pictures, Kourt also shared a picture of herself in a velour tracksuit, a white bikini, and a figure-hugging silver dress.
Kardashian's controversial post comes just days after she posed in lingerie and heels to promote her Lemme vitamin line.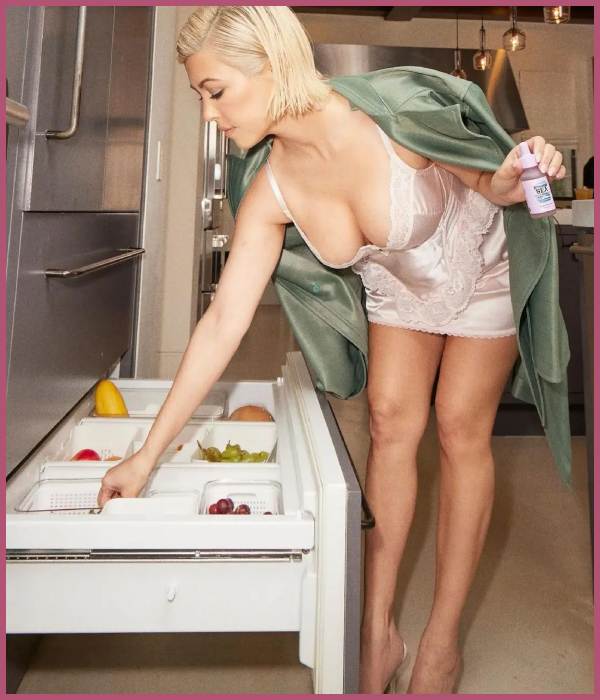 In the sultry pictures, Kardashian showed her millions of followers her newly bleached platinum blond hair. She was wearing a bustier-and-skirt combo trimmed with lace.
Many fans thought it resembled the Dolce & Gabbana dress she wore at her wedding to Barker in a lavish Italian ceremony in May 2022.
The reality star slung a long green jacket over her shoulders while holding her Lemme Sea Liquid Drops in one hand.
The eldest Kardashian daughter captioned her picture,
"Sea the benefits (of @lemme Sea): Irish Sea Moss is one of the most powerful plants and mineral-dense superfoods on the entire planet that naturally has 92 of the 102 minerals that the human body needs," 

"We paired our wildcrafted Irish Sea Moss with D3 and Biotin for an extra boost of beauty, immunity, brain and skin health."
Also, Read Here's what Travis Barker got his new tattoo Kourtney Kardashian's eye