Sofia Richie and Kylie Jenner have a girls' trip to the Turks and Caicos Islands!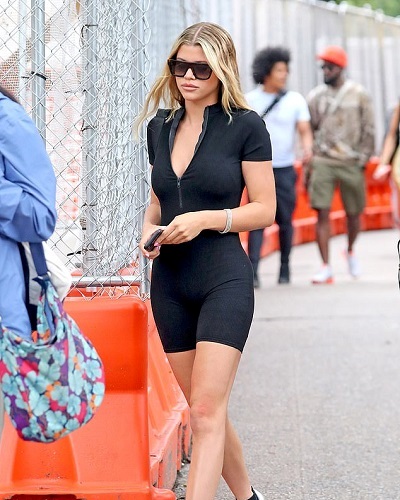 So what is Scott Disick's girlfriend Sofia Richie up to these days? She is filling her Instagram with hot bikini photos and clapping back at those who say she has face-tuned them!
Sofia Richie and her lash back at a fan's comment
American model Sofia Richie is enjoying herself on a girls' trip with entrepreneur and model, Kylie Jenner. She has been putting a lot of bikini snaps of herself on this vacation. In one of the pictures, she is in a two-piece leopard print bikini from Lahana Swim and she captioned it:
"salty bit sweet."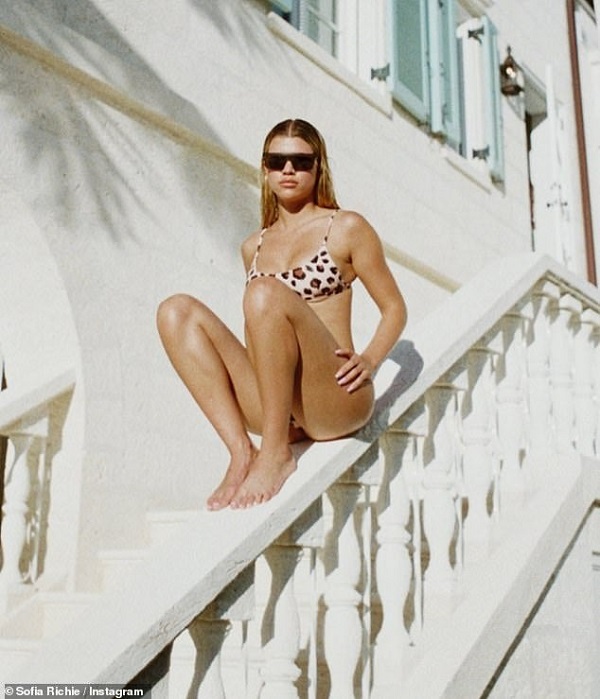 She took this at the Turks and Caicos Islands and posted it on 15 July 2019 on her Instagram. An eagle-eyed fan of hers spotted some curvy line in the picture and commented bitterly:
"The curve of the wall sis,,, we were all rooting for you to not facetune like the rest of them!"
He felt suspicious since the picture appeared too picture-perfect. Sofia clapped back:
"Thanks boo! But that is an archway ????,"
Sofia had nearly 900 comments for her posts and Kylie, 21 commented:
"Wow ????????????????,"
Sofia Richie, and Kylie Jenner – their trip and Instagram posts
The girls accompanied Kylie to celebrate her new Kylie Skincare line. There were other members of the CEO's team as well. On 12 July, they took a private jet to the Turks and Caicos Islands for some fun time.
Sofia shared some bikini snaps on 14 July as well. She laid back on the sand. In one pic, she was topless in a sex pink string bikini. She said that her mission to be on that island is to tan.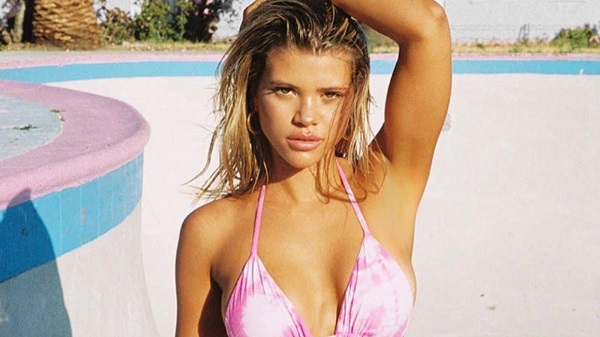 Kyle's Instagram also had loads of such swimwear pictures. She also in one of the pic is seen to be nude. The girls were having a gala time.
Sofia Richie and the previous posts of her new swimwear collection
Sofia Richie has been uploading several pictures in bikinis even before she went off to the tropical island. She was promoting her new swimwear collection with Frankies Bikinis which began on 8 July 2019.
Sofia Richie and her love life
Sofia, 20 is in a relationship with Kylie's sister's ex-partner, Scott Disick. Scott, 36, and Kourtney Kardashian, 40 were in a relationship from 2006 to 2015 and have three children together – Penelope, Mason, and Reign.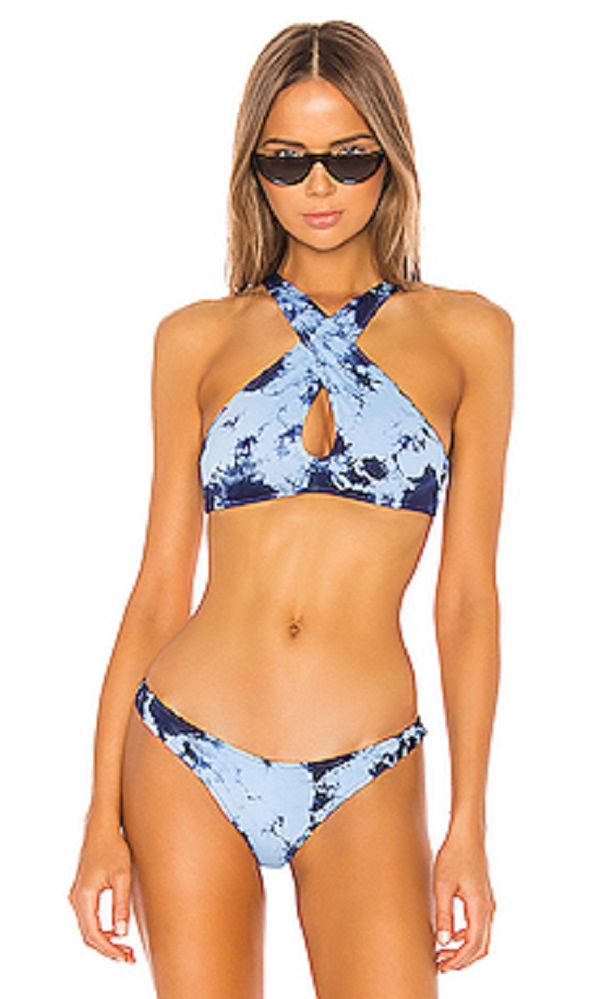 The couple is now dating for nearly 2 years. People want to see Kourtney and Scott together again, and Sofia is neither insecure nor jealous. An insider revealed:
"Sofia is one of the most confidant 20-year-olds you will ever meet, so she is not worried about all the talk about Kourtney and Scott getting back together. She is friends with Kourtney and respects her both as a person and a mother and she is in love with Scott and trusts that their relationship is solid and he will not go astray with anyone — let alone his baby mama. Sofia is cool with it all, cool with all the chatter because she knows that Scott is hers and it will remain that way forever. She is as far from being worried or concerned as one could possibly be. She has better things to worry about than things that are never going to happen,"
Sofia's father Lionel, 70, and sister Nicole, 37 do not approve of her relationship with the older Scott. There seems to be a rift between them and Sofia has not been seen with her family since March 2018. An insider confirmed:
"There are just a lot of hurt feelings, because Lionel was really hoping Scott was just a phase in Sofia's young life,"
Short Bio on Sofia Richie
Sofia Richie is an American celebrity and model. Sofia Richie is best known for her famous fame and her peaking modeling career. More Bio…
Source: Hollywood life, radar online