Sometime Superman also Needs a Sidekick! Henry Cavill opens About His Favorite Travelling Companion-His Dog, Kal!!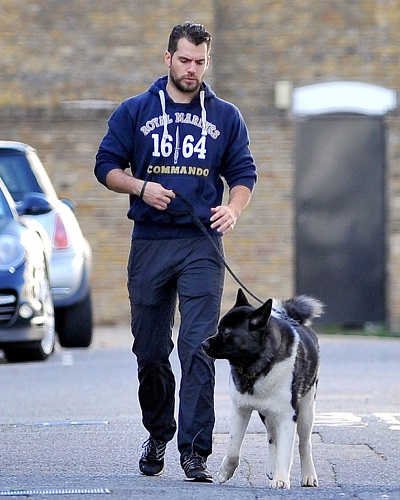 As a Celebrity, you have to travel to many places. Actor Henry Cavill has spoken about his traveling buddy and it's none other than his loyal Dog!
Everyone needs a traveling companion! Henry Cavill, who plays Clark Kent in DC's two most recent film adaptations of the classic comic, as well as the upcoming Justice League, shared a post in honor of his lovable dog, Kal on his Instagram on Monday, April 3.
Henry on traveling
Henry bestowed his love to his Dog, Kal.
"These past few days have been very busy with travel to new destinations for my next job. What seemed like an impossible task was made into less of a mission by my constant companion,"
he captioned the collage of photos of Kal with the hashtag, "#TheTravelingBear."
Though he didn't specify where the two traveled, Cavill recently had a shoot for Nomis, a psychological thriller starring Ben Kingsley, Stanley Tucci, and Minka Kelly.
The former Tudors actor commenced work for the film in late February in Winnipeg, Canada. He is currently looking for his love of life but right now he is more in love with Kal.
This isn't the first time Cavill, 33, has expressed his gratitude to his loyal pup on social media. In January, the British actor uploaded a picture of his right leg clad in a knee brace. Cuddled up beside him in bed can be seen Kal, resting his paw on the injured limb.
"Kal has my back!"
he captioned.
More on Henry about his Love Dog,
Kal!
When we heard our favorite Welsh Hollywood hunk gushing about his adorable pet pooch, Kal, we couldn't resist sharing this story with you.
Henry's fame came playing Clark Kent aka Superman… aka Kal… in 2013's blockbuster 'Man of Steel' and he was recently called upon to promote the forthcoming 'Justice League' movie in which he reprises the role.
Of course, all the travel might seem glamorous to you and me but Henry admitted it can be exhausting and can take its toll on your mind. Thankfully, he has for companion his "traveling bear" who helps him stay sane.
Henry, 33, gives credit to Kal for making what seemed like "an impossible task, less of a mission" and for being his "constant companion" when he left CinemaCon in Las Vegas to head off to his next job.
You may like to read Who is actor Henry Cavill dating?
Earlier that week, Cavill had put up a simple photo of the black and white American Akita calmly sitting and looking at the camera. He captioned it,
"I count my lucky stars every day that this incredible dog is a part of my life. Truly a man's best friend."
Also read How to own great beautiful eyebrows, brow expert Bob Scott explains!
Short Bio on Henry Cavill
Henry Cavil is a well-known British actor. He is mostly known for his roles he portrayed in movies like 'Immortals', 'Superman: Man of Steel', 'Batman V Superman: Dawn of Justice' and television series 'The Tudors'. – See more bio at…