Stacey Solomon is engaged to her boyfriend Joe Swash! She displays her huge engagement ring!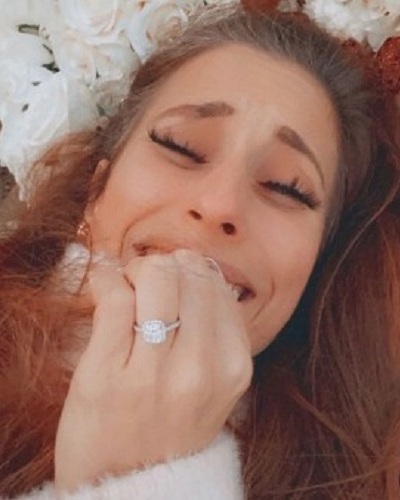 Just one day before Christmas, Joe Swash, the boyfriend of singer Stacey Solomon proposed to her! It was a romantic woodland proposal from Joe and Stacey was overwhelmed! The Loose Women panelist, Stacey, 31 revealed the news on her Instagram on 24 December 2020 evening!
Stacey Solomon and Joe Swash-the engagement
The TV host, Stacey Solomon, 31 is engaged to her beau of 5 years, Joe Swash, 38. Stacey shared the happy news on her Instagram and gave her fans a glimpse of her huge engagement ring. Joe proposed to Stacey during a walk in the woods. He had done a floral arrangement there and planned out the whole thing. The couple was not alone. Their son Rex and Stacey's children from previous relationships were with them during the time that Joe went down on one knee and asked for Stacey's hand in marriage. Of course, Stacey said YES!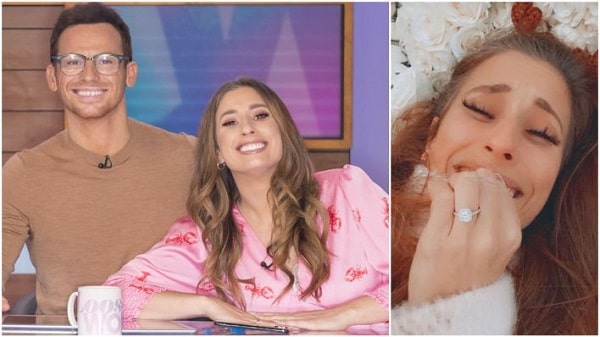 The TV presenter wrote on her Instagram post:
'To the moon and back bub. I have no words.'  
She also displayed her huge engagement ring for her fans to see. She also apologized to her fans for not being able to update them on her social media:
'Sorry for the radio silence… I had everything planned ready to go. I knew exactly what I was doing… And then…'
The exact proposal details
Stacey revealed the details of how the proposal went. She disclosed that they were on their morning stroll as usual with her, Joe, Rex, Zachary, and Leighton. She wrote:
'Today we went for a walk in the woods… Like we always do.'
She stated that they began their morning strolls around 2 years back when they moved in together. And she added that these walks were the best memories of her life. And then suddenly there was a stunning floral arrangement of white roses. She was left speechless on seeing it.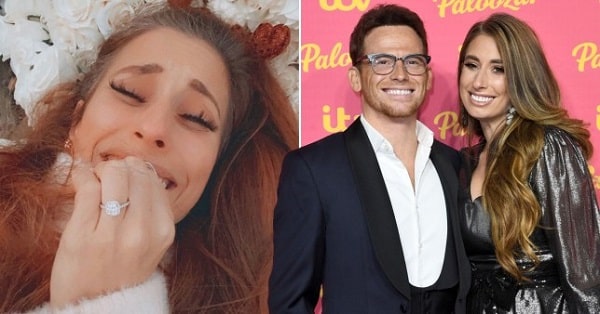 Stacey added:
'He asked me to marry him and after crying for what felt like a very long time… I said yes.'
The engagement ring photo
Stacey put up details of the proposal on her Instagram Stories and the main feed complete with photos. In one of the photos, she was almost in tears as she displays her huge engagement ring to the camera.
Stacey and her boyfriend-turned fiance, Joe reside in Essex. Joe had wanted to propose to Stacey for a very long time but the coronavirus pandemic pushed forward his plans.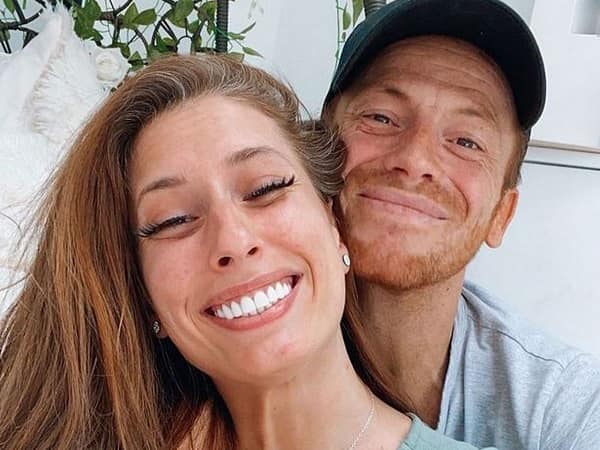 They began dating around 5 years back and confirmed their relationship in January 2016. They have a son together called Rex who is now 19 months old. Stacey has a son named Zachary, 12 with her former partner Dean Cox and another child Leighton, 8 with ex-fiance Aaron Barham. She co-parents these two with her respective ex-partners.
Joe also has a son named Harry, 13 from a previous relationship. But Harry does not reside with them. He stays separate from his father and lives with his mother whose name is Emma Sophocleous. In November 2019, they had a family photo shoot on a beach of Maldives. This led to the rumors that the two have secretly wed but it was not true. Talking about their wedding, Joe had earlier said:
'Stacey has the wedding all planned in her head – I'm not going to have a say in any of it.

'Before you know it will be organised and Stacey will make it beautiful, and I'm fine with her taking it all on. A happy wife means a happy life.'