Stainless Steel engagement rings: The rising trend, affordability, and fineness, and durability!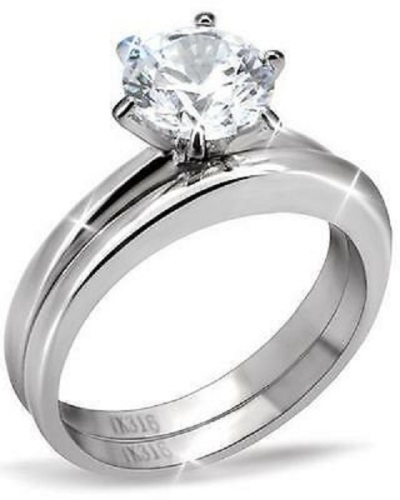 There are two things that come to our mind when we talk about engagement rings, namely diamonds and precious metals such as gold, white gold, silver, or platinum.
But increasingly people are opting for a different type of engagement rings. Non-diamond engagement rings and also the use of stainless steel in place of precious metals.
Stainless Steel and engagement rings
Stainless Steel (SS) is an alloy made up of iron with chromium and nickel. Before, one never thought of stainless steel while talking about engagement rings. But now a new technology makes it possible to carve out fine jewelry from stainless steel. And people are also going in for it due to its affordability. It has other advantages as well.
Stainless Steel engagement ring [Source: The Steel Shop]
Kim Kanary is a certified and licensed diamontologist and also the vice president of community development and engagement at JTV. The latter is an online jewelry shop. She states:
"The high chromium content in combination with a low carbon content makes for a particularly anti-corrosive, anti-tarnish material. Stainless steel rings, along with other steel jewelry, are quickly becoming some of the most popular styles on the market,"
The advantages of a steel engagement ring
The metal is extremely durable. Kim explains:
"Whereas other metals like gold and silver are at about a 2.5-3 on the Mohs scale of hardness, stainless steel is in the range of 5.6-5,"
She adds:
"Its stability, or resistance to chemical attack, is also important because this is what prevents tarnishing and corrosion, which in practicality means that it has a long life span and is easy to maintain."
SS engagement ring [Source: Amazon]
New York-based Anubh Shah is a gemologist and the co-founder of a jewelry shop, With Clarity. He states:
"Meaning it will not rust and likely will not need as much polishing and maintenance as other fine metals. Stainless steel also does not need to be rhodium plated to preserve its shine and color."
It also looks beautiful similar to white gold. And it requires not much maintenance and can be everyday wear.
Other positive points of SS
SS is also environment-friendly. Kim opines:
"It's 100 percent recyclable, and it takes a relatively low amount of energy to manufacture,"
It is a low-cost option and Anubh states:
"It is not as risky to wear, and if lost, it's not as expensive to replace,"
SS engagement ring [Source: eBay]
But he cautions:
"Stainless steel has a stark metallic shine that certainly looks a bit less premium than the softer glow of white gold or the patina of platinum,"
Its resale value is less. Kim said:
"From a long-term investment vantage point, they don't uphold their value quite as well as some other materials such as gold or platinum,"
Since this metal ring is just about getting popular, there will be less variety for you to choose from. Anubh also revealed:
"It's uncommon to find diamonds set in stainless steel, so you may have to go with an alternative like cubic zirconium instead,"
Kim also revealed:
"There are over 150 types of stainless steel, not all of which are suitable for jewelry,"
So one will have to be careful while choosing the best. Its care is easy and it has low maintenance.
Also, read The wonderful story behind the two Cartier engagement rings of Princess Grace of Monaco!