Stephanie Davis: her repartee to her critics on social media, her on-again and off-again relationship with Jeremy McConnell and her life decisions! Learn all of these here!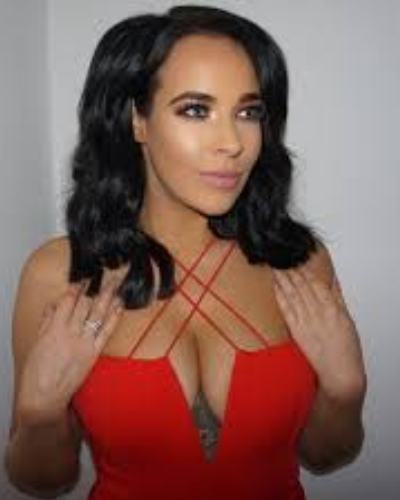 Stephanie Davis hits back at critics
English actress Stephanie Davis has lashed back at critics who claimed that she had ignored her ex and Irish model Jeremy McConnell on this Father's day which was on 18th June 2017. Reacting to their criticism, Stephanie said:
"I never kick someone when they're down enough."
It is said that Stephanie Davis had celebrated Father's day with her infant son, Caben. Caben is Stephanie and Jeremy's child together and is five months old now, while Jeremy was at the star-studded premiere of a Hollywood movie at Leicester Square. Stephanie tweeted a heartfelt message for her dad but made no mention of Jeremy anywhere in the tweet. She wrote:
"Just me and my boy on this hot hot day! Nappy only, fan on and windows open! Remember to kept your babies in the right temperature to avoid over heating. Even a bowl of ice and water in the room to keep it nice. Time for food and a film with my little one and to wind down for the night????Also get a temperature egg for your room so you know it's JUST right"
She captioned a photo of her dad, Roy, holding Caben thus:
"Happy Father's Day to the soundest dad. Love me and caben. He loves his granddad."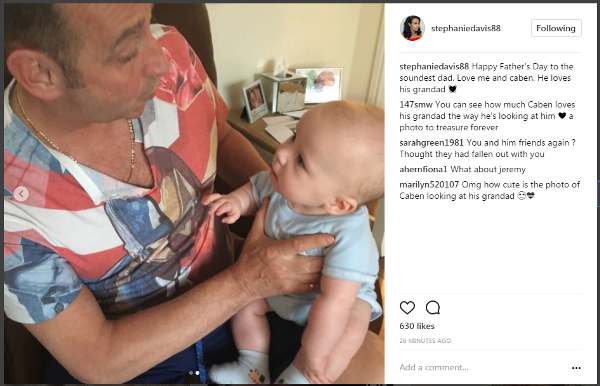 She was not cowed down by her critics. She quickly retorted to them and posted:
"People saying I'm ignoring Jeremy on Father's Day! I would never use my son against his father. You don't kick someone when they're down enough."
She added that no one but she and Jeremy knows what is going on between them. She then posted a message with an old Jeremy's photo holding their son Caben and wrote:
"Happy Father's Day daddy… Fall down 7 times, stand up EIGHT! U can do this. I have faith. Love Caben-Albi."
Stephanie and Jeremy's love-hate relationship
Stephanie and Jeremy had come close on the sets of Celebrity Big Brother at the start of 2016. They seemed to be very much in love but by May 2016 they had called it splitsville.
This happened before Stephanie Davis announced that she was pregnant. Jeremy McConnell had disputed the paternity of the child. Her child Caben was born in January 2017 without McConnell being present at the time of the delivery. The couple did come close again after Caben's birth.
It was probably after Jeremy McConnell got a DNA test done and it was proven that he is the father of the child. At that time, Stephanie had told Closer:
"The love never went away between us and we've both done things we regret, but hopefully this can be our fresh start. I finally feel like things are falling into place and we both adore Caben,"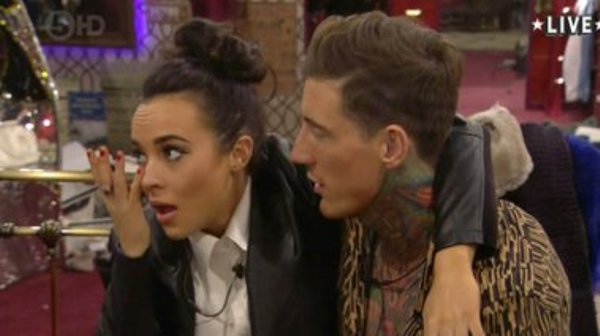 However, this June bitterness developed in their relationship again. Jeremy in anger had posted a tweet that said:
"Cuts up my whole wardrobe slags my dead parents… manipulative f***. #over."
He however soon deleted this post.
One of Stephanie's friends commented on Jeremy's tweet. She said:
"For Jeremy to say this after helping him turn his life around and getting him into rehab is a major kick in the teeth. Stephanie supported him throughout his rehab stint publicly and welcomed him into her home after he came out. Not many people would have done that after the year she had last year with him throughout her pregnancy."
She added:
"Stephanie would never speak badly of Jeremy's parents, who she respects even though they sadly are not here, but they are Caben's grandparents and are a part of his history. Clearly Jeremy was not in a very good place at the time, but this was an all-time low blow to Stephanie."
Another source has revealed to The Sun:
"Things between them are very tense, very raw, but ultimately they do love one another and need to make things work for the sake of Caben-Albi,"
The source further added:
"Even if the resolution from these talks is that they will go their separate ways, Caben will always be their priority."
About Jeremy McConnell
This Irish model has a problem with drug addiction. Stephanie Davis had tried to help him with rehabilitation but there was still not much improvement. He also has two police cases going on against him and had gone back to Ireland in between.
His bad habit has been the factor leading to his strained relations with the mother of his son. He probably has also slept with other women which he claims were due to his insecurities. Despite attempts to get closer, the mutual fights only get uglier and they separate again.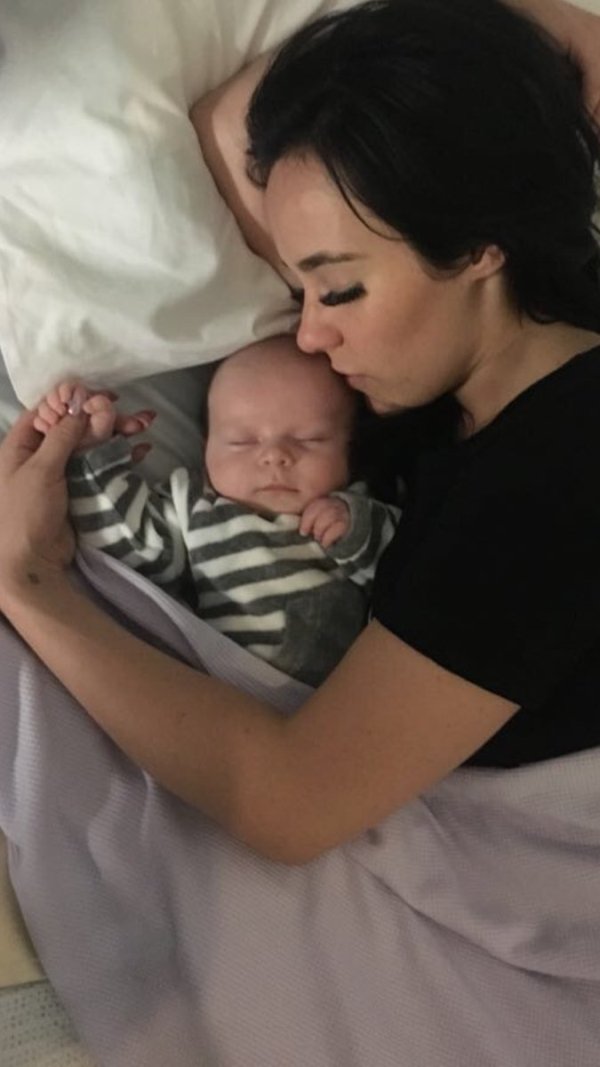 Stephanie on her part has decided to get back to her career and is in great demand now. She has already landed a job as Agony Aunt with the TV show 'Big Brother' and her priority at present is her career and her son Caben.
She is already got several other interesting offers and she is mulling over them. It is said that Stephanie is done with Jeremy. An insider has said:
"In the last year she has bought her own place for her son and is focused on being the best mother she can and giving Caben everything she can,"
The insider continues:
"Everything she does is for him."
The couple is going to have a 'crisis talk' soon to finalize their relationship.
Short Bio on Stephanie Davis
Stephanie is an English actress who has appeared in various British television shows. She gained recognition with her appearance in the 2010 BBC talent search 'Over the Rainbow'. She was also seen in the soap opera 'Hollyoaks'. In 2016, she was seen on the 17th series of Celebrity Big Brother where she was the first runner-up. She also found the love of her life on this show in Jeremy McConnell. However, this relationship was not to last and is currently in the doldrums. More Bio…