Stephen, a Tinder user posts a huge list of outrageous requirements for his potential date and people are irked!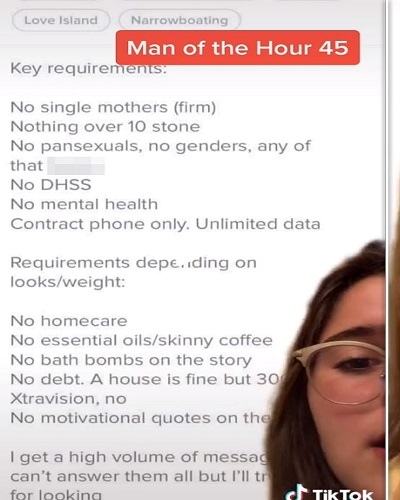 Dating apps such as Tinder have their own issues but also funny anecdotes. Recently, a man from Ireland named Stephen, a Tinder user uploaded a whole list of requirements that he wants in his potential dates. The list was endless and at the same time funny. People have taken note of it and mocked him thoroughly on social media for his outrageous list.
Stephen, a Tinder user and his list of requirements on Tinder for potential dates
Stephen, a Tinder user hails from Ireland and registered for Tinder dating app to meet up with his potential lover cum date. He is 32 years of age and states that he receives a high volume of messages on the dating app. But in order to narrow down on his search, Stephen decided on a way out. He put up a whole list of requirements that he wants in his potential date.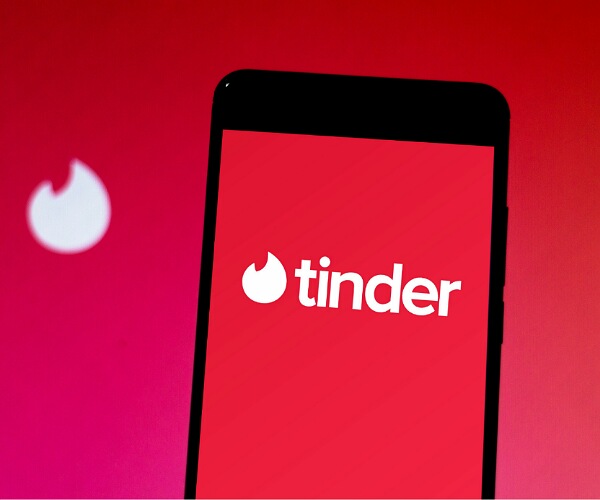 This list had some reasonable requirements, some were rather rude but still understandable but the remaining were simply outrageous. For the potential date dos and don'ts, he said that he does not want anyone who is in financial debt or is relying on social services for payments. His potential date should be free of any mental issues. These requirements are reasonable.
Stephen's outrageous and unreasonable demands from potential dates
But in this list were many requirements that were downright outrageous. Have a look!
Stephen said that he does not want to date a single mother. It is a big NO for it. He also does not want to date a woman whose weight is above 64 kilos or over 10 stone! His demand was that the potential date should not be a pansexual or a member of the LGBTQ+ community. The Tinder user did not stop at this level.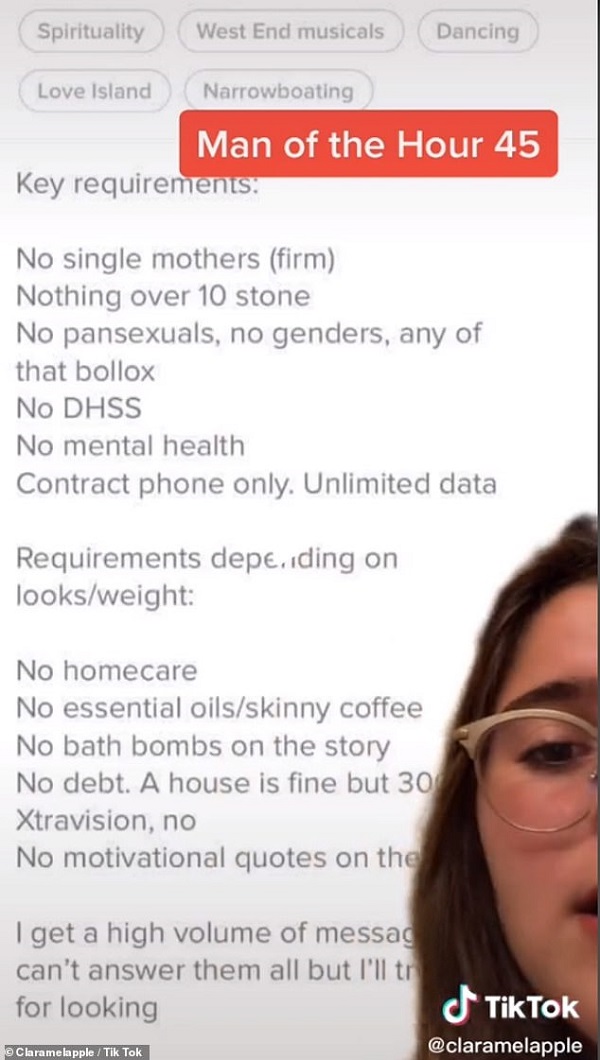 He added that he does not want any woman who uses bath bombs. They should not have motivational quotes on their bios and should not be holding unlimited data on their phones! His potential date also cannot use essential oils and is banned from drinking skinny coffee around him.
Stephen's list goes viral
TikTok user Clara Melapple first spotted this bizarre list of requirements on Stephen's Tinder account. Clara regularly shares such weird Tinder profiles on her account. She then made a video of Stephen's list and his profile and posted it on TikTok. The video soon went viral. She shared a screenshot of his profile and rapidly and dramatically read out all his requirements. And she got more than a million hits in a short time.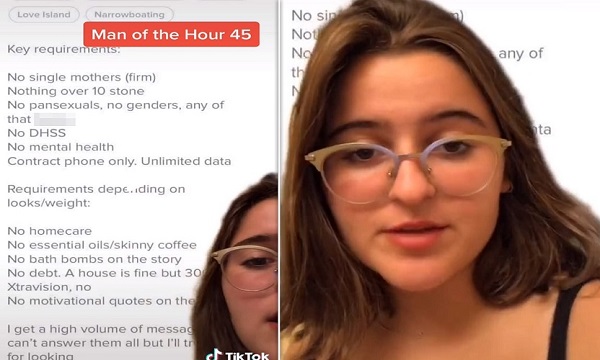 Clara also got innumerable comments for her videos. Some women expressed their disbelief at it while others mocked it. Many called Stephen stupid, ridiculous, and out of his mind. One comment read:
"They always have this long list of demands but never mention what they can offer,"
Another user joked:
"Men overestimate their current market value."
Another person queried:
"I genuinely want to understand the thought process men go through when they make profiles like this,"
Also, read Sexual assault victims accuse dating app Tinder of being a predators' playground!