Steve Harvey: Ex-wife's new lawsuit against him, his 'rags to riches' story, and the 'Made for each other' couple: Click on to know more!
"I got married for the wrong reasons."
American actor, comedian, TV and radio personality, author and producer Steve Harvey has been married thrice. He had a bitter divorce and custody legal battle with his second wife Mary Shackleford (aka Mary Vaughn 1996-2005). After 12 years, Mary Vaughn has again taken Steve Harvey to court over allegations of 'soul murdering'. She has demanded $ 60 million as damages. The present court documents claim that Mary Vaughn had tried suicide by self-medicating due to severe emotional distress caused by Steve Harvey and his lawyer over the years. Besides 'soul murdering', she has also slapped charges of alleged child endangerment, kidnapping, torture, contract breach, conspiracy, injustice, and emotional distress. Steve Harvey has vehemently denied all charges and labeled them as false, frivolous and meritless.
Talking about his second marriage, Steve Harvey admitted that he knew early that it was not the right thing he had done. He explained:
"I got married for the wrong reasons. I was tired of being alone. I have to own that. It was me, not her. But it was bad for a long time."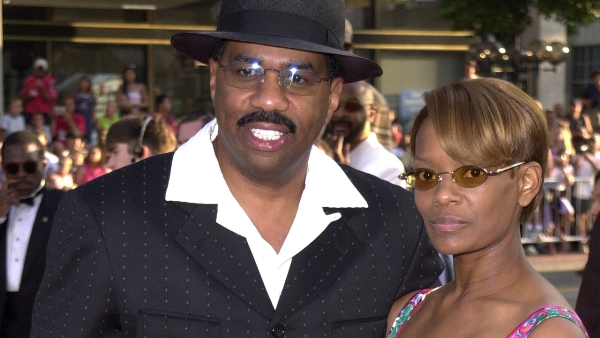 His 'rags to riches' saga
Steve Harvey was born to Jesse Harvey, a coal miner, and Eloise Vera. He had a stammering problem in childhood. He dropped out of college. He worked as a boxer, a mailman, a carpet cleaner, autoworker and an insurance salesman. He was 28 years old working as an insurance agent when he decided to try his luck as a stand-up comedian for the first time. He won the$ 50 first prize for his act. He quit his job the next day which was not liked by his wife since he was married with two twin daughters at that time. But Steve Harvey remarked:
"I had to take this chance,"
However, his struggles did not end and he earned only $3000 in the first year as a comedian. It strained his relations with his wife and he left her and his twin daughters (Brandi and Karli) to pursue his dreams. For three years, Steve Harvey was homeless and used to sleep in the car. He used to shower at gas stations and swimming pool showers. He did some carpet cleaning for a living. In 1990, he was the finalist in the second annual Johnnie Walker National Comedy Search. Soon, he bagged the role of a host for the 'It's Showtime at the Apollo'. He also got a role in 1994 ABC's 'Me and the Boys'. From 1996-2002, he hosted the 'The Steve Harvey show'. He participated in various stand-up comedy tours. He also penned a book and released a hip-hop and R&B CD. He launched his clothing line and acted in films. His book 'Act like a Lady, Think like a Man' turned best-seller. He hosted events, did radio shows and launched a new dating website (2014). He rose from the rags to building an entertainment empire. His story could serve as an inspiration to millions there who have some dream to make it big in the entertainment industry. He reunited with his twin daughters and they have since forgiven him. They said:
"Dad, we didn't understand why you left us, but we know now you had to go. You didn't just belong to us. You belonged to the world. "
Steve Harvey admitted that he was quite emotional and touched by their words of forgiveness for him.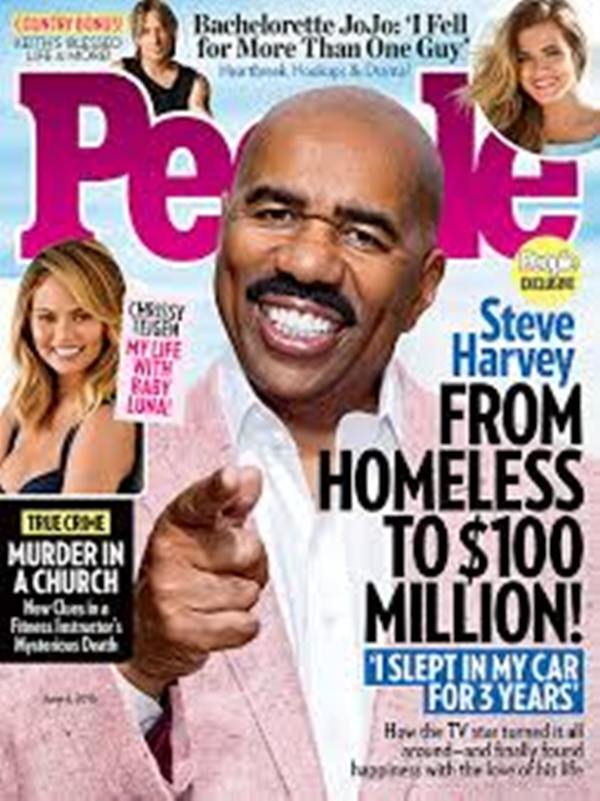 The woman behind this 'great' man
Steve Harvey likes himself to be called as a 'great' and not a 'successful' man, since according to him a great man has responsibilities towards his family and the world, while a successful man has only money with him. Steve Harvey married Marjorie Bridges in June 2007. He has acknowledged her great influence and support in his life. He accepts that she has changed his life and made him a better man. Marjorie Bridges has three children out of her previous two marriages. Steve Harvey rears them as his own. Steve Harvey and Marjorie Bridges had met at a Memphis comedy club in 1990. They dated for some time but the long distance between Steve and Marjorie led them to go separate ways. There was, however, no heart-breaking involved; it was just that no one made the move to take the relationship to the next level.
It was after the second divorce that Steve Harvey's bodyguard told him:
"Look, the only time I've ever seen you happy was when you were with that woman Marjorie. Now before you go and do something stupid and marry another woman, I'm calling her."
Steve Harvey and Marjorie reunited. Marjorie had also separated from her second husband by that time. Love was rekindled and they decided to tie the knot in 2007. The couple is quite happy in this marriage. They have 4 grandchildren: two from son Jason's marriage to Amanda, one from daughter Morgan's marriage to Kareem and one through daughter Karli's wedding to Ben. The family split their time between Atlanta and Chicago where he has different shows going on.
Short Bio on Steve Harvey
Steve Harvey is an American comedian, radio personality, television host, producer, and actor mainly famous for "Steve Harvey" (2012), "Family Feud" (1999) and "The Original Kings of Comedy" (2000). He is also an author of "Act Like a Lady," "Think Like a Man," "Straight Talk," and "No Chaser." He has received the 2,497th star on the Hollywood Walk of Fame on October 4, 2013. More Bio…