Sue Bird. lesbian partner of star soccer player Megan Rapinoe has a message for Donald Trump after USWNT's win against France!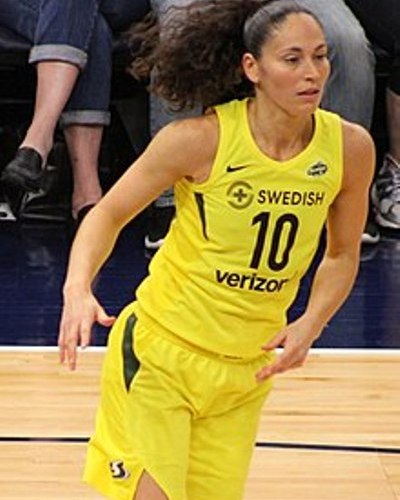 Sue Bird is an American-Israeli basketball player and the gay partner of the soccer star, Megan Rapinoe.
She plays for the Seattle Storm of the Women's National Basketball Association.
---
Sue Bird and her lesbian relationship
Sue Bird is a lesbian. She came out as a homosexual on 20 July 2017. She said that she has been dating American soccer player Megan Rapinoe for several months.
In 2018, Sue Bird and Megan appeared in the Body Issue of ESPN magazine. They were the first same-sex couple to do so and posed naked for it.
The couple is happy together and supports each other in their careers.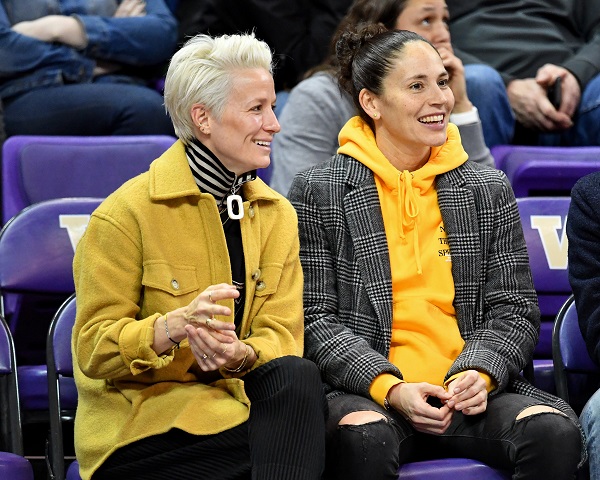 Megan Rapinoe and her brilliant performance at the World Cup
Megan Rapinoe was a star player in the recent World Cup win against Spain and France. She scored all four goals against the two rival teams.
When asked how she felt to lead her team to a World Cup win against France, an excited Megan laughed and replied:
"Go Gays! "
She continued:
" You can't win a championship without gays on your team. It's never been done before. Ever. That's science right there. … For me, to be gay and fabulous during Pride Month at the World Cup is nice."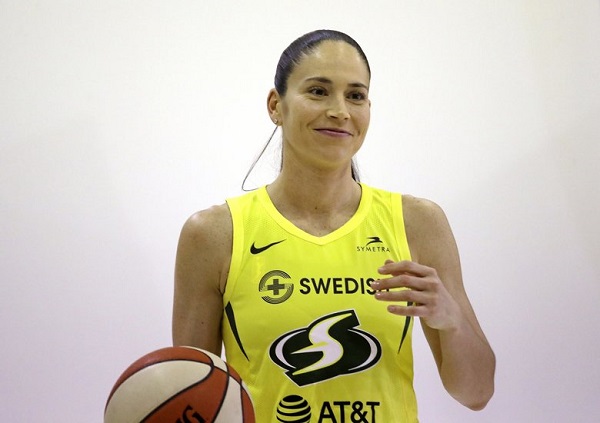 Her lesbian partner Sue Bird was particularly elated at Megan's great show at the World Cup. She put up on Twitter a picture of Megan Rapinoe and put a crown on her head. She labeled her queen. This post garnered 37.9k likes.
You may like to read From Wallis Simpson to Meghan Markle-Know how the Royals have changed over the years on issues related to marriage with a divorcee!
Megan Rapinoe and her clash with Donald Trump
Megan Rapinoe had earlier commented that if her team wins the World Cup, she will not visit the White House.
She had said:
"I am not going to the f—— White House"
This tweet had gone viral. Donald Trump called out to Megan after her comments. He said:
"I am a big fan of the American Team and Women's Soccer, but Megan should WIN first before she TALKS! Finish the job! We haven't yet……..invited Megan or the team, but I am now inviting the TEAM, win or lose. Megan should never disrespect our Country, the White House, or our Flag, especially since so much has been done for her & the team. Be proud of the Flag that you wear. The USA is doing GREAT!"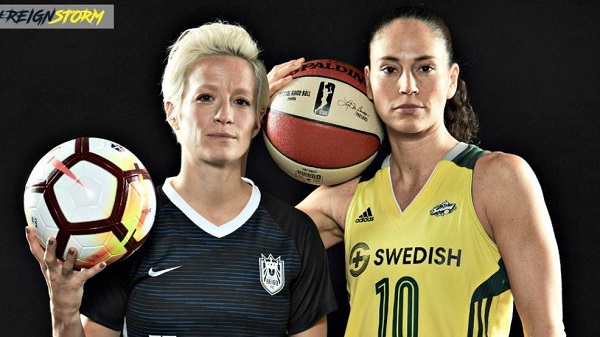 But Megan stood by her comments before the quarterfinals. She said:
I stand by the comments that I made about not wanting to go to the White House."
She continued:
"with the exception of the expletive, I think my mom would be very upset about that."
Sue also had a message for Donald Trump after the US team won against France. She wrote:
"It would take the President of the United States going on a hate-filled Twitter spree trolling my girlfriend while she was putting American soccer, women's sports, equal pay, gay pride and TRUE LOVE on her back, all at once, scoring two majestic goals to lead Team USA to a thrilling victory over France and a place in the World Cup SEMIFINALS, for me to ever even think about writing again,"
She added:
"But I'm a woman of my word. So here I am."
Also read Are Tobin Heath Amid and American soccer striker Christen Press dating? Know about her boyfriend, salary, and family
Short bio on Megan Rapinoe
Megan Anna Rapinoe or famously known as Megan Rapinoe is an American professional soccer player who plays as a winger for the American women's soccer club, Seattle Reign FC, and US Women's National Team. Besides playing for Seattle Reign, she has also played for the French women's soccer club, Olympique Lyon as well as the Australian women's soccer club, Sydney FC. More bio…
Source: Wikipedia, SI, Slate magazine