Supermodel Kelly Brook takes to gardening in her quiet Kent farmhouse!
English actress and model Kelly Brook is extremely proud of her Tudor farmhouse which he purchased around 12 years back. She had bought it for some other purpose that could not be materialized. But she has now transformed the place into a lovely site with an idyllic sight.
Kelly Brook and her farm property
Kelly Brook has a Kentish farmhouse which has a five-acre garden. It is in Lenham which is just 20 miles down the road where Kelly was born in Rochester. There is a unique rustic charm to the place and it is a 15th-century property. It boasts of open fireplaces, stripped wooden floors, exposed ceiling beams, antique radiators, and not to forget a country cottage kitchen.
The garden has a 600-year-old apple farm and on the property, there is also a swimming pool, wildflower garden, and a lake.
The author of International Good Coffee Guide, Rick McBride had sold her the property in December 2006.
Kelly Brook nurtures a hobby of gardening
Kelly was so fascinated by the place that she immediately purchased it 12 years back. She had thought that she would wed her then-boyfriend Billy Zane there in 2007 but unfortunately, that never happened. The couple split in November 2007.
But Kelly did not want to sell the place. Instead, she bought and read horticulture books and also regularly watched Gardener's World. She thus taught herself to garden and now grows her own vegetables and fruits. She said to Hello Magazine:
"I've reached an age where I want to do things that I'm passionate about and gardening really is a passion."
She added:
"I've been pigeonholed as this silly, giggly glamor girl who dates bad boys, but that's never been the real me. The true me, who's in her element in her potting shed and digging around in her vegetable patch, is a very personal piece of my life that I've protected."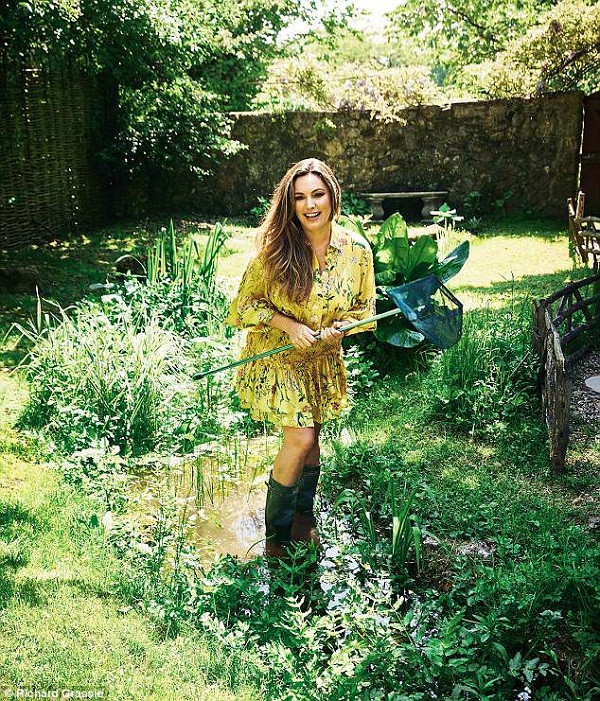 Kelly went on to state that she is proud of what she has achieved and done in the farmhouse. She is happy now and wants to share it and celebrate it with all.
Kelly Brook' farm had needed renovation
When Kelly bought the area, it was in a debilitated state and almost falling down. Kelly reasoned out her choice of the place. She said:
"I wanted somewhere near my mum and dad. It's so beautiful-my dream house."
She had stayed on this property with her next boyfriend David McIntosh who after dating her for 11 weeks had proposed to her in December 2013. But they separated in 2014. David had gone on paper to state that he was never attracted to her physically and was with her since she was a model and hot.
She then dated Italian Jeremy Parisi, 33 and is with him since 4 years. Kelly, 39 is unlikely to have children after a series of miscarriages she had suffered earlier. She feels a bit of failure there but has pre-occupied herself in gardening in order to distract her from personal issues.
Short Bio on Kelly Brook
Kelly Brook is an English model, actress and television presenter. She is popular for her role in The Italian Job in 2003 and Piranha 3D in 2010. She also co-presented The Big Breakfast for 6 months. She also endorsed many brands. Kelly has also appeared in the music video of Lawson's song Juliet in 2013. More Bio…
Source: Daily Mail, Mirror UK