Talented Mike Trout joins the work of Jim Cantore to report on the blizzard!! Also check out his tweets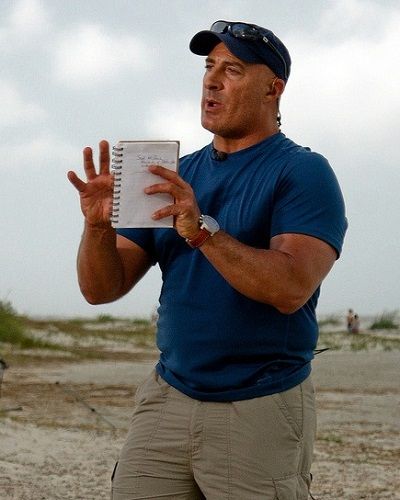 Mike Trout has proved to be an all rounder.
He showed everyone that Mike Trout is not only baseball center fielder but also does the work of meteorologist as well.
Mike Trout joins professional American meteorologist, Jim Cantore for reporting on the blizzard that had rocked the northeast.
---
More details are as follows.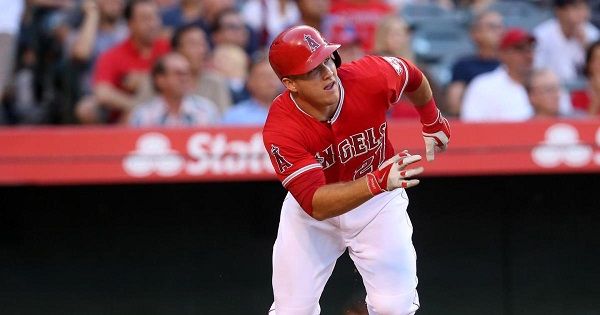 Mike Trout joins Jim Cantore
The All-rounder star, Mike Trout establishes his identity in the work of meteorologists as well by joining The Weather Channel's Jim Cantore to report. He proves that he is not just good at playing baseball but also good at working as a meteorologist.
When Mike Trout is free from his professional work, he stays at home doing precise meteorological measurements. He wants to be a storm chaser someday.
"It's been crazy. Obviously I've been up all night, up every hour checking the measurements. We've probably got about a foot and it's coming down steady now. The wind is just the worst part about it. It's blowing hard, by my parents house there's four, five, six-foot drifts. The roads are terrible, it's awesome. I love it."
The player also had an electric company source who said that forty thousand were without power, especially by the Jersey Shore. It's obvious that the passion of Mike Trout for baseball is not a secret thing for anyone in South Jersey.
It looks as if the Los Angeles Angels superstar, or the pride of Millville, is even passionate about the weather. The work he has done that is related to the field of meteorology clearly indicates that he has an equal interest in weather as compared with his profession, baseball.
Mike Trout had also posted a video on Twitter.
Snowing hard !! @JimCantore #SouthJersey pic.twitter.com/sZjfNscEgY

— Mike Trout (@MikeTrout) January 23, 2016
He has monitored the massive winter storm blanketing the East Coast. He joined Jim through his phone from his hometown. It seems as if he is flying the Millennium Flacon and just entered the hyperdrive.
Trout explained how he was waking up every hour only to check the measurements. He then estimated that there was about a foot of snow on the ground along with six-foot drifts because of the wind.
It looks as if he is very good at working in the field of meteorology.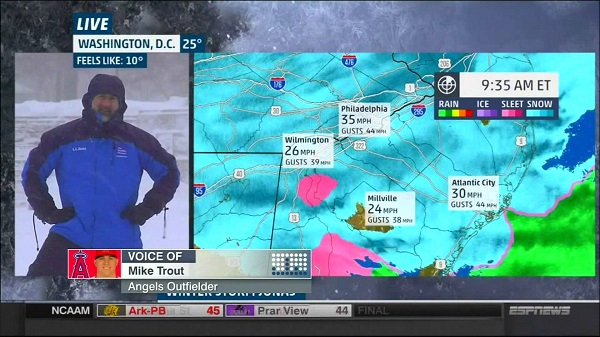 The reaction of Jim Cantore
Jim Cantore tweets dedicating Mike Trout for his help to report the weather condition. He compliments the work of Mike Trout and is happy and satisfied to work with him. He happily thanked Mike Trout for this.
He's as good at reporting weather as he is with baseball. Thanks for reporting for us Trouty! @MikeTrout https://t.co/UgyzFAC5CE

— Jim Cantore (@JimCantore) January 23, 2016
This is the status on Twitter posted by the professional meteorologist, Jim Cantore complementing all-rounder talented Mike Trout. Jim Cantore gives Trout the deserved credit for his work.
Jim Cantore was reporting live in the downtown Washington D.C. area. Mike Trout called in from his hometown Millville, New Jersey. Moreover, Jim Cantore indicates Mike Trout as a 'weather geek'.
There may be a broad definition of "weather Greek". Most importantly he was not wrong after hearing his report.
You may also like to read Who is Instagram star Ashlyn Castro? Ashley and Michael B. Jordan criticized for dating each other!
Jim Cantore's  achievements
Talking about Jim's achievements, he has got the opportunity to report the Winter X Games and PGA tournaments. He is even a part of the most promising launch of the Space shuttle Discovery.
He has won the award of the prestigious NOAA in 2002. Further, he is a member of the National Weather Association.
This was just because of his continuous support and contribution in the field of landscapes and weather reporting. He also got the membership in the American Meteorological Society membership.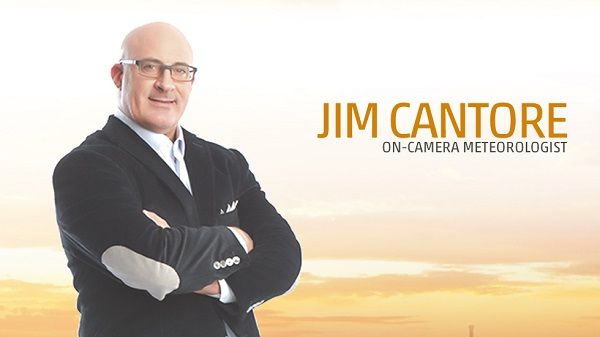 Also read Who is the husband of Meteorologist Alexandra Steele? Does she have any child? Click to know the answers!
Short Bio on Jim Cantore
Jim Cantore is a reputed journalist and meteorologist from America. He got huge recognition after started working with the American satellite television channel, The Weather Channel.
In addition, Jim is best known for his extraordinary works in the live coverage such as Hurricanes Ike, Gustav, Katrina, Isabel, Rita, and much more. Besides this, he has also won the NOAA award in 2002. More Bio…