Tamra Judge's husband Eddie Judge scheduled for sixth surgery on his heart for atrial fibrillation!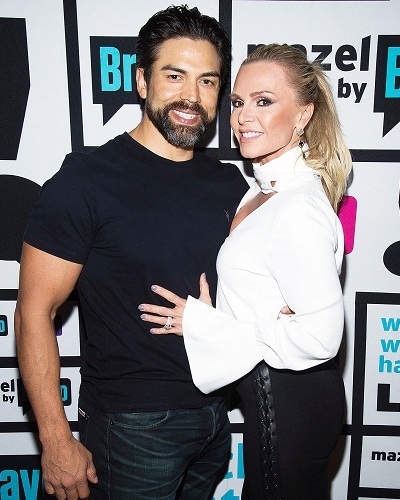 RHOC star Tamra Judge is having the most difficult part of her life. Her husband Eddie has a heart ailment which seemed to have not improved in spite of five surgeries for it. The sixth surgery is scheduled this week and he is extremely scared.
Tamra Judge's husband and his sixth heart surgery
Tamara Judge's husband Eddie Judge is scheduled for a planned open surgery on his heart but it is not his first but the sixth surgery in a span of six months. Naturally, Eddie is scared. Sources also said:
"Tamra is terrified!"
A friend of Tamra revealed:
"Things do not look good right now and he is running out of options,"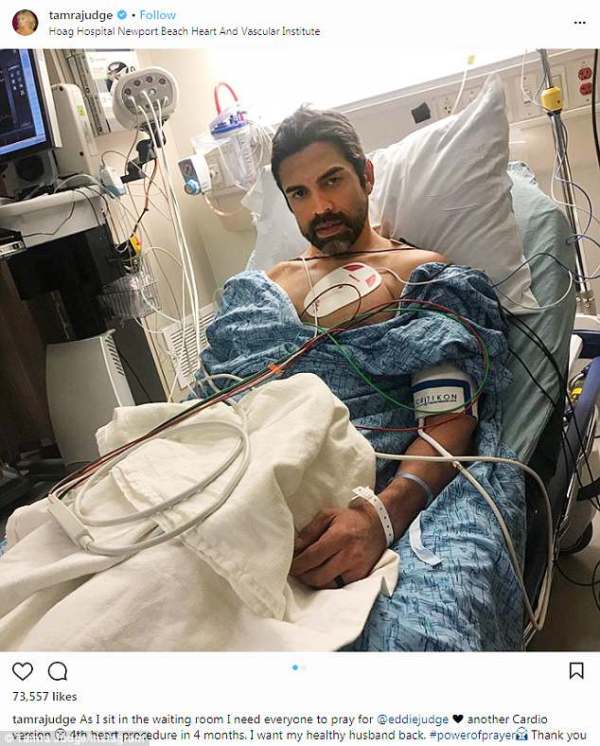 The source continues:
"They are still clinging onto hope but after five failed surgeries everyone is very, very worried!"
Another insider said:
"It is very serious and this is an extremely difficult time for their family. He is very scared,"
About Eddie's heart problem
Tamara, 50 and Eddie, 45 had got a new mansion constructed and were going to shift into it this July when news came that Eddie is having a rhythm disturbance of his heart called atrial fibrillation. He was advised an immediate heart procedure to correct it. Eddie had told Tamra before the surgery:
"This is not how I want to die."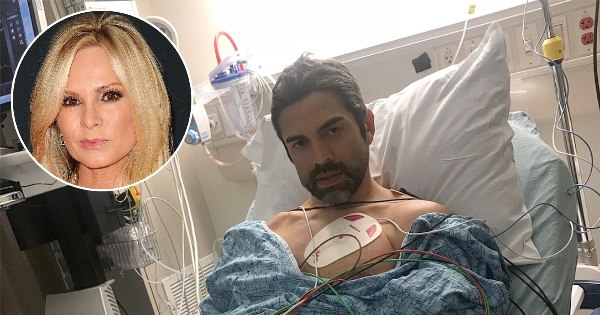 His fifth surgery for the atrial fibrillation was in June this year and she had taken the cameras on his medical journey. Her friends think she is insane to do so. An insider told Radar:
"They brought cameras to his scary procedure this week, and are going to include the footage in the upcoming season, even though they have to edit it in. Tamra's friends think she is absolutely insane for wanting to make his health crisis a part of this upcoming season!"
Atrial fibrillation is a disturbance of the normal rhythm of the heart. In this, the heart rate becomes fast and irregular. There may be no symptoms or there may be a feeling of palpitations, lightheadedness, fainting, or shortness of breath. Some people also experience chest pain. There may be associated underlying conditions. Drugs may be able to revert the rhythm to normalcy. Sometimes electric cardioversion is needed and at times ablation therapy is required. Drugs to prevent clot formation are also required.
About Eddie Judge
Eddie is a personal trainer and co-owns the Cut Fitness Center with his wife and is situated at Rancho Santa Margarita, California. He is a businessman and a reality star from Mexico. He has studied business administration. He used to work before as managing personnel at the "Judge Law Firm" in Irvine. This firm was founded by his adoptive father, James Judge. His net worth is $ 300k.
He dated and married Tamra on 15 June 2013 at the in St. Regis Monarch Beach, California. Tamra was married initially to Simon Barney and Darren Vieth whom she divorced in 1990 and 2011 respectively due to personal differences. Eddie has four stepchildren from Tamra. Tamra had three children with Simon and one with Darren.
A short bio on Tamra Judge
Tamra Judge, Sweet and sexy Hollywood reality star who is best known as the hottest housewife on Bravo's Housewives of Orange County. She has also appeared in her own spin-off, Tamra's OC Wedding. She is also a licensed realtor. More Bio…
Source: radaronline.com, wikinetworth.com, dailyentertainmentnews.com