Tanner Tolbert and Jade Roper Tolbert announce the third pregnancy of Jade!
Tanner Tolbert and Jade Roper Tolbert revealed recently that Jade is pregnant with their baby number 3. The Bachelor in Paradise stars are overjoyed but also told their fans that this new conception was an accident.
Tanner Tolbert and Jade Roper Tolbert-pregnancy
Reality TV stars Tanner Tolbert and Jade Roper Tolbert had some happy news to share with their fans. On Monday, 18 May 2020 the Bachelor in Paradise couple revealed that they are expecting their third child now. It was nine months back that the couple welcomed their second baby, son Brooks Easton. Jade, 33 uploaded a photo of Tanner lying on the floor holding ultrasound films and a positive pregnancy test of Jade. Jade and their two kids are also in the pic. She captioned it:
"HERE WE GROW AGAIN!!!"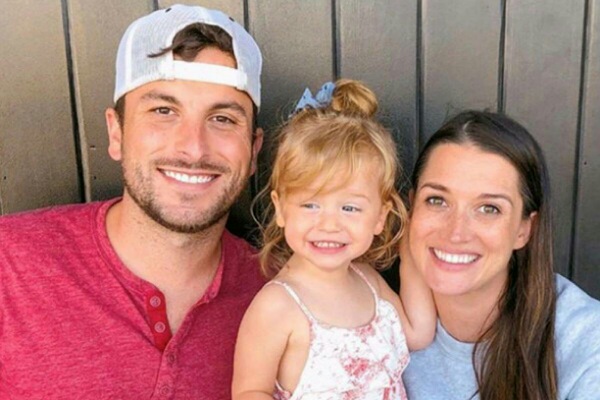 Jade also disclosed that she was rarely on her social media over the last couple of months because she was busy with her kids during the pandemic. Additionally, she had a lot of morning sickness and was feeling sick due to it. She added:
"Although this time has its uncertainties, we are so thankful and excited for this baby. I truly believe babies being born during this time are here for a special reason, to be lightworkers. We are beyond happy to love another baby, to give Emmy and Brooks another sibling and to have our children be so close!' #partyof5 #babynumber3."
The couple's Instagram Story
Later in the day, the couple answered questions of their fans on Instagram Story. Jade revealed that her pregnancy stage was 13 weeks at the moment. Her expected due date is around Thanksgiving Day.
Tanner, 33 also told:
"Oops we did it again!…no, this one was not planned,"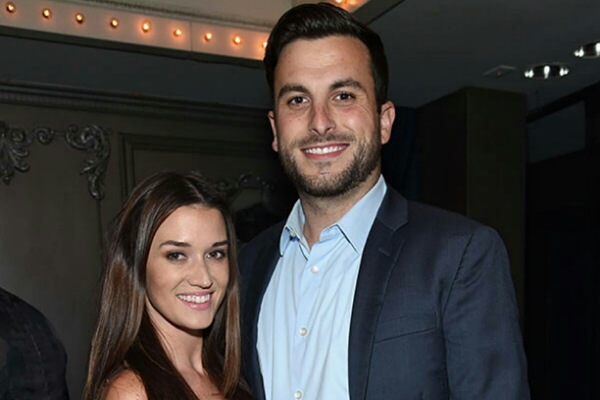 And the father-to-be further said:
"Very much an accident, and very much a surprise when Jade told me."
Jade also repeated:
"Yes, this was a big surprise," 
The couple revealed that they will keep their hospital bags ready for October 2020 when the delivery is due. Jade said that they would play it safe. Tanner recalled and said:
"because we're not having this one in the closet again."
The second childbirth of Jade Roper Tolbert
The delivery of their second child was quite a scary one. It occurred in the closet, revealed Jade. She wrote on her Instagram that their second baby came in the closet of their home. She wrote:
"I accidentally gave birth at home last night, in our master closet,"
And the accompanying photo showed her cuddling the new bundle of joy with paramedics and her family members surrounding her. She continued:
"I've been still processing the shock of this all, as this was not all at what I had planned, but I am so so thankful for each person who helped bring our son into the world safely."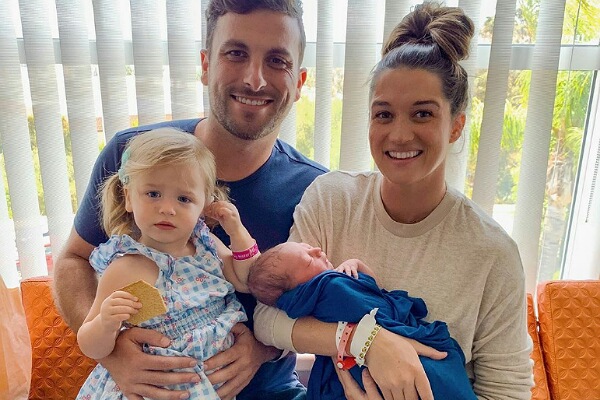 Her bag of waters broke and 75 minutes later, the contractions were strong enough to bring about the delivery. Further, she wrote:
"It was one of the scariest moments of my life because I felt so out of control, but Tanner, Tanner's mom, my mom, and the medics and firefighters kept me going when I felt like the world was caving in on me and my unborn baby," 
Short Bio on Tanner Tolbert
Tanner Tolbert is one of the bachelors who competed on The Bachelorette season 11. He is famous for competing for Kaitlyn on The Bachelorette, then starring in season two of Bachelor in Paradise. More bio…
Source: People