Tara Lipinski: her extensive honeymoon, the wedding and parties! Watch this section for all the details!
Tara Lipinski- The four-country honeymoon!
American gold medalist ice skater, actress, and sports commentator Tara Lipinski did prove that she has got the ass!
Tara was on the tourist's paradise island of the Maldives on her honeymoon with her newly married husband and Fox Sports producer Todd Kapostasy.
Tara Lipinski has been putting on a display her stunning body in her bikini. The couple headed straight after their wedding for this luxurious resort which houses rooms in the Indian Ocean.
They have posted on their Instagram pictures of the honeymoon.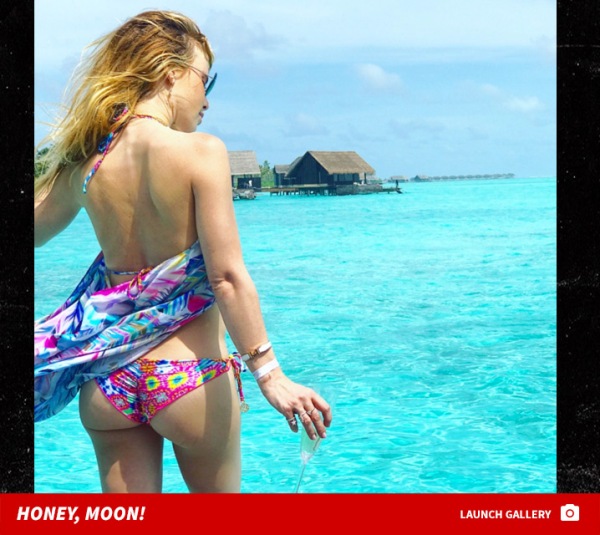 Tara Lipinski is, of course, looking very pretty and hot in her ass-revealing bikini! Most of her photos have been taken showing off her rear end in a small bikini. Tara Lipinski had captioned her honeymoon photo gallery as:
"The way I see it, I found paradise or maybe I'm just madly in love. @toddkap #TNTravels #TNThoneymoon #ooreethirah #Maldives #honeymoon,"
Another of Tara's photo shows her sitting in a distance at the edge of a pool overlooking the blue ocean with a cloud-filled sky above.
There is a selfie taken by Todd Kapostasy where is on the top of a small flight of steps with his new bride trailing behind. The couple looked happy amidst the serene pristine crystal clear blue waters surrounding the Maldives resort.
They do make a picture-perfect couple! Congratulations and Best wishes!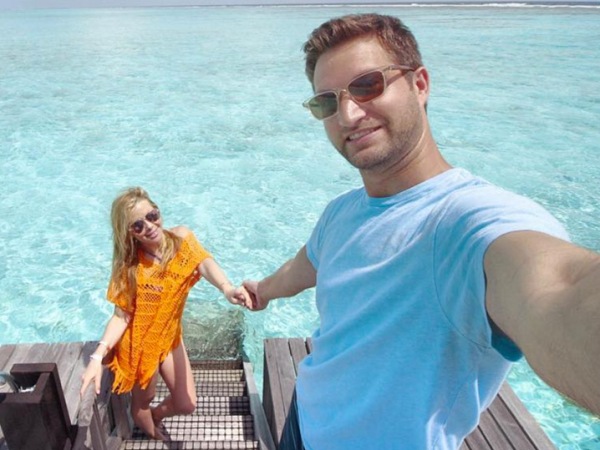 The couple has planned a long honeymoon which would include Thailand, Vietnam, and Europe. They are presently in Chiang Mai, Northern Thailand, and have visited the elephant sanctuary and a mountain-top temple there.
Todd-Tara wedding!
The two have been dating for the last 2 years. In December 2015, Tara had announced her engagement to Todd Kapostasy. Their marriage was on 24th June 2017.
It was an 'ultra-romantic' ceremony at Boone Hall Plantation and Gardens, Middleton Palace in Charleston, South Carolina. Tara was in a strapless Reem Acra gown with a 20 feet tulle skirt which was designed by Laura Basci and paired it with Charlotte Olympia pumps.
Her bridesmaids had adorned floral wreaths while the flower girls had clutched baskets that Pat, Lipinski's mom had made.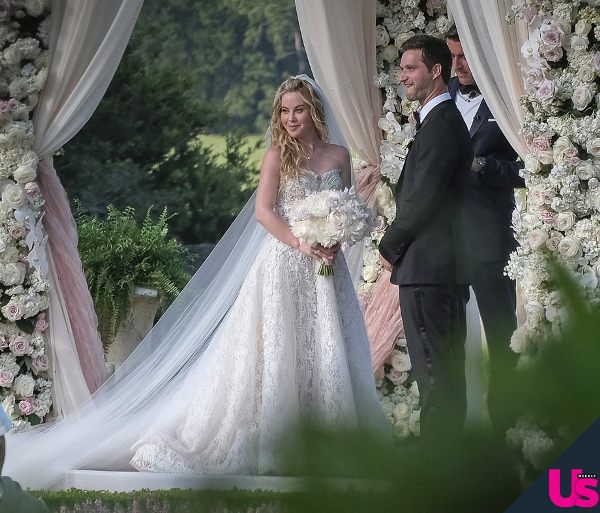 After their engagement, Tara Lipinski had expressed her happiness. She had said:
"I feel so lucky that I get to spend the rest of my life loving my best friend and love of my life," 
There was a pre-ceremony celebration at Boone Hall in Mount Pleasant two days prior to the actual wedding. Tara's fellow figure skater Johnny Weir was her only 'bridesman'.
The wedding was graced by American sportscaster Bob and his wife Jill Costas, American sportscaster Andrea Joyce, and Richard Callaghan, her former Olympics coach.
About the wedding food
Cru Catering looked into the food for the guests. The food served has a Southern flair.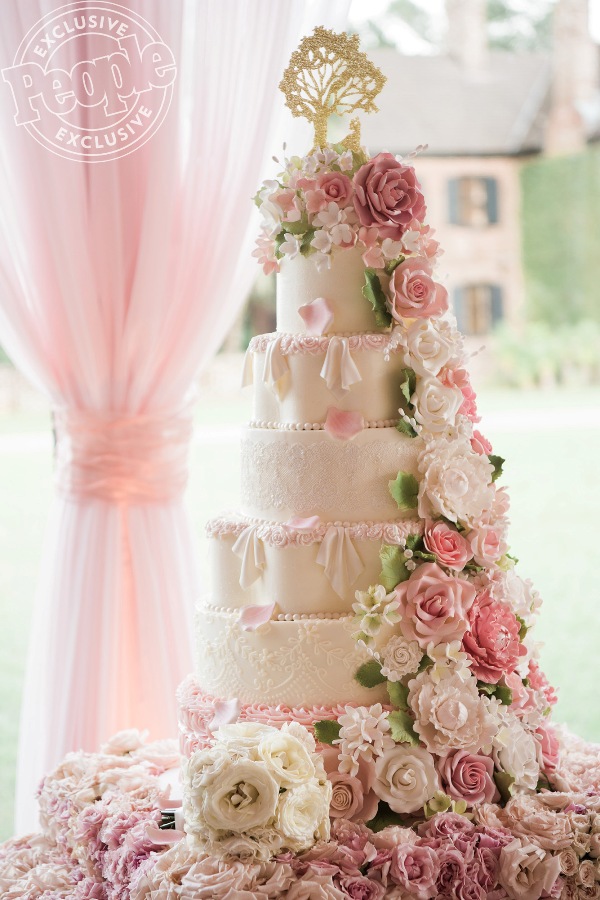 The main course was the local fish while the appetizers included chicken and waffles in two ways (fried chicken in a waffle cone with maple bacon remoulade and fried chicken on mini waffles). Jackson Durham Events did the floral decorations and arrangements.
Describing the logic behind the light-colored decorations and food, Tara Lipinski had said:
"I had a vision, because I love a very soft romantic palette so lots of creams, light colors, touches of green with flowers. So we have orchids and roses on roses on roses."
She continued:
"I'm stunned by how beautiful it is. We'll also incorporate lanterns and arches to give the wedding an ultra-romantic vibe."
After the wedding, the newlywed took their guests to a tent measuring around 100×80 feet where the guests got popsicles and the spectacle of an amazing cake! Ashley Bakery had made the cake. It had 6 layers and was intricately detailed. Real roses covered it. Additionally, each level was a different flavor.
Talking about this great day, Tara told People:
"Everything was so beautiful, and it went by so fast, but at the same time I was able to take it all in and take mental snapshots of the best day of my life. It was perfect."
You may like to read Who is Terry Bradshaw married to after three failed marriages? Know about his marriage history and children
Tara Lipinski and Todd: bachelor-bachelorette party!
They had a four-day joint bachelor and bachelorette celebration party at Cabo San Lucas, Mexico. Talking about this tradition-breaking party, Tara Lipinski had said:
"I didn't have the urge to go to Vegas or Miami or do anything crazy like that, I just wanted to be with Todd and all of our friends together. We're so happy we did a joint party, because a lot of our friends hadn't met before and now we have four days of great memories to talk about at the wedding."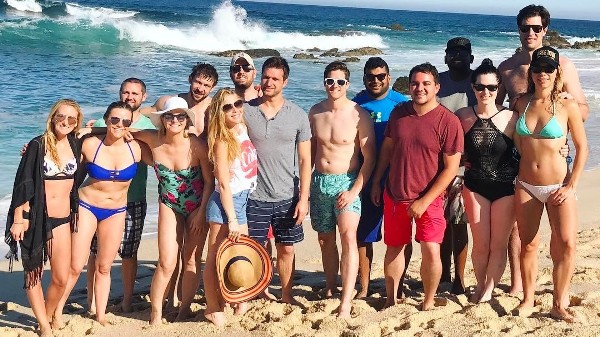 Also, read The Olympic Skater Debi Thomas Explains That She Is Now Broke; Know About Her Life, Son, And Relationship
Short Bio on Tara Lipinski
Tara Lipinski is an American figure skater, actress, and sports commentator.  She won Olympic gold at Nagano in 1998, setting a record for the youngest gold medalist at the Winter Olympics at the age of just 15. More Bio…