The tattoo fan Ariana Grande has new tattoos inked on her hand! Know her massive collection!
Ariana Grande is a fan of tattoos. She has them as early as 2012 but her fans grew curious and interested in them when she dated  and later split from comedian Pete Davidson after a quick engagement in between. She has more than 30 tattoos mostly on her hands and wrists. And some more are either too tiny to be soon or faded with time.
Ariana Grande and her first tattoo
Singer Ariana Grande likes body inks. But she prefers tiny and delicate inks especially on her fingers, wrists, and hands. Besides, there are some she had got tattooed which are either too small or have faded over time. These include the scribble on her left thigh and a 'hi' on her toe.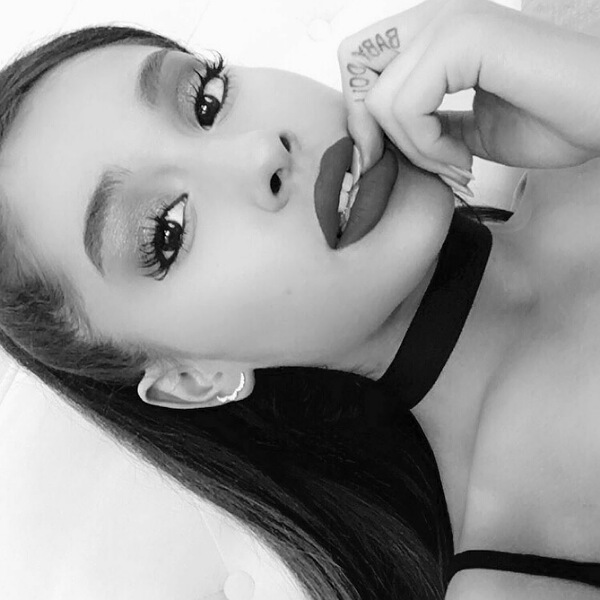 In 2012, Ariana had a heart inked on her toe. She recorded the process and posted on her YouTube writing:
"This year has been 1 of the happiest and most enlightening years for me, and I felt like I wanted to do something special to remind me of this time… so, I wanted to do something permanent to remind me to always be grateful and not take anything for granted so, I got a little tattoo."
More of Ariana Grande's tattoos
In 2014, she got Mille tendresse tattooed at the back of her neck. It is a French word and means a thousand tenderness. The sane year, she got the word Bellissima inked on her side. It means gorgeous in Italian and is the word her Italian grandfather used to use to call Ariana. In 2015, she added a Crescent moon behind her left ear.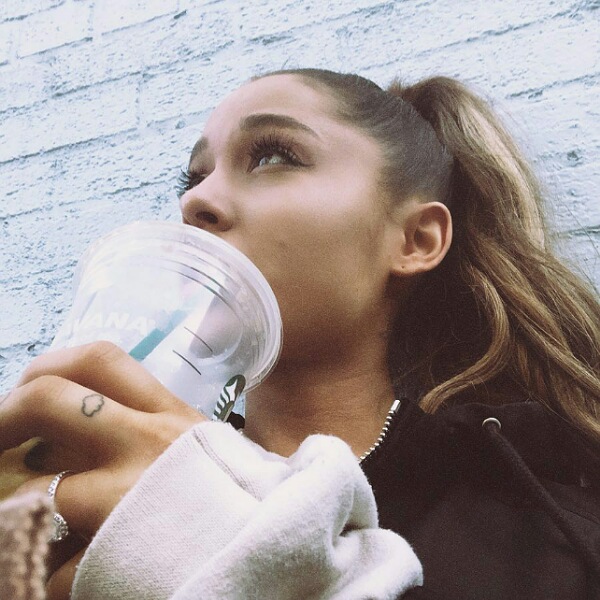 She got Honeymoon inked on her right finger side and later a small Hebrew phrase as well. It reveals her Kabbalah faith.
She added a second heart on her right ring finger, and later the words Baby Doll too. Los Angeles tattoo artist Dr. Woo inked A on her right thumb in August 2016. He also made a Venus symbol on her left middle finger.
And more tattoos…
New York artist Mira Mariah inked a worker been for her in the neck back. The Harry Potter fan got lumos inked on her right hand. She has a cloud on her left hand. Ariana met Pete around the same time and vegan a relationship with him. She got ten tattoos on her in six months. Both Pete and Ariana got H2GKMO on their hands and it stands for Honest to God, Knock me Out.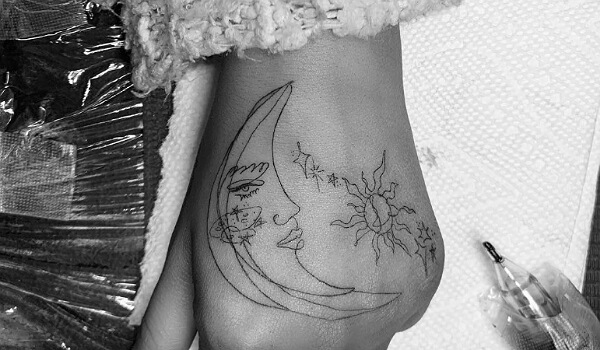 On her knee is Court as a tribute to Courtney. There is, another tattoo behind her right ear which reads Lightning Bolt. She has 561 the area code of her hometown Boca Raton and reborn on her hand. An olive branch has replaced the reborn tattoo. The tattoo artist inked them in 2018.
She also has a portrait of the Japanese anime character, Chihiro inked on her right forearm inside. There is an REM tattoo, more heart tattoos, Myron tattoo, Moon tattoo, sun tattoo, stars tattoos, Let's sing in Japanese tattoo, Evee bunny-like Pokémon tattoo, a spoiled Japanese barbecue finger tattoo, massive leaf tattoo, Chevron lines, crying eye, Angel wing, a Truman show quote and many more.
Ariana Grande and her latest tattoo
Ariana has more hand tattoos made to add to her impressive collection. Her New York tattoo artist Mira Mariah inked a Toulouse tattoo on her hand. It is in cursive writing and there are also leaves and a Saturn. She posted the pictures of her new inks on her Instagram and captioned it:
"Newest addition to my glove,"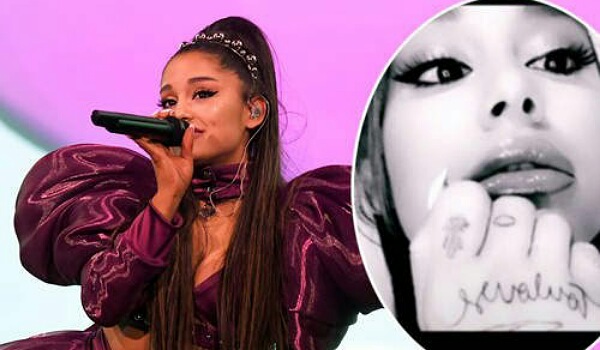 Showing her full wrist in a followup post, she wrote:
"And some more leaves and a Saturn,"
Short bio on Ariana Grande
Ariana Grande is an American singer and actress. She is famous  for portraying the character Cat Valentine on the Nickelodeon sitcom "Victorious" before getting a big break in the music. Her hit songs include One Last Time, Problem, Bang Bang, etc. More Bio… 
Source: buzz feed, refinery 29