Rams' Taylor Rapp pop the question to his girlfriend on the field! 'More than one ring tonight'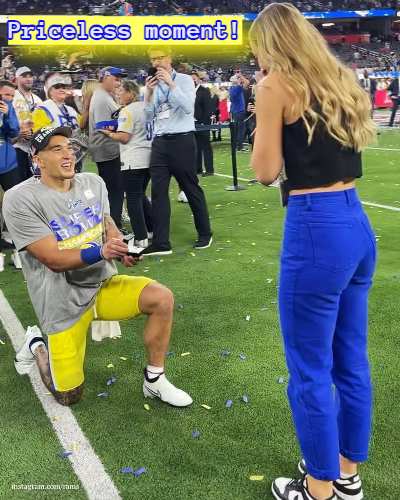 Taylor Rapp is an American football free safety who plays for the Los Angeles Rams of the NFL
The Rams recently won Super Bowl LVI by defeating the Cincinnati Bengals
The victory night became a priceless night for Rapp as his girlfriend accepted his proposal
---
One victory isn't enough for the Rams player Taylor Rapp!
On Sunday night, the Los Angeles Rams won Super Bowl LVI, and immediately following the victory celebration, another celebration takes place at SoFi Stadium in Inglewood, California. It's a proposal!
The Los Angeles Rams player Taylor gets down to one knee in front of his girlfriend Dani Johnson on the field surrounded by teammates, friends, and family, and held out a box bearing a ring.
He surprised his longtime girlfriend with a marriage proposal on the field where his team just won Super Bowl glory.
The couple now lives together in Los Angeles, California and they have a dog named Ollie.
Super Bowl 2022: Proposal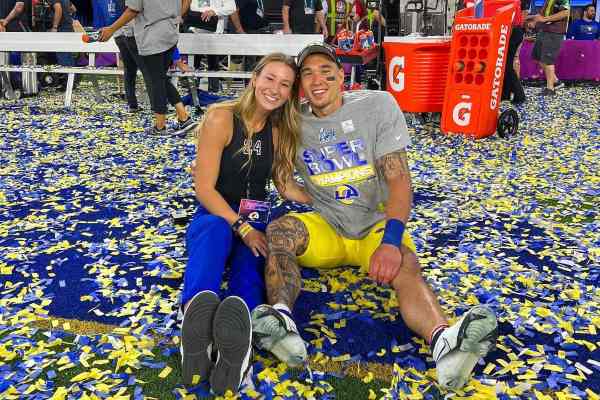 On Sunday, the Rams took an Instagram to post a video of the proposal moment and captioned the post,
"MORE THAN ONE RING TONIGHT!"
On Monday night, the player himself posted a video of the proposal and a snap of himself with his now-fiancee Dani playing with blue and yellow confetti. Following the video, Rapp can be seen shouting 'will you marry me?' over the noise of the on-filed celebrations.
He also added a sweet caption in a post,
"I heard it was Valentine's Day..

SHE SAID YES"
Rapp wasn't the only Rams player whose life-changing personal moment happens on Sunday's win. Wide receiver Van Jefferson had to leave the on-filed celebrations after the game to rush to the hospital.
As his pregnant wife had to be taken to the hospital in the middle of the game after she goes into labor. He is blessed with a son and also he has confirmed the news via IG "x2!".
Also read "Meet Hannah Ann Sluss's new boyfriend Jake Funk!"
Similarly, Running back Jake Funk introduced his girlfriend on the field. He is presently dating a former Bachelor Hanna Ann Sluss.
Taylor Rapp and Dani Johnson's love life
Taylor and Dani are high school sweethearts. They met for the first time at Sehome High School in Washington. In 2016, he posted a photo of himself with his now-fiancee and as per the post, the pair have been dating since at least 2014.
He captioned the post,
"We been going on two years now, thankful I still have you in my life. I cannot begin to explain the love I have for this girl and I cannot wait for times like these again,"
In March 2021, Rapp paid a sweet tribute to Johnson on Instagram for her birthday, He wrote,
"the one person who holds me accountable and makes sure I stay true to myself no matter what. If everyone had just a fraction of your kind, compassionate, and loving heart, this world would be a much better place," Rapp wrote of Johnson, along with a photo of the two. "You make me a better person every single day. Thank you for being my best friend and such a great partner to do life with."
Also read "Get to know about romantic life of Olympians Madison Chock and Evan Bates"
Taylor Rapp on Super Bowl LVI
Los Angeles Rams won a Super Bowl LVI championship against Cincinnati Bengals on Sunday, February 13 at SoFi Stadium in Inglewood, California. This is the second victory mark of the team in the Super Bowl and the fourth NFL title. He helped his team secure their 23-20 victory over the Bengals, he made seven tackles during Sunday's game.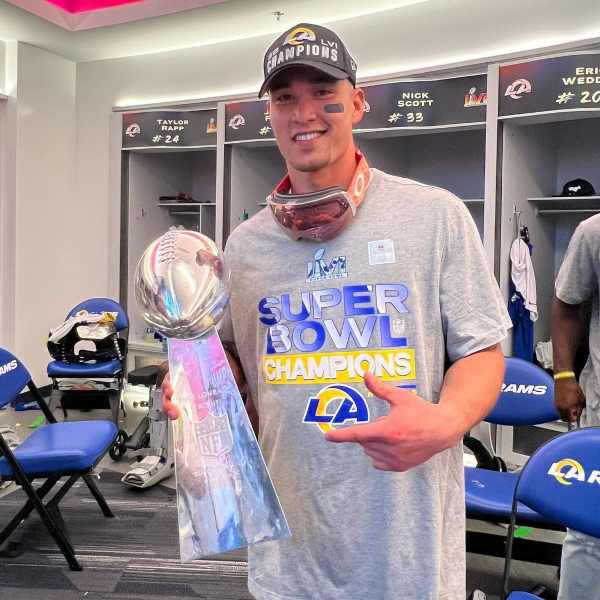 Rapp is one of Ram's top defenders according to CBS Sports. Rapp was selected by the Rams in the second round of the 2019 NFL Draft. Prior to that, he played college football in Washington from 2016 to 2018. NFL has described Rapp as a player
"beaten long odds, undeterred by a city that failed to support prep football, a high school community that openly mocked him, coaches who were unprepared to develop his talents, college recruiters who blatantly overlooked him and kids who racially taunted him for his Chinese ethnicity."
As per Scout.com, Rapp was ranked as the #1 safety prospect in the state of Washington and the 9th best safety on the West Coast.
Also read "Tampa Bay Buccaneers wins Super Bowl 2021! Don't miss out these Celebration photos of the Super Bowl LV"