Taylor Swift: Her little sweet gesture towards her fan, her new flame and the list of her past boyfriends: Find all of it here!
Taylor Swift's sweet gesticulation
The American famed singer-songwriter Taylor Swift received an invitation from one of her fans to attend her graduation party. Ashley Silvers, her fan had said that she would be happy if Taylor Swift attends her graduation party. Taylor Swift had other prior commitments due to which she could not spare time to be at the graduation party. However, Taylor Swift felt it too awkward to just refuse and hence she sent a handwritten sweet message and a bouquet of flowers to Ashley Silvers. Taylor Swift wrote:
"Ashley, Hi love! I'm so sad that I can't make it to your graduation party! The New York theme, the photo booth, it being on the 13th … that's my kind of party."
The note also had an illustration of the New York City skyline and a lyric from the singer's song 'Welcome to New York'.
Taylor added:
"I'm so proud of you, your hard work and dedication, your excitement and ambition. I'm very lucky that a girl like you cares about me. Sending you my love and hugs (and to your family!). Love, Taylor."
Ashley Silvers wrote on her twitter:
"I INVITED TAYLOR TO MY GRADUATION PARTY AND SHE SENT ME FLOWERS AND THIS CARD. I LOVE YOU HONEY @taylorswift13"
Ashley Silvers also posted a photo of herself with the flowers and note on her Instagram. She wrote:
"Real life is a funny thing thank you @taylorswift for the gorgeous flowers, beautiful card and 8 years of amazing memories. Love you!!!"
Presently, Taylor Swift is keeping a low profile but is aware that her fans want her to come back. She has been quietly working on her new album which she plans to release in fall 2017.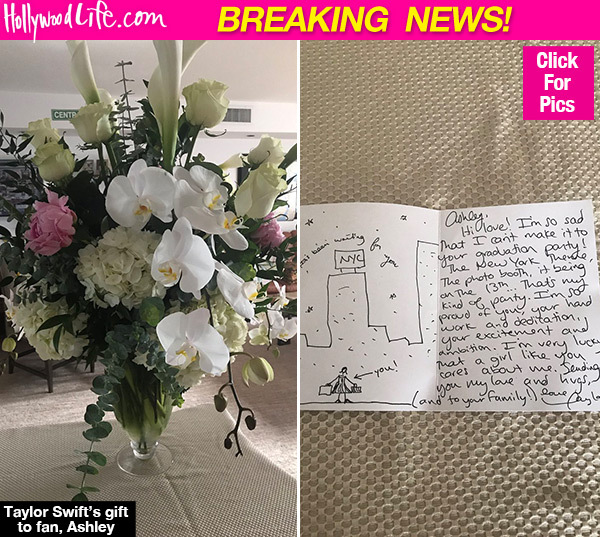 Her new found love
Taylor Swift has been lately said to be dating British actor Joe Alwyn since early 2017. She supposedly met Joe Alwyn at the 2nd May 2016 Met Gala held at Metropolitan Museum of Art, New York City, New York, USA. It has been alleged that Taylor Swift has been flying to London in disguises and has also rented a house there in order to be near her new beau. She hides behind hats and scarves to keep her affair private and secret. Joe Alwyn's mother is a psychotherapist and his father a documentary filmmaker. Joe resides with his parents in his hometown of Crouch End in Northern England.  The Sun Magazine has reported:
"Taylor and Joe are the real deal, this is a very serious relationship," 
Presently, Joe Alwyn is shooting for his film 'The Favourite' in which he is cast opposite Emma Stone who is Taylor's long-time friend.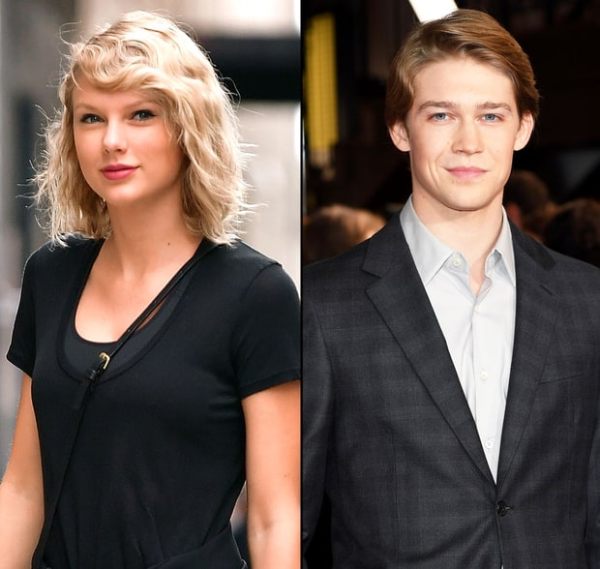 Her serpentine list of boyfriends and their timeline
Taylor has been known for her brief romantic flings with multiple men. Her relationships usually last few months and some of these have inspired her songs. She was dating Brandon Borello in her early career days, but unfortunately, this relationship ended since Brandon had to attend college. She then started a romance with a redneck called Jordan Alford who according to her would not allow her to touch or drive his pickup truck. She had liked a person called Drew whom she never dated. Drew was not aware of this one-sided love about which he came to know through her song (Teardrops on my guitar) which she had dedicated to him. After two years, Drew came to her house and asked her for a date but she refused. Taylor Swift had also liked a male called Sam Armstrong who supposedly later cheated on her. Taylor Swift was in a relationship with singer and actor Joe Jonas from July to October 2008. However, he left Taylor Swift for a new love (Camilla Belle). He broke with her on the phone with a 27 seconds call. Taylor Swift's next boyfriend was film actor Lucas Till whom she dated from March to April 2009. However, in a later interview, Lucas Till explained about his brief time with Taylor Swift. He said:
"It didn't work out because I really just liked her as a friend."
Taylor Swift dated actor Taylor Lautner from August to November 2009. But somewhere along the way, they drifted apart. From November 2009 to February 2010, Taylor Swift was in a romantic relationship with John Mayer who was eleven years older to her. He ended the relationship since he felt humiliated by her song 'Dear John'. Taylor and Canadian actor and musician Cory Monteith had a fleeting romance from April to May 2010. It is said that a person called Adam Young (hailing from Owl City) was interested in her but she never dated him. Actor Jake Gyllenhaal had spent $160000 to rent a private jet to fly his lady love for a date but their time together also lasted for a brief time from October 2010 to January 2011 and they seemingly broke via text messaging. She was seen with English actor Eddie Redmayne from October 2011-January 2012.
However, he had denied any romantic involvement with Taylor Swift. A brief relationship from February 2012 to March 2012 between actor Zac Efron and Taylor Swift has also been denied by both the parties. Taylor Swift was also involved and obsessed by the descendant of the famous Kennedy family Conor Kennedy in summer 2012. They supposedly could not take the affair far since Conor joined college and Taylor got busy with her new album. Taylor Swift dated singer and songwriter Harry Styles from November 2012 to January 2013 but a heated argument between the two led to their split. Taylor Swift had come close to DJ and producer Calvin Harris in March 2015. They were sighted together on several occasions, but soon things went haywire and by June 2016 they announced their breakup on social media. Taylor Swift had mentioned that Calvin Harris was jealous of her success. In the same month, Taylor started dating British actor Tom Hiddleston, but by September 2016, they had separated. Taylor Swift said that Tom Hiddleston was clamoring for the limelight which irritated her. After Tom, Taylor started seeing Joe Alwyn. She has been trying her level best to conceal this new relationship but it could not hide from the prying eyes of the paparazzi. We hope that this relationship remains steadfast and Taylor Swift finds her 'right man' in Joe Alwyn!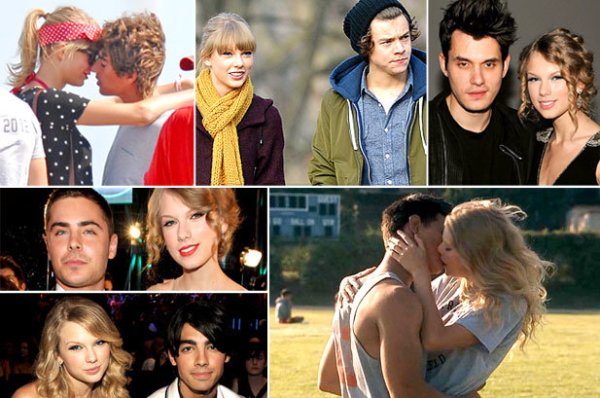 Short bio on Taylor Swift
Taylor Alison Swift usually known as Taylor Swift is an American singer-songwriter and actress best known for her narrative songs which usually describe her personal life. Most of her songs are about her ex-lovers. She is one of the most popular contemporary female recording artists. She became the youngest artist in the history to win Grammy Award for the Album of the year at the early age of 20. More bio…