Taylor Swift Received Honorary Doctorate From NYU! Highlights on her Lessons
Taylor Swift gets an honorary degree from New York University on May 18, 2022, Wednesday.
Taylor got a Doctor of Fine Arts, honoris causa degree at the university's commencement ceremony.
Her boyfriend Joe Alwyn exclaims at the amazing moment and is proud of his lady.
---
Taylor Swift finally added Dr to her name!
Taylor Swift got a Doctorate from NYC
The Billboard Music Awards 2022 winning singer Swift, shared an IGTV video before going to Yankee Stadium for New York University
"Wearing a cap and gown for the very first time – see you soon NYU ???"
Weel, she accepted the Doctor of Fine Arts, honoris causa degree at the university's commencement ceremony Wednesday.
"It's an incredible honor, it's absolutely amazing."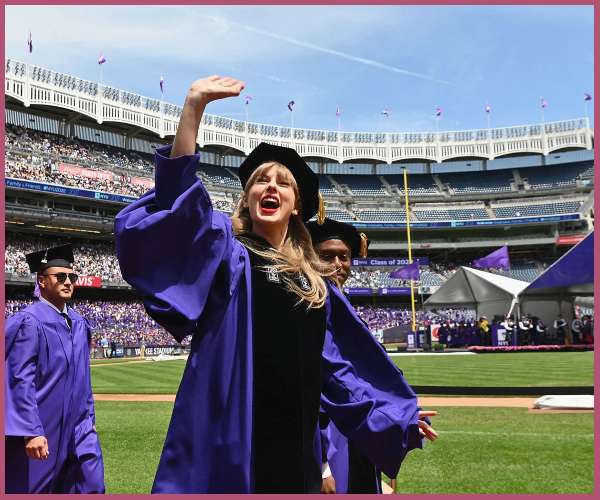 Taylor's Commencement speech at Yankee Stadium
The Folklore singer gave the commencement speech at Yankee stadium. The 32-year-old Fearless singer Taylor Swift is proud to have been given the honor of a doctorate degree in Fine Arts by New York University. She adds,
"I'd like to thank NYU for making me, technically, on paper at least, a doctor — not the type of doctor you would want around in case of an emergency."
The graduation and commencement ceremony of NYU recognized the classes of 2020, 2021, and 2022. Taylor Swift attended the event that took place after 3 years due to pandemic where she expressed her joy by saying,
"I hope you know how proud I am to share this day with you. We're doing this together so let's just keep on dancing like we're the class of 22."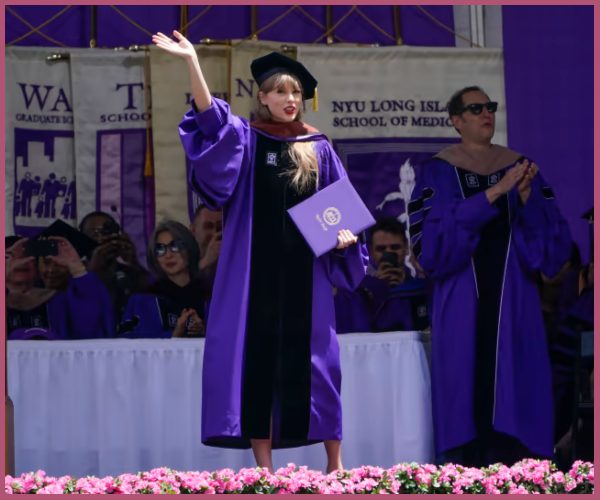 Swift included her schooling and her lack of experience in formal education in her commencement speech.
"I never got to have a normal college experience per se. I went to public high school until 10th grade and then finished my education doing home school work on the floor of airport terminals."
Few Lessons Taylor Swift gave on NYU spring commencement
Taylor Swift in her commencement speech gave 7 highlighting lessons listed by Billboard, which are,
The singer referred to everyone standing over are a patchwork quilt who has gained help from their loved ones. She suggests having gratitude towards paving the milestone and the supporters.
The popstar explained how it's up to us to grab the opportunity through the available resources. She advocated on you get what you get and the important angle is what you do with it.
Taylor Swift continued on emphasizing the idea of learning to catch and release. She spoke about the bad traumatizing experience of bullying at school and toxic relationships.
Also, Read Girl behind viral graduation field photo! Jennifer Rocha shares her story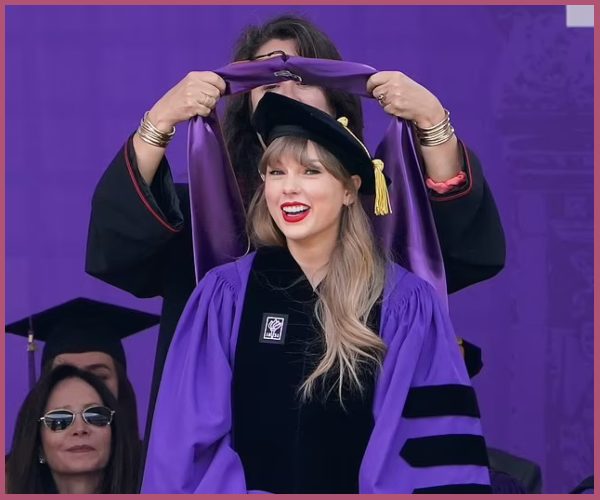 Taylor Swift- Lessons in her NYU Commencement speech
Taylor Swift, 32 advised on embracing the cringy experience and accepting the scenario. The Lover singer then confronted how you would realize it is revolting and hilarious.
Focusing on the phrase, Never be Ashamed of Trying and giving the reality check on effortlessness she continued the lessons.
Likewise, The Evermore album composer Taylor Sift believes mistakes do not equal failures. She even spread this learning in her NYU commencement speech.
Last but not the least, she suggests staying calm by tuning into the breathing process. The girlfriend of Joe Alwyn says breathe in, breathe through, breathe deep and breathe out when you feel low.
Also, Read Joe Alwyn breaks silence on Taylor Swift engagement rumors If the Answer was no, I wouldn't say