Teetotaler and non-smoker professional football quarterback Jacoby Brissett! Learn about his childhood, family, supportive mother, cute and inspiring girlfriend, and his great-going career!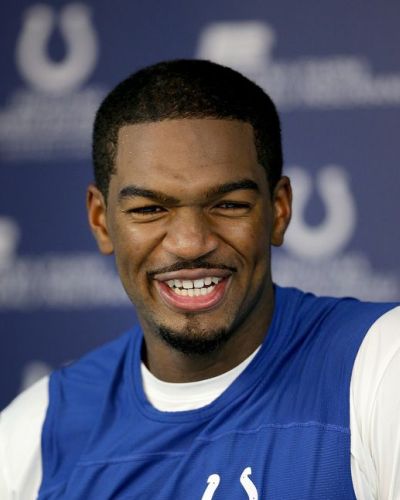 Jacoby Brissett is an American football quarterback.
He plays professionally for the Indianapolis Colts.
He has been a star player and had taken his team to the wins often.
---
His family, personal and career lives are all full of such interesting tales that it is worth going through them and knowing them!
His life story is an inspiring one and shows how he had taken the right choices to reach where he is now amongst the top players!
Jacoby's birth and family
Jacoby was born on 11 December 1993 in West Palm Beach, Florida. He was a student of William T.Dwyer High School in Palm Beach Gardens, Florida. He played college football at the University of Florida.
He was recruited by both the University of Miami and the University of Florida. He chose the latter but his mother Lisa Brown was not happy with his decision.
She said:
"Not my choice. I didn't like the way Florida handled the process. I was never able to meet the head coach. All the other coaches took the time to come and meet me. Will (Muschamp) never did. I never met him face to face. And I find that very disrespectful."
She said that it was a hard pill for her to swallow. She added:
"I have to say that Charlie (Weis) is awesome. Through the whole process, he's been very straightforward and I can handle that. We see eye to eye. He's on point, just like I am. We didn't beat around the bush about anything. I trust Charlie, but not Will."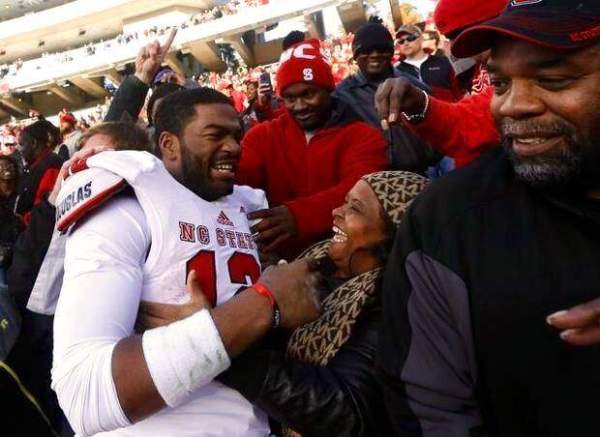 Jacoby had said at that time:
"I'm hurt that I hurt my mom, as you can see I was crying with her before the game. She means the world to me."
Jacoby has been raised in a single mother's home. She is her son's biggest fan and also is tough with his coaches. She had also cursed his college head coach Jack Daniels.
She talks high of her son and had once said:
"They're getting a a hard worker, a dedicated god-fearing man. Someone that has no character flaws, he is who he is and his integrity is everything to him."
She is supportive of her son and feels that his time in Florida had taught him valuable life lessons.
His play, career
Jacoby was good in both basketball and football. His height of 6 feet and 4 inches was ideal for basketball. He had said:
"Basketball was always my first love,"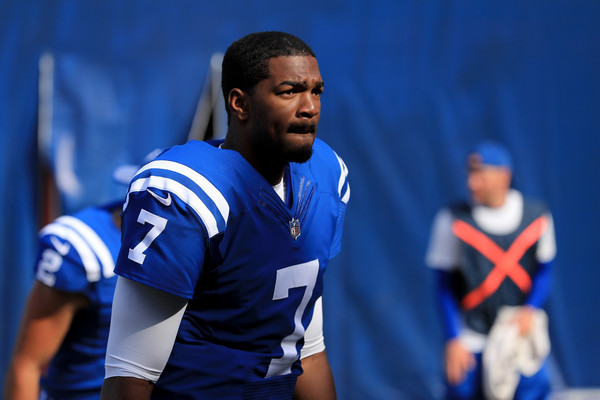 He was considered for the offensive line since he was chubby, but he insisted that he wanted to play quarterback. He was a four-star recruit for football and a two-star recruit for basketball.
He chose football. He had to choose between Florida and Miami. He chose Florida and talking about it, Jacoby had said:
"It came down to UM and Florida. I just had to follow my heart, and my heart lies in Florida,"
In January 2013, he took a transfer to North Carolina University and took charge of Wolfpack's quarterback in 2014. In 2016, he was drafted by NFL in the third round.
He signed with New England Patriots for a four-year deal. In September 2017, he was traded to Indianapolis Colts. His scores were impressive.
Jacoby's love life
Along with his career, Jacoby is also going strong in his love life. He has found a girlfriend who is called Sloan Young.
The two met after Jacoby transferred to North Carolina State University in 2013. Sloan is an NC native. She has graduated from NC State with a major in Interpersonal Communication.
Sloan works for non-profit organizations and is an inspiration to him. Wedding bells do not seem soon and we wish the couple the best in their life and career!
Short bio on Jacoby Brissett
Jacoby Brissett is an American football player who plays as a football quarterback for the Indianapolis Colts of the National Football League (NFL). Previously, he played for New England Patriots for one season in 2016. More bio…