The Additional Responsibility of 'Face The Nation' Host John Dickerson!! Named CBS News Chief Washington Correspondent
CBS's news John Dickerson is the chief Washington correspondent and anchor of "Face The Nation." Moreover, he also serves as a contributor to Slate's "The Political Gabfest".
This is not only the responsibility of John as he also works as a  contributing editor to The Atlantic. More than that he is about to add one more responsibility in his head.
He is recently serving as a  Chief Washington Correspondent for CBS News. However, you will still see him as anchor of CBS' Sunday morning public affairs program.
Scroll to find more details about the story.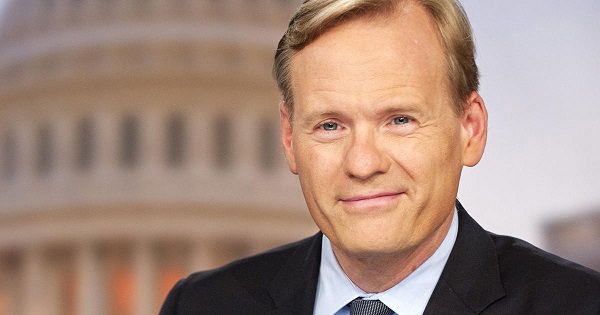 New responsibility of CBS Anchor John Dickerson
"Face the Nation" anchor John Dickerson has added up his responsibility in his work. Now, he is also serving as a chief Washington correspondent for CBS News.
As he will also continue "Face the Nation" show has expanded his on-air duties. So, he is about to hand over the job of serving as CBS News Political Director to Steve Chaggaris.
In the memo released back in Friday, CBS News president David Rhodes explained the scenario:
"These critical appointments for John and Steve will continue to enhance our industry-leading news reporting from the nation's capital,"
John Dickerson is adding the title of CBS News chief Washington correspondent to his resume.https://t.co/E1AXiwed9b pic.twitter.com/5c6iyjQD62

— Cision (@Cision) April 12, 2017
A D.C. veteran John joined CBS News in 2009 as an analyst and contributor. Later on, after two years he became political director two years later.
Before joining CBS, he worked for Slate and Time magazine covering the news of politics and Washington.
You may also like to read One of the four women who accused R Kelly of sexual assault has gone public and narrated her experience on CBS! Know who L. C. is?
How John Dickerson reached up to CBS News?
In April 2009, John first stepped to CBS News as an analyst and contributor. Since then, from last six years, he is serving as network's political director.
In June 2015, he turned to the moderator of "Face the Nation". Back in 2016, in the presidential campaign, he directed CBS News' two presidential debates.
Moreover, John also took the interview each of the major candidates multiple times.
Before appearing on CBS, he also worked as a reporter in Washington back in 1995. He covered the White House, Congress, and economics.
There is the saying we all have heard at least once in our life that is "Hard work always pays off". Likewise, John also received Ford Prize for Distinguished Reporting on the Presidency.
In addition, John served to cover the politics for 12 years for Time Magazine.  Moreover, talking about his work, John also has covered the six presidential campaigns and hosts a twice-monthly podcast, "Whistlestop,". It was something which chronicles great moments in presidential history.
Rather than his story and news coverage, John is also active on his social media account with above 1.85 million followers on his Twitter account.
Also read TV personality Meghan McCain is pregnant during Quarantine! Who is Meghan married to?
More About John Dickerson
John Dickerson is a veteran journalist from America. He is popular being the host of Face the Nation on CBS News. Furthermore, he also holds the position of political director of CBS News, chief Washington correspondent for CBS News, and a political columnist for Slate magazine. Prior to Face The Nation, John was the chief political correspondent at Slate and also covered politics at Time magazine for 12 years. See more bio…