The Bachelor Nick Viall and Fiancee Vanessa Grimaldi: No Wedding Plans…Says: 'It's Too Early for Us Right Now'!!!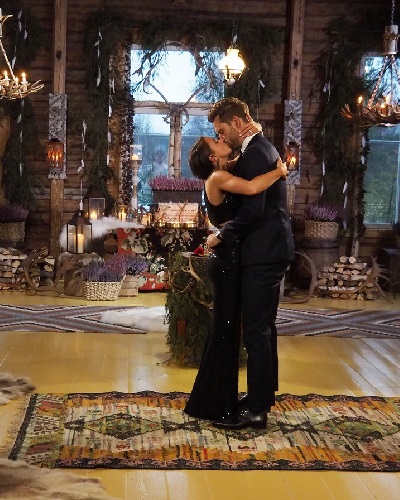 The Bachelor Nick Viall and his fiancee Vanessa Grimaldi are engaged.
But the couple has decided to not ring the wedding bells anytime soon!
They revealed to Us Weekly that despite being engaged, they are still a long way off saying "I do."
---
Update: Nick Viall and Vanessa Grimaldi announced their split in August 2021.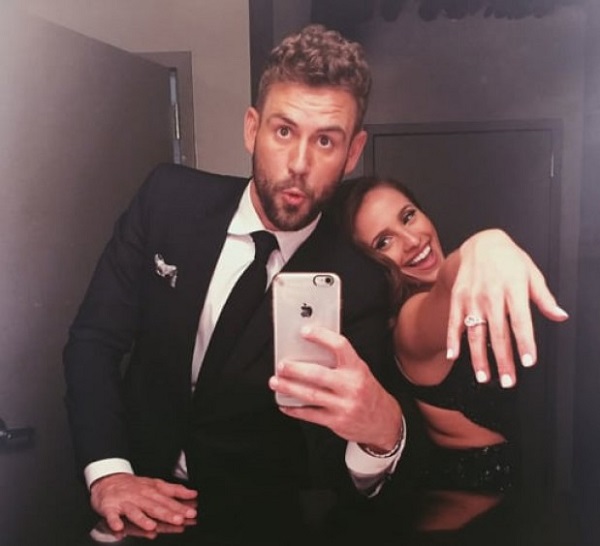 The couple about Marriage
After he put a ring on Vanessa, Nick says he and his fiancée, Vanessa Grimaldi, aren't rushing to get married anytime soon. He says,
"We haven't talked about wedding plans. We're totally okay with it. We don't feel the pressure." 
When Us quizzed Viall, 39, backstage at Dancing With the Stars on Monday, March 27, he said he hadn't even begun thinking about it.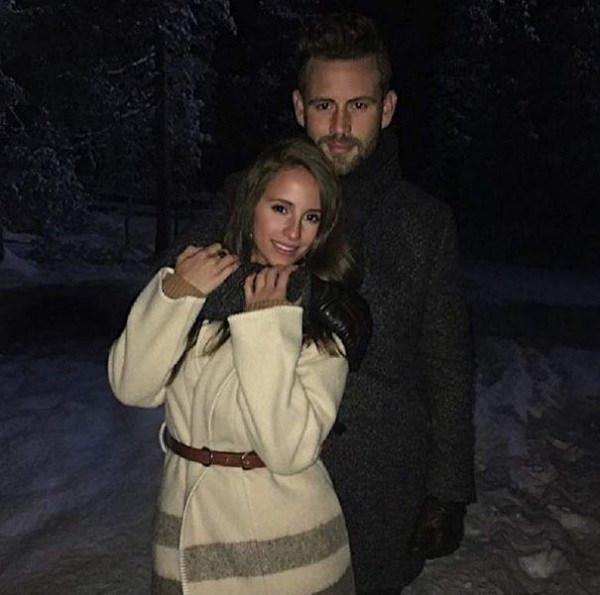 He admitted,
"No, no. Like Vanessa and I have said, it's too early for us right now. We're still just doing a lot of new things together."
On Monday night's dramatic finale of The Bachelor, the Wisconsin native got down on one knee to propose to the woman he loves. Viall says,
"As much as I cared about Raven, I felt like the answer became more and more clear that it was Vanessa. I felt like I was fighting my feelings for Vanessa for a long time because there were other women involved. However, once I was kind of able and free to kind of make my choice, I felt like my heart knew for a while."
Because the pair is keen on communicating, the Canadian native admits she's on the same page as Viall when it comes to setting a wedding date. But that doesn't mean they aren't looking forward to thinking about their big day when they find the time.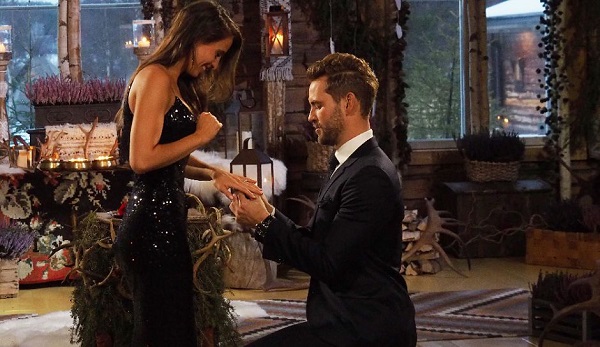 Grimaldi says,
"There's no reason of speeding up the process. We're still in the process of getting to know each other outside Bachelor world. We're still in the process of getting to know ourselves too. We' haven't planned a date yet."
Where Viall adds,
"I don't think you have to pretend what this world isn't and what it is. We're okay with saying we still have a lot to learn about each other and that's okay. We're excited about doing that! I think we want to focus on doing that than anything else and keep moving our relationship forward."

"We're very open about the fact that we have a long way to go, and we're excited about that journey," he said.
The Couple's Perspective 
Having met in an unrealistic setting where they would go days at a time without seeing each other, the couple is now looking forward to maintaining some sense of normalcy in their relationship. He says,
"Vanessa and I are very realistic about our relationship. We're very excited about the engagement but we're also realistic about our relationship. It began in an environment that was very unconventional. Up until this point, we haven't had the opportunity to have any type of normalcy. I think those are the things that we're focused on right now and you know we're going to take things slow. We're not going to compare ourselves to other relationships."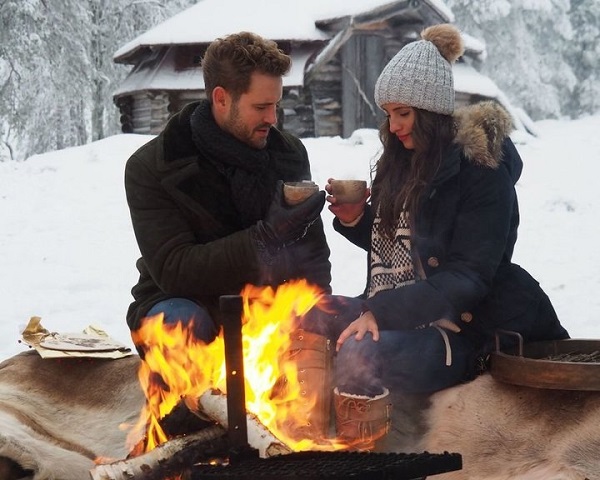 The pair is also working on some paperwork since Grimaldi, 32, is Canadian but hoping to live full-time with Viall in Los Angeles. Viall said,
"She's living with me. But obviously we're still working through the visa stuff so she may have to pop back to Montreal at some point. While we're in L.A., we're living together."
Rumors say that Nick and Vanessa not compatible
Fans have been questioning Nick and Vanessa's relationship since their first appearance together on "After the Final Rose." According to viewers, the pair lacked the intense chemistry on the show to which the couple responded by saying, they had nothing to prove.
Regardless of the rumors, Vanessa is been enjoying her time in California, focusing on supporting Nick on DWTS. She also went to support her lover in Week 1 sitting in the audience, cheering him.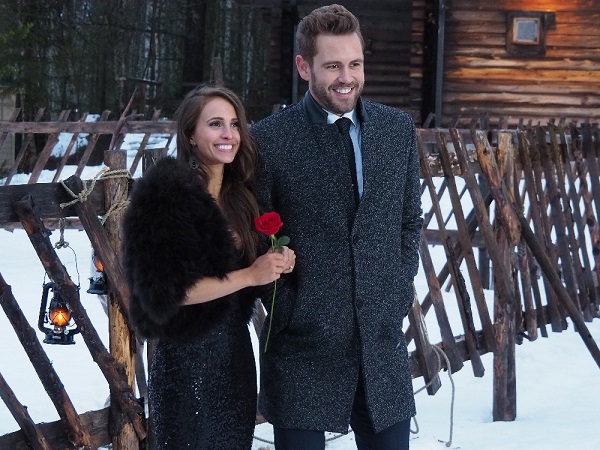 The couple also flew to Milwaukee, Wisconsin, to visit with Nick's family for a few days.
Update: Nick Viall and Vanessa Grimaldi split after being together for nine months i.e., five months after the show. After the split, Nick said,
"When I ended up with Vanessa she, for different reasons, she didn't get along with Rachel and Raven. But I guess we didn't last as long because I suddenly was like 'I'm sorry, I'm not gonna like–that's an insane point of view.' I would try to defend her. I would definitely not defend her the way she wanted me to defend her."
Short Bio on NickViall
Nick Viall is an American reality television star who had a starring role on the twenty-first season of ABC's The Bachelor, after finishing as runner-up in two consecutive seasons of The Bachelorette. More bio…