The recoupling! Donald Trump Jr. and Fox News host Kimberly Guilfoyle are dating!
More confirmations on the relationship of Donald Trump Jr. and Kimberly Guilfoyle are coming along! Things are now almost official. It has been said that Kimberly has already received the seal of approval from the President and the first family.
On Donald Trump Jr. and Kimberly Guilfoyle's relationship
A source close to the President's son told Daily Mail that the two like and love each other. They are in fact crazy for each other and have never tried to hide their feelings. The insider said:
"They're really into each other, it's obvious from the way they are together, and they haven't tried to hide it. But they haven't felt compelled to make any kind of pronouncement that they're romantically involved."
Daily Mail has exclusive picture grabs of the two having meals at the new sushi restaurant at the Trump International in DC on the Delta Shuttle.
They were also spotted embracing each other at the opening of the Trump Ferry Point golf clubhouse. The pair had begun dating in March 2018 when Donald Trump Jr., 41 and his wife of 12 years, Vanessa, 41 parted ways and filed for divorce at the Manhattan Supreme Court. A joint official statement from them said:
"We will always have tremendous respect for each other and our families. We have five beautiful children together and they remain our top priority. We ask for your privacy during this time."
Also read Kimberly Guilfoyle's relationship with Donald Trump Jr. getting serious? She transformed her $3.4million Manhattan apartment!
Donald Trump Jr. stays over at Kimberly's house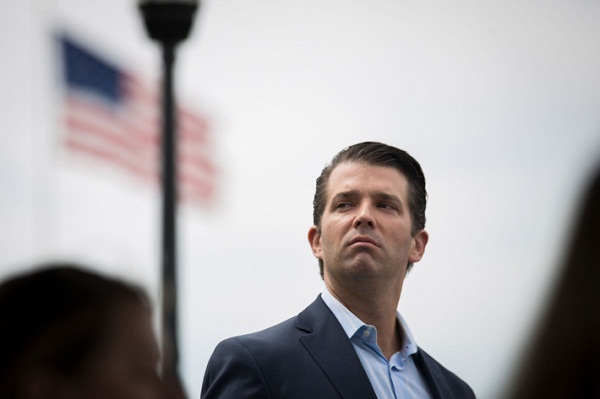 Donald Trump Jr. had stayed the Monday night at Kimberly's Manhattan home. There were two secrets service chaperones parked outside her Upper West Side apartment. Kimberly was formerly married to Democratic Gubernatorial candidate Gavin Newsom.
Vanessa comes to Kimberly's defense
There was some more confirmation when Vanessa broke her silence and said that she and Donald Trump Jr. have been separated for the past 9 months. She also supported her husband's new budding relationship and said:
"The lengths people will go to attack a woman simply because she's dating Don," 
She added:
"We've been separated for over 9 months and respect each other's decisions & privacy. We'll focus on raising our great kids. Would be nice if the press did the same rather than obsess over our pvt lives!"
This social media post came up after a New York Daily News columnist said that Kimberly would be better picking grapes than men. The divorce came after numerous reports in the dailies that Donald Trump Jr. was having an affair with Aubrey O'Day and Vanessa also found some suspicious emails between her husband and the singer-songwriter.
Vanessa and Donald Trump Jr. are on friendly terms
The separating couple has five children to jointly take care of. Hence they have maintained a cordial relationship between them and continue to be seen at family lunches together. They were recently seen in one such outing with their kids in Manhattan. Donald Trump Jr. had mentioned this event on his Instagram with a befitting picture. He wrote:
"Great graduation lunch with Kai, Vanessa and Tristan. Kai is graduating from lower school and going into middle school and T-man graduated Kindergarten and is ready for first grade"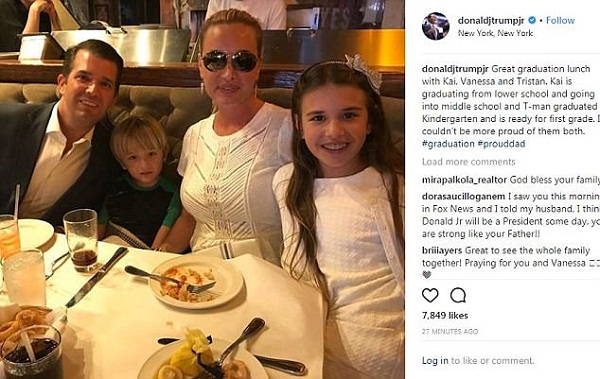 He continued:
"I couldn't be more proud of them both. #graduation #prouddad."
It was for the celebration of his kids, Kai and Tristan's graduation.
You may like to read Lisa Boothe's mysterious relationship has been revealed. Not single anymore might get married soon!
Short Bio on Donald Trump Jr.
Donald Trump Jr is the eldest son of the 45th President of the United States, Donald Trump, an American former reality television personality, and businessman. Donald is known for promoting various conspiracy theories. More Bio…